High pressure causing channel loss through "Inversion"

Brian Butterworth published on UK Free TV
There is high pressure over the whole of the UK at the moment, and this causes the Inversion Effect. This is causing people to be missing a single Freeview multiplex, or have terrible analogue reception on a single channel. The problem may come-and-go or last for several days.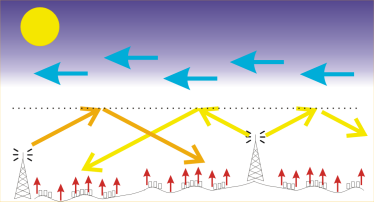 For details, please see What is the Inversion Effect and why does it effect my Freeview TV reception?.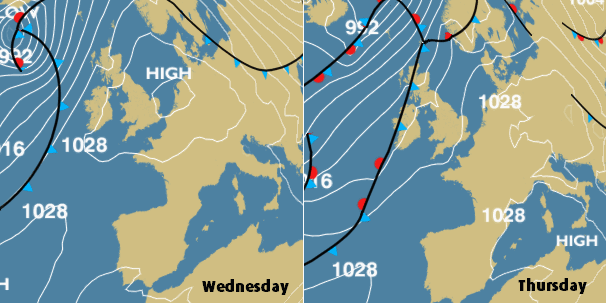 Comments
Wednesday, 18 April 2012

Aerial clearly directed toward Crystal Palace going eastwards along the Thame Valley and towards Slough. Looking at other posts, Icould also look to upgrading the aerial fly lead as it is quite old. Didn't have a problem with the analogue signal. Thanks again.

mi amigo's 3 posts
mi's:
map
M's Freeview map
terrain
M's terrain plot
waves
M's frequency data
M's Freeview Detailed Coverage
Saturday, 28 April 2012

Until Tuesday this week I had excellent free view coverage, on Tuesday I lost most of the ITV channels, channel 4 and 5, this afternoon I had quality 10n signal strength and all of my channels back. This evening I have no channels at all! Is this as good as the service gets from now on?

Caroline's 1 post

Caroline It difficult for anyone to make comment on any other possible reasons for the problem when you haven't actually mentioned your location, this in the form of a post code, or at least one from nearby (shop etc) to enable it to be fed into the reception predictor and the results assessed.

jb38's 7,179 posts
Thursday, 10 May 2012

It seems to me that this digital TV is as much of a curse as a blessing. My system worked just fine at all times of year, whatever the atmospheric pressure, until switchover. Even afterwards it was fine for a long time. Now I get pixellation (rarely) "no signal" errors with a blank screen (sometimes) and picture freeze (often).

So this is all due to the inversion layer? Our analogue signal sometimes deteriorated when there was an inversion, but you could always SEE it, and follow the programme. It is unwatchable now, much of the time.

Just a rant!

I am most dischuffed and feel we were conned.

Nothing was said in the run up to the change

John's 1 post
G
Graham.F.Lewendon
7:19 PM

Hi
Re Sky Freeview; Terrestial Freeview (The one that seems to be causeing many of you problems)and Free Sat.

Having all 3 is nice when a freeview retune comes along I simply change to Free Sat via a device that will record to removeable media but if I were not so lucky and was fed up as some of you good folks seem I would not go with Sky free view go with Free Sat easpecially if you already use the sky system and need to trim costs. It really is just 1 upfront cost the ie tuner or what ever device it comes with just make sure that if you opt for a dual tuner free Sat system that your aware of the need for a daul output LNB on the dish unless you had been already been subscribing to a sky plus package in one room if that is so cancle your arrangement with Sky keep the dish just as it is and swap over the two leads with F conectors from the Sky tuner to the Free sat tuner. Power done the sky tuner first - you might need it one day should your options alter in the future. For those moving from terrestial freeview to free Sat A good guide to check if you have a line of sight to satelitte is to compaire what you see standing under the dish of a close neighbour who is happy for you to do so. you should see just sky or clouds anything else will block signal Now stand where you expect to have or install own dish and do same line of sight check (a compass at neighbour's location is usefull to help you face in right direction back at your own location. Now check that there is only sky and or clouds visable as you move your head from looking staight up (not at the sun) down to as low as the horizion if possible the satelite sits on that arc and this is only a very rough way of checking line of sight but you will be better prepaired when installer arrives. Tv & radio channels exceed those of the terrestial option plus the 5 HD channels are free. No more retunes

Graham.F.Lewendon's 29 posts
Thursday, 7 June 2012

Sunday 3rd June, reception of all BBC channels was abysmal.
27.6 miles from Caradon Hill using a wideband antenna and Icecrypt T5000 receiver.
Reset rxer to factory default and retuned, have now lost Ch5 5usa and BBC blame the weather. This reception on Analogue was never ever this bad. It may be the Icecrypt receiver, so I have yet another receiver on order.


Lnz's 2 posts
Lnz's:
map
L's Freeview map
terrain
L's terrain plot
waves
L's frequency data
L's Freeview Detailed Coverage
M
Mark Fletcher
6:13 PM
Halifax

Lnz.Bude.I think you will find that Caradon Hill is an all group A transmitter and as you stated you are 27.6 miles from Caradon Hill itself effectively in a poor/marginal area within this transmitter and you mentioned you are using a group W wideband aerial which performs badly on an all group A mast such as Caradon Hill itself in a poor/marginal area.It is most unlikely that the Icecrypt T5000 receiver you indicated is at fault,but if you decide to replace the Icecrypt T5000 with another receiver and your new receiver is at fault then it is most likely in that scenario that the group W wideband aerial you have is of little use on Caradon Hill transmitter itself in a poor/marginal signal area itself.It that was to be the case then you new a new group A aerial a Yagi 18A at your location will do the trick.

Mark Fletcher's 673 posts
Mark's:
map
M's Freeview map
terrain
M's terrain plot
waves
M's frequency data
M's Freeview Detailed Coverage
M
Mark Fletcher
6:16 PM
Halifax

Lnz,Bude.My last sentence should have been.If that was to be the case then you need a new group A aerial,preferably a Yagi 18A at your location will do the trick.

Mark Fletcher's 673 posts
Mark's:
map
M's Freeview map
terrain
M's terrain plot
waves
M's frequency data
M's Freeview Detailed Coverage
Monday, 23 July 2012

I have a wide band modern aerial in Lincoln directed at Belmont. BBC, BBC2 etc 100% strength 100% quality. ITV, Channel4, Channel5 100% strength, variable quaility from 40% to 80%. If I move the aerial slightly I can improve the signal quality for ITV at the expense of BBC quality.
Why - when all digital tranmissions are from the same place?

Jim Charters's 2 posts

Jim Charters: Perhaps your aerial is too sensitive for the location and supplying an OTT signal:

Freeview signals: too much of a good thing is bad for you | ukfree.tv - 10 years of independent, free digital TV advice

Dave Lindsay's 5,724 posts
Select more comments
Your comment please