High pressure causing channel loss through "Inversion"

Brian Butterworth published on UK Free TV
There is high pressure over the whole of the UK at the moment, and this causes the Inversion Effect. This is causing people to be missing a single Freeview multiplex, or have terrible analogue reception on a single channel. The problem may come-and-go or last for several days.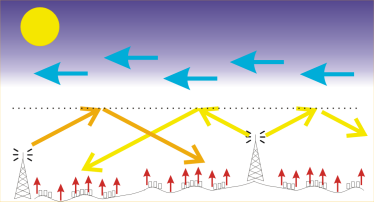 For details, please see What is the Inversion Effect and why does it effect my Freeview TV reception?.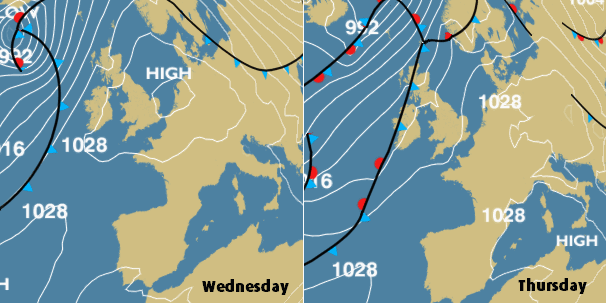 Comments
Monday, 23 July 2012

Dave
Thanks for the reply. Belmont is on top of a the wolds; I live in a low lying area and found it difficult to receive the analogue signal at times and the previous low output digital one almost impossible periodically. To make matters rather worse, the rear of the property faces immediate woodland of about 50m depth (en route to Belmont)! The aerial is a Blakes JBX 32 element. Is this aerial really that sensitive?
JIM

Jim Charters's 2 posts
Wednesday, 2 January 2013
A
Alex
10:22 AM
High Wycombe

We have a Samsung 22" smart TV. We have recently been losing the use of all BBC channels including Radio channels intermittently. These were not accessible all yesterday (1st Jan/13) evening and have just returned 9.30am today.We are in south Bucks HP10 8AH

Alex's 1 post
Alex's:
map
A's Freeview map
terrain
A's terrain plot
waves
A's frequency data
A's Freeview Detailed Coverage
Sunday, 28 September 2014

4G interference in Belfast. On RTE 2HD etc rf channel 56.
Most people who have Rte channels in Belfast will have a group CD mast head amplifier , this also in making the 4G signal which is on rf channel 63 wipe out or cause picture breakup on the Rte and normal BBC ,itv freeview channels .
I have changed a few headlamps as they were high gain ,mostly CD 1223 or even the old red CD supreme. I fixed these issues by fitting a Labgear outdoor 4g rejection filter and a CD1213 mast head amp. This should work as the Rte freeview from down south is now a good strong signal . You may not even need a mast head amp it depends on the set top box or tv you are using also which way or type off splitter there may be if the aerials are connected to feed more than one tv.
Also remember the more splitters and joints etc and cheap rf fly leads these cause big problems with reception issues.
Please email me if you have any 4G issues etc and I will try andadvise via email. We are the only CAI registered and approved installation company in Newtownabbey and Belfast .
Hope this is helpful.

robert stevenson's 2 posts
Monday, 26 October 2015

The past year I have been getting a loss of picture seems to flash on & off then off altogether with the message NO SIGNAL. Stays off for from 15 mins to 6 hrs. I have had the outside area chked to no avail. Sometimes I also get like a raydar effect like sweeping for aircraft...... the loss of signal is now so bad as to make me only use the tv as a monitor for films. Thank you. Beth

Beth Young's 1 post
M
MikeP
10:55 AM
Trowbridge

Beth Young:

For any contributor to be able to help we would need to know where you live by giving a post code, or that of a nearby public building, and the make/model of your TV equipment. It would also help to know if you have your own aerial and where it is located or whether you are connected to a communal aerial system.

There can be many reasons for your reported problem, such as trees, buildings, hills, interuptions in the 'line of sight' between you and the transmitter, and so on. Hence the need for location information. Different makes of TV can have either a more sensitive tuner or a less sensitive one, hence the benefit of knowing what make/model.

MikeP's 215 posts
MikeP's:
map
M's Freeview map
terrain
M's terrain plot
waves
M's frequency data
M's Freeview Detailed Coverage
Monday, 12 December 2016

I have deleted my entire channel list and re-scanned for channels and have found 137 channels - however none of the free view channels on channel 54 are being found - bluebell hill transmitter showing 76% strength and 100% quality

Chris Evans's 1 post
Sunday, 21 October 2018

Have Rowridge transmitter any plans to improve the digital recption to overcome the Inversion effect. If not, I can see alot of people transferring to satalite reception or fibre. Currently the service is not fit for purpose during adverse weather conditions. By the way i live on the east cliff of bournemouth and can see the I.O.W. in the middle distance, without any obstructions.

Wes's 1 post
Monday, 22 October 2018

Wes:

It is not possible to make any difference to a perfectly natural phenomenon such as the inversion effect. It is how the atmosphere works and is entirely natural and cannot be changed. It has existed for many millenia and became noticable when we humans started using frequencies that are affected by the phenomenon. Think back to the fading that affects transmissions in the medium wave at around 208 metres, as used by Radio Luxembourg.

Satelite reception also suffers from natural effects that reduce the received signal strength when the air is moist, such as fog, rain, snow, etc. Again there is nothing that can be done to change a naturally occuring event.



MikeP's 3,056 posts
Monday, 21 January 2019

I get slight blanking and interference when planes come in to land at Exeter airport. Not every plane causes this. What can I do to stop it? My freeview box tell me I have 100% signal strength and quality.

Roger Dyer's 1 post
Roger's:
map
R's Freeview map
terrain
R's terrain plot
waves
R's frequency data
R's Freeview Detailed Coverage

Roger Dyer: Are the planes flying directly between your home and the transmitter? If they are, it's possible that signals are being reflected off the planes as they fly past, which depending on the angle of the reflections could be causing a momently increase in signal strength. Too high a signal strength can overload the tuner, leading to the same symptoms (e.g. signal breakup) that would be experienced if the signal strength was too low. This can be overcome by fitting an attenuator to reduce the signal strength (ideally you're looking for somewhere between 70-85% signal strength).

StevensOnln1's 3,553 posts
Select more comments
Your comment please