High pressure causing channel loss through "Inversion"

Brian Butterworth published on UK Free TV
There is high pressure over the whole of the UK at the moment, and this causes the Inversion Effect. This is causing people to be missing a single Freeview multiplex, or have terrible analogue reception on a single channel. The problem may come-and-go or last for several days.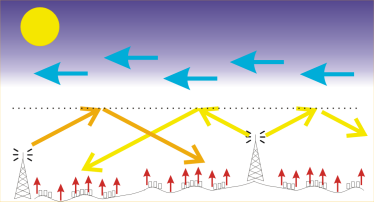 For details, please see What is the Inversion Effect and why does it effect my Freeview TV reception?.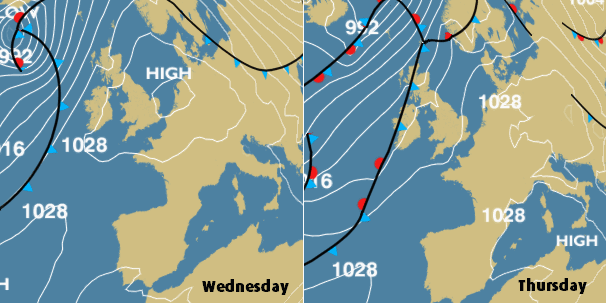 Comments
Wednesday, 30 January 2019

tv goes black for 2 secs especially on live broadcasts

wayne reade's 1 post
Thursday, 31 January 2019

wayne reade:

Please check your aerial cables and connections. Unplug all coaxial plugs/sockets and refit.



MikeP's 3,056 posts
Monday, 25 February 2019

I have an excellent reception all day every day until the late evening when I get the error message TV signal weak or lost. All my leads are connected I am using BT youview have checked the Sandy Heath web site and no engineering works any ideas please.

James Chamberlain's 1 post

James Chamberlain:

The current high pressure over the UK is causing the signal problems you and others report. Be patient until the weather changes and all will return to normal.



MikeP's 3,056 posts
Sunday, 21 April 2019

Hello, it is Sunday 21st April at 19.37pm and I have had no signal in Overstrand, Norfolk for half an hour now. Can anyone tell me what the problem is? Many thanks.

Lia's 2 posts

Lia:

Not without you giving a full post code so we can examine the transmitter information and your reception conditions.

Meantime, check all your awerial cables and connectiopns. Unplug and refit all coaxial plugs/sockets to clear any possible oxidation from them. DO NOT RETUNE.



MikeP's 3,056 posts
Friday, 20 September 2019
D
Doug Eyles
5:01 PM
Weymouth

In Weymouth DT4 9LW Almost no reception freeview reception today 20Sept2019. It has been flakey all week. We are less than half mile from transmitter in direct sight. There have been no problems since frequency changes earlier in the year when things went wrong for a week or two and then cleared up. All connections to my log40 aeriels (I have two) are good with the best cable that money can buy, What is annoying that nothing is ever reported as being at fault or fixed.

Doug Eyles's 1 post
Doug's:
map
D's Freeview map
terrain
D's terrain plot
waves
D's frequency data
D's Freeview Detailed Coverage
Saturday, 21 September 2019

Doug Eyles:

There has been some Tropospheric Ducting over the past week, the strength of which has been variable over the period. There has also been some issues at the Weymouth Transmitter over the course of the week as reported on the Weymouth Transmitter page & elsewhere. Hopefully your reception is back to normal at present.

Chris.SE's 3,724 posts
Thursday, 24 October 2019
D
Darren
8:51 AM
Shrewsbury

Hi

Anyone have any ideas why we lost pretty much every channel to interference last night off the Wrekin? (23/10/19 - SY2 5PH)

We've had on and off interference that usually only affects certain bands, usually when the weather is bad but last night was the worst and affected all channels to the point of being completely unwatchable. The aerial etc was all replaced during the summer by professional installers and apart from a couple of trees we've got pretty much line of sight to the Wrekin.

Thanks
Darren

Darren's 1 post
Darren's:
map
D's Freeview map
terrain
D's terrain plot
waves
D's frequency data
D's Freeview Detailed Coverage

Darren:

The amount of tropospheric propagation last night was generally quite low although one can get isolated unstable pockets but I think it was unlikely to have been the cause of your problems which may remain a bit of a mystery. In normal circumstances your reception of all multiplexes should be 100%.
Trees in the line of sight can affect reception but then you'd expect problems at other times not just last night especially as it wasn't pouring with rain and blowing a gale (AFAIK!).

Although you said your aerial was replaced in the summer I'd still check that your aerial seems intact and is still pointing in the correct direction also check that your downlead looks undamaged. Check all you coax plugs, connections, flyleads etc, unplug connectors check for corrosion or other problems and reconnect them. See what signal strengths and quality you are getting for the multiplexes shown in your TV's tuning section.
Problematic connections, water ingress etc. can seem to affect reception of just an individual or several multiplexes.

I assume that the problem has "gone away", if not then maybe we'd have to consider the possibility of some form of local interference. Have you (or near neighbours) got any new electrical/electronic items or changed anything? Is there any pattern to the occurrences? No new mobile phone masts very near?

Other than all that I can't think of anything else to suggest without more detail if it's a continuing problem.

Chris.SE's 3,724 posts
Select more comments
Your comment please