High pressure causing channel loss through "Inversion"

Brian Butterworth published on UK Free TV
There is high pressure over the whole of the UK at the moment, and this causes the Inversion Effect. This is causing people to be missing a single Freeview multiplex, or have terrible analogue reception on a single channel. The problem may come-and-go or last for several days.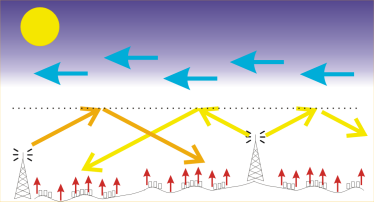 For details, please see What is the Inversion Effect and why does it effect my Freeview TV reception?.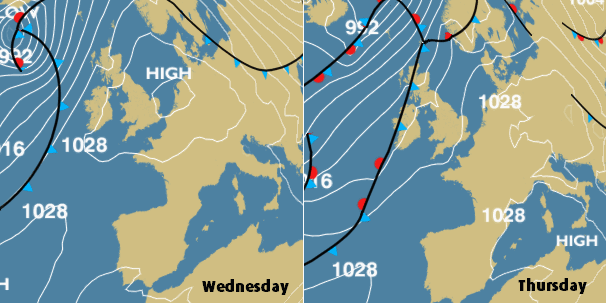 Comments
Sunday, 25 March 2012

Hi All, Can anyone help me with the following? I have a small Samsung TV in the bedroom and A Sony 40" in the downstairs living room. A while back I noticed the likes of Dave, Really and a few other channels had gone missing on the Sony but still worked on the Samsung (they both share the same Aerial without a booster) Today March 25th, I have lost Film 4 and a few more channels. Does anyone have any ideas? I live in New Milton on the coast between Southampton and Bournemouth, directly opposite the Isle of Wight. Thanks in advance

ticker64's 1 post
Monday, 26 March 2012

Every evening for the past couple of weeks we've not had any ITV channels, CH4 or 5 on digital - analogue OK. Signal strength checked and all OK. Comes back some time during the morning and usually stays till early evening (times when I don't normally watch TV), then off-air it goes again when anything decent is on. Am really fed up with missing programmes, having to record and re-record repeats, etc. Digital TV is supposed to be an improvement - never had so many problems. Is there anything I can do to get these channels again on a regular basis or am I now doomed to only watching BBC once the switchover to digital commences?

Shell's 3 posts
Shell's:
map
S's Freeview map
terrain
S's terrain plot
waves
S's frequency data
S's Freeview Detailed Coverage

Last few days, many problems with Inversion Effect. Almost every time I turn my TV on it says 'new channels found' and scans.
The so-called new channels are just other transmitters leaking in; frequently I get an additional BBC 1 from Belmont. On occasions I've also picked up channels from Sutton Coldfield, and right now I'm picking up quite a strong SDN signal from Waltham!

Thomas's 61 posts

Last night (25th)I lost ITV1 and 2, Chs. 4 & 5 BBC3 & 4, E4 and More 4, for the third time in the last 3 weeks or so. I either get a message saying "weak or no signal" or just a clear back screen. This is on both analogue and through my digital box!! Any ideas? I live in North West Kent. Jadranka

Adrienne's 2 posts

since 21st march are reception has been dreadful. We completely lost all channels last night Titanic sank my recording of upstairs downstairs locked out.
In the good old days BBC would apologise for interference in the digital age nothing. Advancing progressively backwards.

Simon Barnes's 1 post

Hi

I have lost all channels last night and been getting interference for the past 3 weeks. This morning it is showing 45% signal

Freeview is part of the Philips tv I have

I also have a signal booster box

I am in Copthorne, crawley next to Gatwick Airport

Any ideas

SHEENA's 1 post
SHEENA's:
map
S's Freeview map
terrain
S's terrain plot
waves
S's frequency data
S's Freeview Detailed Coverage

I live in NG16 area and yesterday evening (25th) lost all ITV channels & still off this morning. Now just lost BBC channels - poor signal keeps coming up. All other digital channels are ok (shopping channels/Yesterday etc) Last time this happens was when it was foggy. Is it the weather?? Never had this problem in the past - why suddenly -since full changeover -is the weather affecting signals? Or is work being carried out somewhere? Not very reliable tv is it!!!

S Ward's 1 post

Same inversion problem here in Woking; loss of ITV and channel 4. Had the same problem on and off since the Summer, I even had to revert to watching the early morning World Cup rugby on the internet. BBC isn't immune, but but usually lots of interference rather than total loss. I am hoping it will improve after the changeover in April.

John's 1 post
John's:
map
J's Freeview map
terrain
J's terrain plot
waves
J's frequency data
J's Freeview Detailed Coverage
G
G Davies
11:09 AM
Cranbrook

I've been experiencing the same problem as highlighted by many others here, this weekend was particularly bad with three MUX's showing 100% signal but 0% quality = "Signal lost". A complete rescan picked up five different BBC1's, so even though I couldn't receive my usual BBC1 some of the others did work some of the time (came and went), which lead me to believe my usual signal (Bluebell Hill) was being corrupted by neighbouring transmitters (Dover, Tunbridge Wells, Heathfield), some of which are transmitting on the same frequencies. The explanation about the Inversion Effect above does seem to explain it. Lets hope the weather changes soon as I also missed the new Titanic series! - They repeat everything else except the thing you want to see!

G Davies's 2 posts
G's:
map
G's Freeview map
terrain
G's terrain plot
waves
G's frequency data
G's Freeview Detailed Coverage

G Davies: Reception of Mux2 from Bluebell Hill, even without weather related problems is currently predicted to be poor and deteriorates to no prediction at all up to switchover. At this time Dover is predicted to give good reception, betwean 18th April and 27th June 2012 Crystal Palace is shown as good reception for MuxD3+4 on C26, then after 27th June 2012 (DSO stage 2) you should again have good reception from Bluebell Hill.

KMJ,Derby's 1,811 posts
Select more comments
Your comment please