Almost five million London homes begin switchover this week with a retune

Brian Butterworth published on UK Free TV
This week sees the first stage of the digital television switchover for 4,853,500 homes in Greater London.

From 6am Wednesday 4th April 2012, you must perform a "first time installation" retune (sometimes "Factory Reset" or "Shipping Condition") on your Freeview box or television set if you use the Crystal Palace, Hemel Hempstead, Reigate or Guildford full service Freeview transmitters.

This is because the old low power "multiplex 1" BBC service will be replaced by the high power BBCA multiplex on the old analogue BBC TWO frequency. Also, ITV 1 analogue will move to the BBC TWO analogue slot, except at Hemel Hempstead.


Because the Multiplex BBCA service carries some
channels
(
BBC FOUR
and BBC
radio stations
) that are also still being broadcast as part of the existing multiplex 2, after you retune, you will see these channels duplicated. This will be resolved when you do a full retune in a fortnight.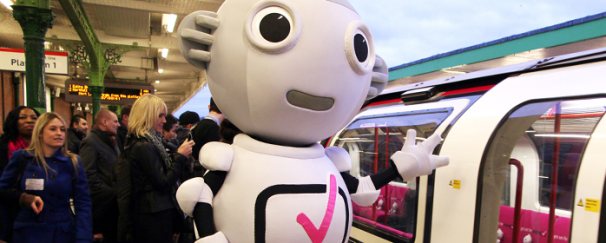 On Wednesday 4th April 2012 (at 6am unless otherwise specified) if you use the:
Alexandra Palace
(1pm),
Assendon
(noon),
Biggin Hill
,
Bishops Stortford
,
Cane Hill
,
Caterham
,
Chepping Wycombe
(9am),
Chesham
,
Chingford
(11am),
Croydon
(Old Town),
Dorking
(noon),
East Grinstead
(noon),
Edmonton
,
Farningham
(9am),
Finchley
(9am),
Forest Row
(9am),
Gravesend
,
Great Missenden
,
Greenwich
(4pm), Guildford,
Hammersmith
,
Hampstead Heath
,
Hemel Hempstead Town
(9am),
Henley
-on-Thames (9am),
Hertford
,
High Wycombe
,
Hughenden
,
Kenley
,
Kensal Town
,
Lea Bridge
(2pm),
Marlow Bottom
,
Micklefield
,
Mickleham
,
New Addington
(11am),
New Barnet
,
Old Coulsdon
(2pm),
Orpington
,
Otford
,
Poplar
(1pm),
Skirmett
(3pm),
St Albans
,
Sutton
,
Walthamstow North
,
Welwyn
,
West Wycombe
,
Wonersh
(9am),
Wooburn
(noon),
Woolwich
(9am),
Worlds End
relay
transmitters you will be able to receive the BBC Freeview
services
(with the exception of HD) for the first time, and you will no longer be able to view BBC TWO on analogue.
You MAY find that old equipment will no longer work - see
TVs and boxes that do not support the 8k-mode
Another common problem at switchover is the increase in
signal
will overload amplifiers and over-the-top
aerial
installations. If this is the case you will have to remove the
booster
or
amplifier
from the system, or perhaps fit an attenuator if you have no amplification. - see
Freeview signals: too much of a good thing is bad for you
.
On
Wednesday 18th April 2012
will see the second stage of switchover, which provides the final Freeview configuration, including
Freeview HD
for all transmitters in this
region
.
On this date, you will need, once again, to do a "first time installation" as indicated above.
If you are over 75, you should already have been supplied new equipment by the
Switchover Help Scheme
.
Comments
Wednesday, 4 April 2012
M
matthew richardson
12:40 AM

i've lost all the channels except channel 5

matthew richardson's 1 post

matthew richardson: That might happen because that happened when the wrekin in the west midlands when bbc 2 as switched off.
Also are the channels got a blank screen or nothing at all

JORDAN C's 10 posts

Mark Fletcher you were SPOT on - and what a dramatic ending it was! I wish I'd videoed it. Hope someone puts it on youtube. Incidentally there is a minor error. It should say "by the high power BBCA multiplex on the old analogue ITV1 frequency" (not BBC2). Sorry to be so picky but I'm directing total novices to this page and they're already struggling bless them!

Miles Hardy's 1 post
D
David Pinfold
11:37 AM
Banbury

Picking up BBC A from Crystal Palace perfectly here in North Oxfordshire at 70 miles distance.

David Pinfold's 42 posts
David's:
map
D's Freeview map
terrain
D's terrain plot
waves
D's frequency data
D's Freeview Detailed Coverage

I have run a 1st stage re-tune.
i can only recieve bbc 4 and radio stations.
will i only receive these channels for the next fortnight.

Cliff O'Garro's 1 post

Cliff O'Garro: What's the make and model of your receiver? If you are only picking up these, then I wonder if it won't work after switchover.

Could you receive other channels before?

Dave Lindsay's 5,724 posts

Also receiving excellent signal on BBC A in Paddock Wood, Kent from Crystal Palace at 43 kilometers distance and with the signal coming in at nearly 90 degrees off line to the aerial.

The Digital UK coverage predictor shows CP, Tunbridge Wells, Bluebell Hill, Heathfield and Dover as being good reception after DSO, so it's going to be an interesting couple of months with retunes. As removing the masthead amplifier/splitter isn't going to be an option I think I'll need to invest in some attenuators!

Steve T's 3 posts
Thursday, 5 April 2012

I only used to receive Mux1 and the others for that matter on a whim and a prayer with my 40ft high stacked pair, now I can get with just about anything. Can't wait for the rest to power up.

Pedro dd's 101 posts

Does anyone know how much electricity will be saved after switchover is complete? Looking at Crystal Palace alone, it looks like ~4 Megawatts less of electricity will be used now everything is digital only.

This must amount to a huge saving, (cost and power) for the nation?

Mark T's 2 posts

I've lost ITV 1 ITV 2 Channel 5 and many others despite following all the guidelines for both auto and manual re-tunes. I've spoken to Digital UK who told me to speak to Sony (my TV manufacturer) and carried the retuned as per the Sony guidelines without any luck.
HELP - what do I do now?

Joe's 2 posts
Select more comments
Your comment please