UK Free TV is ten years old today

Brian Butterworth published on UK Free TV
To celebrate the one-decade of UK Free TV, I am first posting a short graphical history of the website.

The very first "version" of what would become the UK Free TV was included in a web-site I did for BT Broadcast Services back in 1996.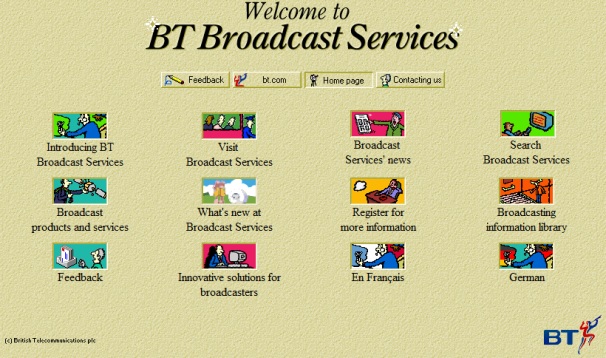 Under a section called the "Broadcasting Information Library" there was a "Digital Terrestrial TV Channels" page. This was one of the few sources of information on the new fangled "world wide web".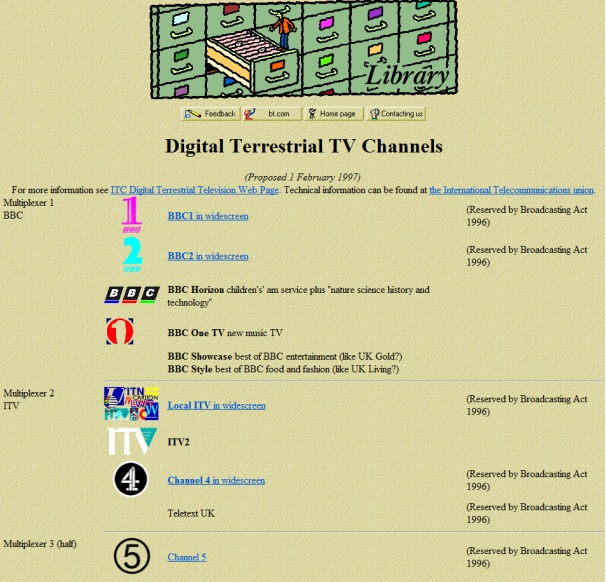 Just before ONdigital launched (on 15th November 1998) I was asked by BT to troubleshoot some of the technical issues that ONdigital were having. One thing I discovered was that the "technical support helpline" had no information to help them.

ITV digital, as it now was, folded on 1st May 2002, and when Freeview was announced I decided to create the "missing" web technical support resource for DTT as a personal project, and registered the name "UKFREE.TV" on 5th July 2002.




From the start the vision was "One main feature of this site will be to work out for you the options you have in your local area. By providing your postcode and details the your equipment you have (or are thinking of buying) we will be able to tellyou what you can get, what you have to spend to get it, and how to make sure you are getting the very best quality".

Here is how the site looked at the beginning: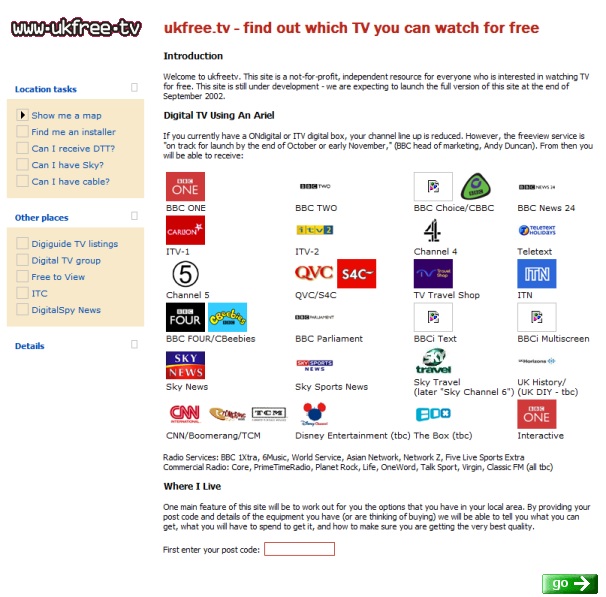 In the first few years, the site evolved to have stories, maps, an enhanced prediction system, and details of the upcoming ("in 849 days") digital switchover.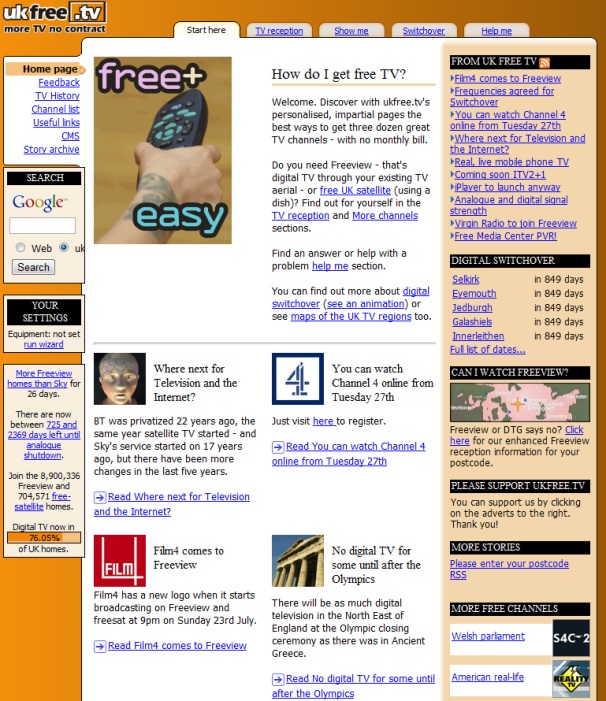 As the site progressed, I evolved it to be more "accessible" (or "user friendly" in old money). This version has the "free+easy" strapline, and the ability for everyone to add comments, suggestions, questions and answers to each pay.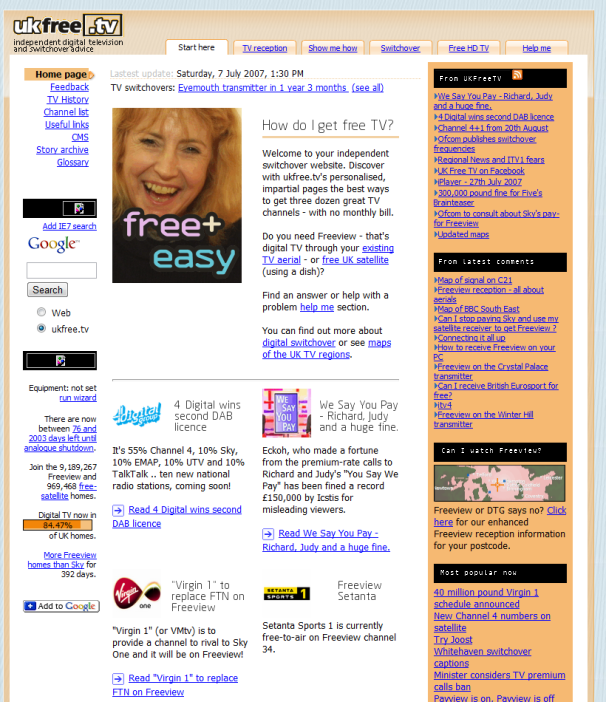 I was quite pleased that "Free and Easy" was taken up by Freeview for their point-of-sale blurb...




The next version of the site was created because computer screens were wider.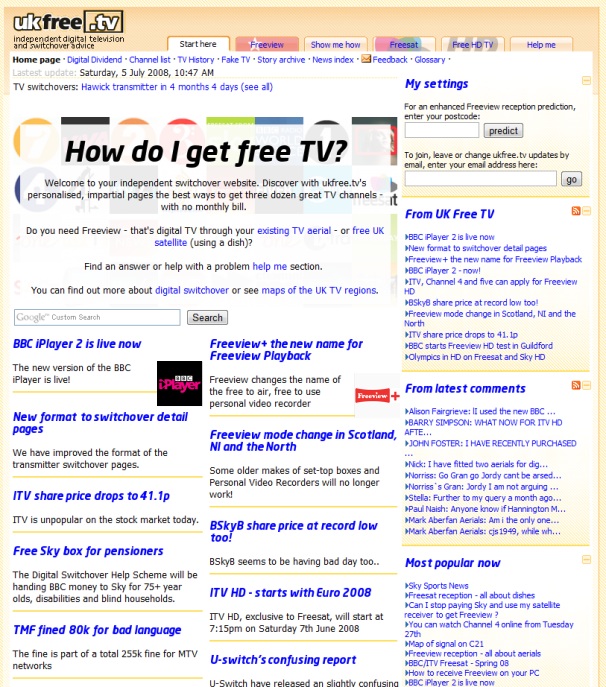 The next version of the site changed the look to add more colour. The colours were used to signpost the growing number of sections on the site.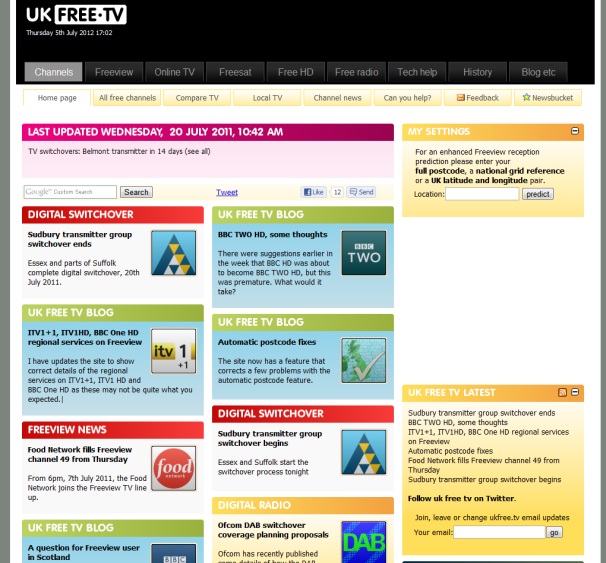 And so to the current design, which has now taken into account the number of people using mobile devices to access the site: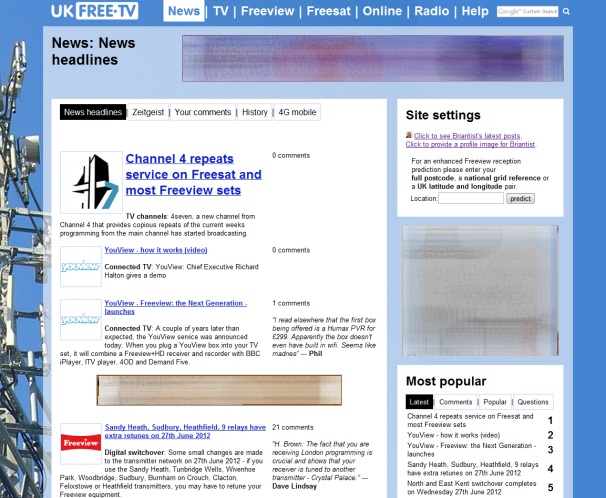 Comments
Thursday, 5 July 2012

A very happy birthday - I just wish i had more time to participate in this website unfortunately this whole switchover carry on has me f88king knackered... All the best for the next 10 years and god knows how many retunes later!!

Jordy's 1,827 posts

May I just say a hearty "Thank You" for all your endeavour during the last 10 years. When I adopted Freeview around 6 to 7 years ago I discovered multiple 'issues'. The help and advice provided by your site proved invaluable in getting to the nub of my difficulties. Other sites didn't gome close. Your selfless devotion to the cause of educating the public, in my view, deserves a 'recognition'.
Thank you.

Peter Newlands's 8 posts
Friday, 6 July 2012

Congratulations on an excellent site. I have gained a huge amount of pleasure and knwledge from it since I discovered it just four years ago. It is an extremely informative and helpful site for people of all levels of technical ability. It must have consumed a vast amount of your time (Brian in particular), especially during periods of illness, not to mention your house move and the incident with the half dressed individual !! Happy Days !!

I know I have had my moans and groans about DAB over the years, but I hope my points have always been backed up with reasoned and constructive critisism based on my vast listening experience together with well researched background investigation. I am a keen radio listener both in my home and on the move (in cars and on the many rural areas I walk in with my FM/DAB radio with me) and abroad (when I swap it for my AM/FM/SW radio). Who knows one day the government will see sense and allow the BBC enough capacity to broadcast all their stations on DAB in high quality stereo with a decent bit rate (I may well be in my grave by the time this happens however), using the total the overall DAB full capacity available, that is currently well under utilised (you remember the Channel 4 radio project that never took off - that Multiplex is still unused I believe). I also cannot believe we are in a stuation now where DAB channels are losing further slots to broadcast stereo programmes in mono. The evening addition of THE ARCHERS on DAB Radio 4 being a recent victim. A previous controller of Radio 4 (Jenny Abramski) stated that it was a mistake to lower bit rate at certain times on Radio 4 and this "won't happen gain". Well sadly it has.

It is also outrageous that FREEVIEW viewers are possibly going to have their signal interefered with by the 4G phone network in the near future costing up to £200 for an additional box to put it right. What spectacularly poor planning !! Just as we move to a point when the nation is about to be fully digital and the vast majority of viwers receive digital TV on FREEVIEW. You couldn't make it up.

Thanks anyway for a terrific multi-themed site and good luck for the future.

Best wishes, NEDBOD.

Nedbod's 619 posts
A
Adam B
10:53 AM
Dunstable

Congratulations Brian!

This site really has been a godsend to myself and countless other people. It offers help and advice that is without peer, and puts to shame the official bodies who have been charged with managing the transition from analogue to digital.

Here's to the next ten years,
best wishes,
Adam.

Adam B's 91 posts
Adam's:
map
A's Freeview map
terrain
A's terrain plot
waves
A's frequency data
A's Freeview Detailed Coverage

Congratulations for 10 years of this website running! It has been a very valuable resource to me!

Josh's 97 posts

Congrats on 10 years. Great site, very useful, very interesting.

Phil's 39 posts
Phil's:
map
P's Freeview map
terrain
P's terrain plot
waves
P's frequency data
P's Freeview Detailed Coverage

Hi Brian,

Well done mate, a great site that has helped so many people.

Mark Aberfan Aerials

Mark Aberfan Aerials's 1,059 posts
Saturday, 7 July 2012
Ian Porter
1:34 AM


Fantastic Brian and great thanks from me too. I cut my teeth at ONdDigital. It's so good that they went and you're still here. I think it would only be fair if ITV made you an offer for ukfree.tv of about £10 million.

Best wishes!

Ian Porter's 8 posts

Happy birthday to you.

And a new look too - presumably the reason I stopped getting emails then got a big catchup one!

Stephen P's 1,173 posts

Congrats on reaching the 10th anniversary of this excellent site. Here's to many more years!

StuartPlymouth's 1 post
Select more comments
Your comment please