UK Free TV is ten years old today

Brian Butterworth published on UK Free TV
To celebrate the one-decade of UK Free TV, I am first posting a short graphical history of the website.

The very first "version" of what would become the UK Free TV was included in a web-site I did for BT Broadcast Services back in 1996.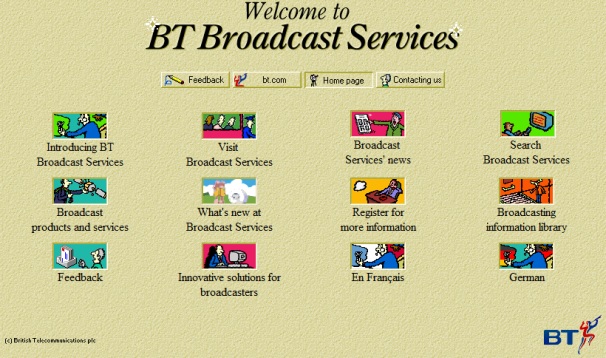 Under a section called the "Broadcasting Information Library" there was a "Digital Terrestrial TV Channels" page. This was one of the few sources of information on the new fangled "world wide web".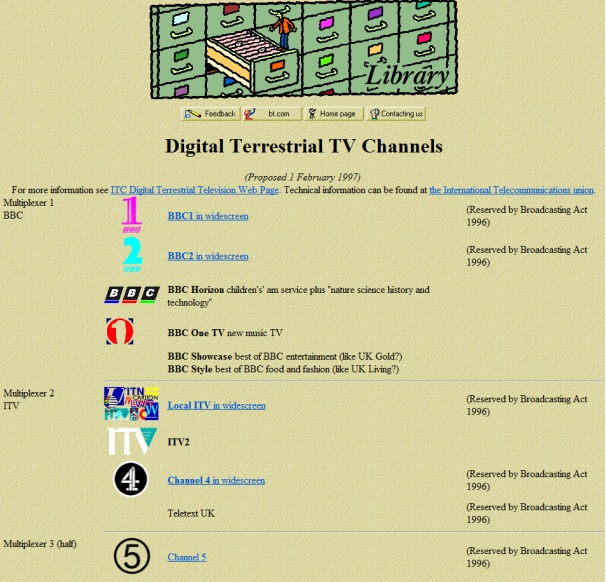 Just before ONdigital launched (on 15th November 1998) I was asked by BT to troubleshoot some of the technical issues that ONdigital were having. One thing I discovered was that the "technical support helpline" had no information to help them.

ITV digital, as it now was, folded on 1st May 2002, and when Freeview was announced I decided to create the "missing" web technical support resource for DTT as a personal project, and registered the name "UKFREE.TV" on 5th July 2002.




From the start the vision was "One main feature of this site will be to work out for you the options you have in your local area. By providing your postcode and details the your equipment you have (or are thinking of buying) we will be able to tellyou what you can get, what you have to spend to get it, and how to make sure you are getting the very best quality".

Here is how the site looked at the beginning: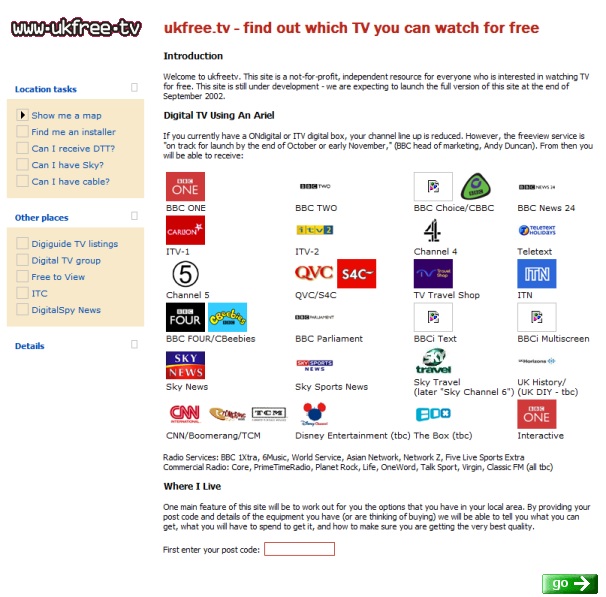 In the first few years, the site evolved to have stories, maps, an enhanced prediction system, and details of the upcoming ("in 849 days") digital switchover.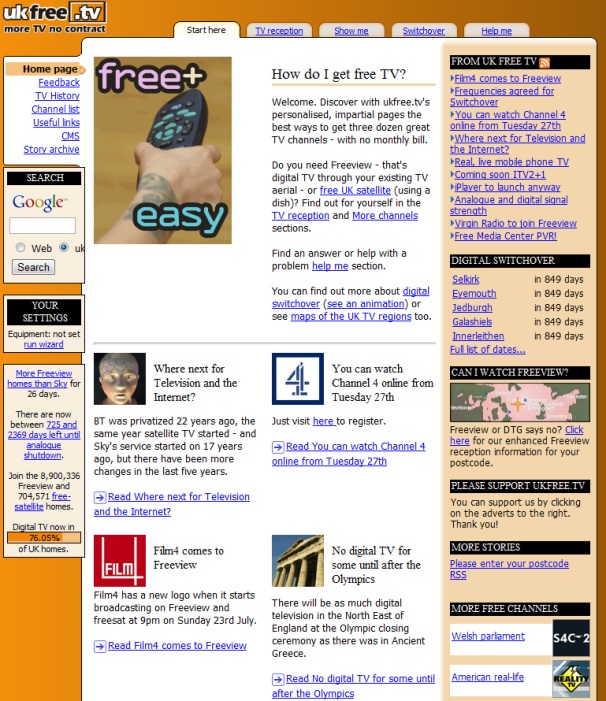 As the site progressed, I evolved it to be more "accessible" (or "user friendly" in old money). This version has the "free+easy" strapline, and the ability for everyone to add comments, suggestions, questions and answers to each pay.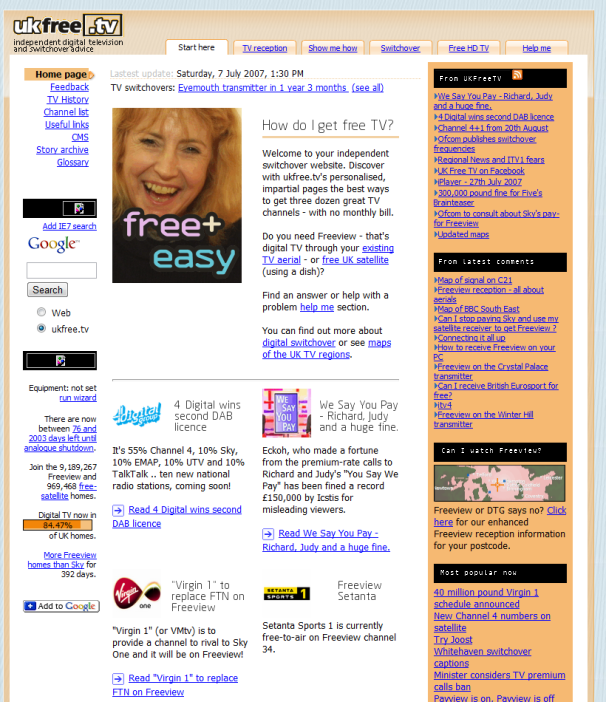 I was quite pleased that "Free and Easy" was taken up by Freeview for their point-of-sale blurb...




The next version of the site was created because computer screens were wider.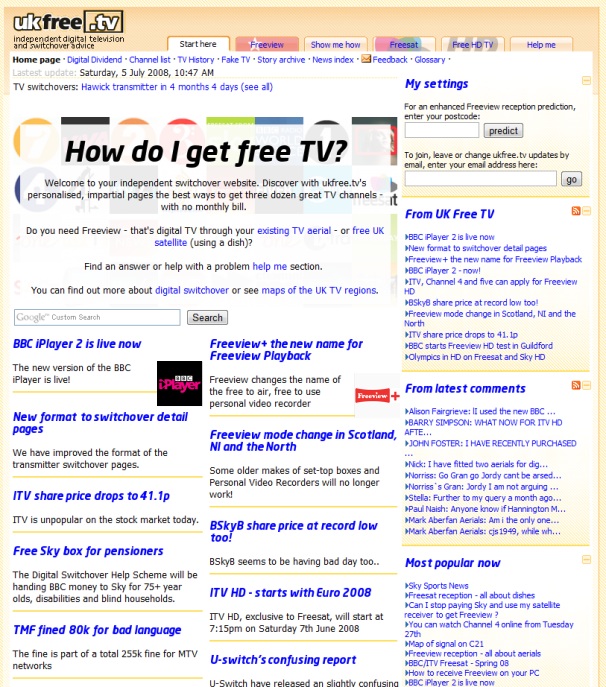 The next version of the site changed the look to add more colour. The colours were used to signpost the growing number of sections on the site.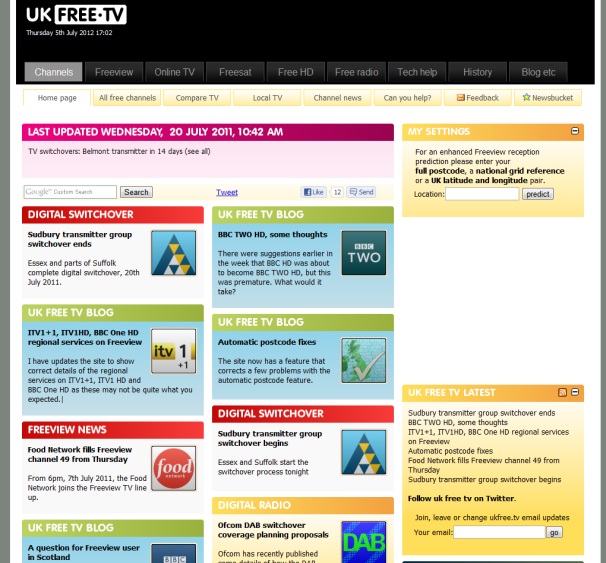 And so to the current design, which has now taken into account the number of people using mobile devices to access the site: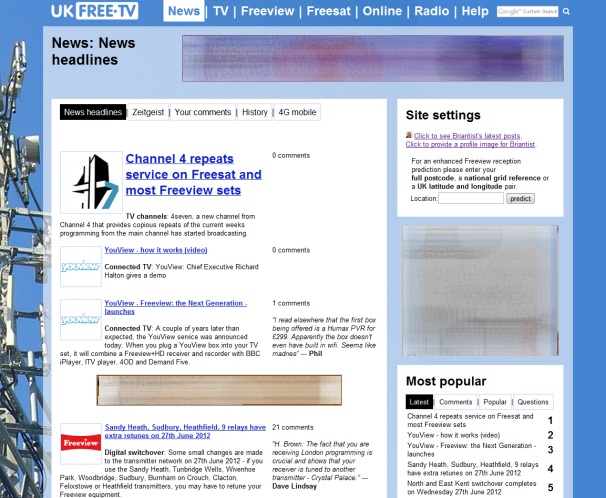 Comments
Saturday, 7 July 2012

Congrats on reaching the 10th anniversary of this excellent site. Here's to many more years!

StuartPlymouth's 1 post
M
Mark Fletcher
8:42 PM
Halifax

Happy 10th birthday to UK Free TV.I only joined this forum since September 2011 but a very valuable forum and website it is !

Mark Fletcher's 673 posts
Mark's:
map
M's Freeview map
terrain
M's terrain plot
waves
M's frequency data
M's Freeview Detailed Coverage
Sunday, 8 July 2012

Happy birthday to you,
Happy birthday to you,
Happy birthday UK Free TV
Happy birthday to you.


Nick's 58 posts

Brilliant site real wealth of information not only to general public but also to the trades.

Congratulations for all your hard work mate keep it up
and may this great website continue for many years to come

Best Regards Peter

Peter Browning's 7 posts
Monday, 9 July 2012

Excellent site, just what the dipole ordered.
10 Years have just wizzed by, but what a wealth of information and patience with questions from the likes of me.
All the best for the coming decade and beyond
Brian Greensides

Brian's 17 posts
D
Des Collier
4:43 PM
Brigg

Well done Brian,on 10 years of dedication & hard graft on an excellent website,here's to another 10 years,like the new look!!


Des Collier's 171 posts
Des's:
map
D's Freeview map
terrain
D's terrain plot
waves
D's frequency data
D's Freeview Detailed Coverage

Stephen P: Just wanted to say that the break in emails was unintended and require a bit of code to be fixed. When the fix was done, the site then made up for all the missed emails in one go...

Briantist's 38,899 posts

A bid thank-you to Jordy, Peter Newlands, Nedbod, Adam B, Josh, Phil, Mark Aberfan Aerials, Ian Porter, StuartPlymouth, Mark Fletcher ,Nick, Peter Browning and Brian Greensides for you kind comments!


Briantist's 38,899 posts
Sunday, 15 July 2012

I love this website! Been a reader since I moved to UK in 2006 and got my first Freeview box :-)

Alex F.'s 14 posts
Monday, 16 July 2012

This is most useful and able site on Freeview televsion in my opinion. Briantist is intelligent and very tolerant of a lot of Herbert's!

Thank you Briantist!


Mark Barden's 4 posts
Select more comments
Your comment please