Changes to BBC HD transmissions on Astra satellites on 20 September 2012

Brian Butterworth published on UK Free TV
About a year ago, the BBC upgraded the satellite transponder it uses for HD channels to the DVB-S2 standard (BBC HD to switch to DVB-S2 on 6th June ), and at the start of this year moved the transponders to a new satellite, Astra 1N (BBC satellite services moving to Astra 1N on 24th February).

Following this, the BBC is now going to make another change to the configuration, moving from QPSK to 8PSK modulation (from 4 to 8 Phase-shift keying), and a corresponding switch of the FEC (forward error correction) from 8/9 to 2/3.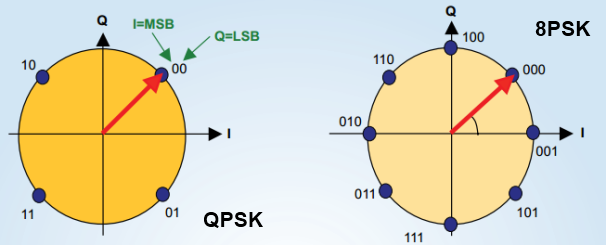 This change will give a significant increase in the bitrate on the transponder - the change allows three bits to be carried per "symbol" (which remain at the 23.0MSymb/s rate) , rather than two as before).

The change from DVB-S to DVB-S2 last year increased the "usable" bitrate from 33.8Mbits/s to 46Mbit/s, the change to the 8PSK 2/3 will provide 58.8Mbit/s. (for more see DVB-S2 ready for lift off).

This will be used to allow for five high definition BBC television streams to be carried on satellite. The current two, used for BBC One HD and the BBC HD channel will be changed to:


BBC One HD for Northern Ireland
BBC One HD for Scotland
BBC One HD for Wales
BBC One HD for England (and the Channels Islands)
BBC Two HD for the UK
The changes will happen later in the year, after the configuration changes have been made to the transponder on 20th September 2012.
Freeview
and
cable
users will not see any changes on 20th September. You won't see any changes if you do not have any HD channels.
If you use
Sky
or
Freesat
-from-Sky your box should not require any action. If you are unable to watch BBC One HD or BBC HD on that date, turn the Sky box off at the
mains
, wait 30 seconds and turn the power back on. After a few minutes
the box
should be able to show the channels again.
If you use Freesat, you may have to "soft reset" the box on 20th September. To do this, put the Freesat HD box or Freesat HD TV into standby for 30 seconds and then switch it back on again. In some rare cases, this will not work and you will need to do a "first time
install
" on the
receiver
.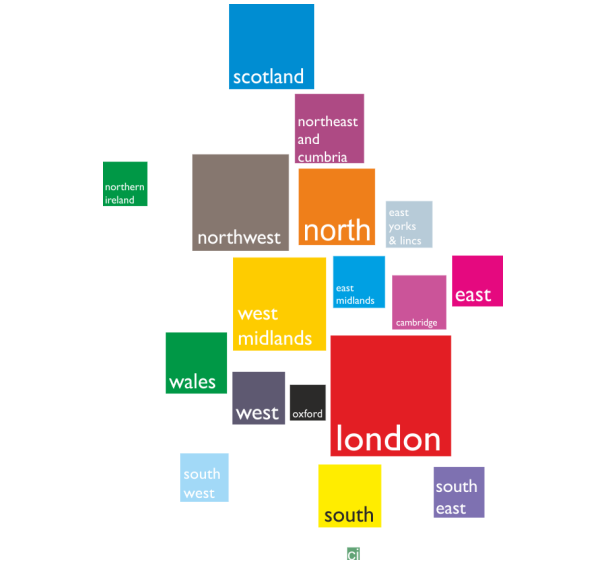 The diagram above shows the United Kingdom, split into the populations in each BBC television
region
. It is interesting to note that the BBC will be providing special versions of BBC One in HD for Scotland (9.1% of the population), Wales (3.5%) and Northern Ireland (2.5%) whilst neglecting the large
London
(18.4%) North
West
(11.7%) and West Midlands (10.9%) regions.
However, the BBC has commitments to the "nations" and does provide additional programming and opt-outs above the "regional news" slots provided for the English Regions.
Comments
Thursday, 4 October 2012

I have a SKY HD box (PVR4) and since the 27th Sept I have been unable to get BBC one HD (143) and BBC HD (169). This must be down to the transponder change as I was able to get these channels before the change. I have a second SKY HD box (newer PVR5) and this still works for BBC HD post 27/9/12.

Richard's 5 posts

Richard: If you haven't already done so, you should try disconnecting the box from the mains supply and after about 30 secs or so reconnecting it again and allowed it to go through the usual searching for listings procedure, as that might correct the problem.

If it doesn't then please indicate the model number printed on the label on the underside.

jb38's 7,179 posts
Monday, 8 October 2012

Hi jb38

Thanks. I have tried the power down reset without success. All the info I have seen suggests that it should work. It seems that the older box with the latest s/w will not handle the BBC's transponder changes. The failing box is as follows: Thompson (DSI8215) written on underside. From the service menu Model # 902020 Version 4E3006. I have contacted SKY but they where not even aware of the transponder config change and the front line support have not received any info about this problem.

Richard's 5 posts
Tuesday, 9 October 2012

Richard: That was an issue from last year (June 2011) concerning the change to DVB-S2 operation and not applicable to the problem you are presently experiencing "if" the box was previously working OK.

Although you should not really require to do anything other than that suggested, and although I cant guarantee that this will work by the fact of not having a Sky HD box kicking around at this present time to try it out myself, but you should try entering these latest parameters into your Sky HD boxes "other channels" facility and check to see if that then enables the box to pick up BBC HD. (These figures will possibly provide more info than the Sky menu allows for)

Parameter changes from 27th September 2012.

Astra 1N (28.2° East)
Transponder 50
Frequency: 10.84700 GHz
Vertical polarisation
Modulation: DVB-S2, 8PSK
Symbol rate: 23.0 Mbaud
FEC 2/3
Transport Stream ID: 2050

Channel SID
BBC HD: 6940
BBC One HD: 6941

jb38's 7,179 posts
Thursday, 11 October 2012

Hi jb38

Thanks, I see now that the link above was for a year old thread but there was a change to the transponder on 27/9/12. See BBC - Blogs - About the BBC - A change to the BBC HD channels on satellite on 27 September . It was after this that I lost both BBC HD channels.

On my box I have nothing in "Other Channels". When I go to "Add Channels" I get asked for Freq, Pol, Rate and FEC. The rate comes from a menu that only allows 27.5 or 22.0 Mb. I tried Freq 10.847 and both rates and the search found nothing.

Do I need some hidden menu to try what you suggest ?

Richard's 5 posts
Saturday, 13 October 2012

Richard: If your version of Sky box does not offer either a symbol rate setting of 23M/b or failing this an auto-select facility as applies in many Freesat TV's, then I am afraid that it doesn't look very promising as far as it being suitable for purposes other than SD use.

However, although as previously mentioned I do not have one of these boxes around at present for purposes of testing, I have however gleaned some information from elsewhere on a box with the operating system software being: 1.32B12 / EPG software 8.3.2, info as below.

Should any added channels be stored then they must be deleted and carry out a "new install" with the card inserted.

Press Services - 4, then " 0 - 1 - Select" which takes you into the installer menu, once in press "new installation"

By the way, dependant of the menu version you have rather than "services - 4 - 0 - 1 - select" it might be "services - 0 - 0 - 1- select, the main point being that you want to access "new installation".



jb38's 7,179 posts
Monday, 29 October 2012

Hi

Sorry for the delay. Magically the box did an automatic upgrade and bingo , I can now received the missing HD channels.

From the details screen the model # has changed from 902020 to 102140. The s/w now is 1.32B12 and the epg is SKY+8.3.2 .

Richard's 5 posts
Monday, 12 November 2012

Hi
I have a Panasonic Plasma 42" TX-P42G15B TV and it is now giving a pixilated picture and bad sound on 108 and 109 BBC HD channels.
I have tried switching to standby for 30 secs and also put it on Transit mode switched off then on and retuned all to no avail.
The set is only about 2 years old
Any ideas?

Marc's 1 post
Friday, 4 January 2013

to all who read this there is a e petition joinfreesat site for to force all uktv channels on to both freesat and freeview also get lots off people to sign because BBC owns 50% of uktv would be very grate full for the word to spread around the internet and beyond and thank you for letting me write this

conor's 60 posts
Select more comments
Your comment please