Four regional DAB multiplexes to close in 2013 to allow for better local DAB

Brian Butterworth published on UK Free TV
The government's radio switchover strategy incorporates a plan to match the DAB coverage of local radio stations (both BBC and commercial - see Ofcom - Annex B. Local DAB build-out plans) with that currently provided on FM (see Ofcom - Maps).

To do this, the regional multiplexes will be closed and their frequencies used to do a large-scale replanning, incorporating a new one called 5A.




MXR will close the following multiplexes:


When complete, the new plan looks like: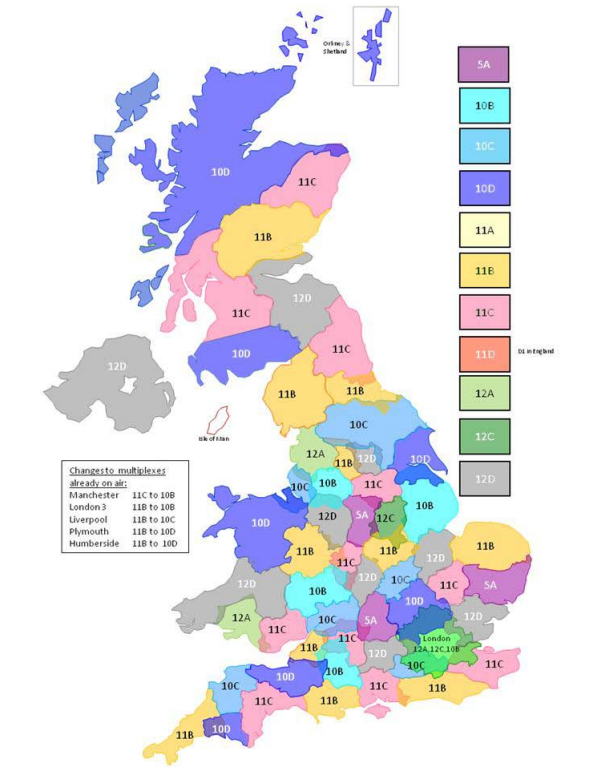 Diagram from
Ofcom - An approach to DAB coverage planning
.
Originally published on 26th September 2012 at 16:24
Comments
Wednesday, 18 December 2013

Mark: hi. Do you have a link for they quote? I'm on a train with poor internet .. Thanks

Briantist's 38,908 posts
Thursday, 19 December 2013

Hi Briantist:

It's in the Radio Today E-Radio newsletter:

I hope this link works:

eRADIO... with Broadcast Bionics - 18/12/13

Mark's 181 posts

The ones who decide how the money is spent are not Arqiva not the BBC. In this instance it seems the government (DCMS) are the ones traking the decision.
So we await their further announcements together with any factual information gathered rather than anything suggested by reporters in the media whoi so often mis-interpret what is said.

MikeP's 3,056 posts

E-Radio is new to me - and sub-inspiring. The link leads to confused, obfuscating waffle. I know it is competely unreasonable, but I would value objective, factual content.

michael's 869 posts
Friday, 20 December 2013

The Telegraph report is probably more accurate : _

http://www.telegraph.co.u…r-FM as-Government-abandons-digital-radio-deadline.html



michael's 869 posts
Friday, 3 January 2014

Hi
I've recently bought DAB receiver to get more stations,and it was greate
Than something happened after 1/01/14 I can only receive very few
Dos anybody know why ?
Kind regards Tadek

Tadek Czarnienki's 1 post
Monday, 13 January 2014

Why has my DAB SIGNAL got so poor,
I can only get 5 Live , Classic, radio 1 radio 4
And 2 others I don't want.
Is there anything I can do,
Or is it back to F/M , Medium Wave, Long Wave.
Please HELP IF YOU CAN. OR
IS IT THREE DAB RADIOS IN THE DUSTY BIN.
MANY THANKS....

Phil Crofts's 2 posts

Thanks for the rapid response,
WILL IT GET BETTER FROM BEING GOOD TO AS IT IS KNOW VERY VERY POOR,
SORRY TO COMPLAIN BUT THATS THE FACTS
TURN UP THE WICK!
By 100% PLEASE.
STANDING BYE!
OVER and OUT.
PHIL in DERBY...

Phil Crofts's 2 posts
Thursday, 8 May 2014

I live in an area of Yorkshire where I receive DAB services with a signal strength for the BBC National, Digital 1 and Humberside muxes at 100% on our home DAB/FM Pure radios - kitchen, bathroom etc - but only 85% for the Yorkshire mux.

All these DAB/FM radios on a rescan this week show an extra station but only Smooth Radio UK (Digital 1) at 80 kbps and 100% signal strength shows up on the station listing and not Smooth Radio (Yorkshire mux) at 128 kbps and presumably at around 85% signal strength. All the radios have all the other stations from the Yorkshire mux including Capital Yorkshire, Heart Yorkshire and the UCB stations showing on the station listing and I can tune into these stations but not Smooth from this regional mux.

I have not come across this before as in the case where Gold was on both the Humberside mux and the Yorkshire mux I was able to tune into both transmissions and similarly in the West Midlands where I could receive BBC WM both from the Birmingham and Wolverhampton muxes.

I wonder if it is something to do with the codings on the respective Smooth services.

Has anyone any thoughts?

J Peter Wilson's 30 posts
Sunday, 8 November 2015

I see that on DAB Ensembles Worldwide | Latest News & Updates , one local DAB Ensemble recently changed to a new block frequency and another will change in a few weeks, though they weren't part of the original frequency change plan.
October 23rd:
West Wiltshire from Block 12D to Block 10D.
From early December 2015:
Sussex Coast from Block 11B to Block 10B.
So any news of the frequency changes as to when they will happen as shown on the top of this page?
Manchester 11C > 10B (Originally to be moving to 10B, now said to be 12C)
London 3 11B > 10B
Liverpool 11B > 10C
Plymouth 11B > 10D
Humberside 11B > 10D
Hope someone can update me on this news.
Thanks.

Stuart Owens's 156 posts
Select more comments
Your comment please