Four regional DAB multiplexes to close in 2013 to allow for better local DAB

Brian Butterworth published on UK Free TV
The government's radio switchover strategy incorporates a plan to match the DAB coverage of local radio stations (both BBC and commercial - see Ofcom - Annex B. Local DAB build-out plans) with that currently provided on FM (see Ofcom - Maps).

To do this, the regional multiplexes will be closed and their frequencies used to do a large-scale replanning, incorporating a new one called 5A.




MXR will close the following multiplexes:


When complete, the new plan looks like: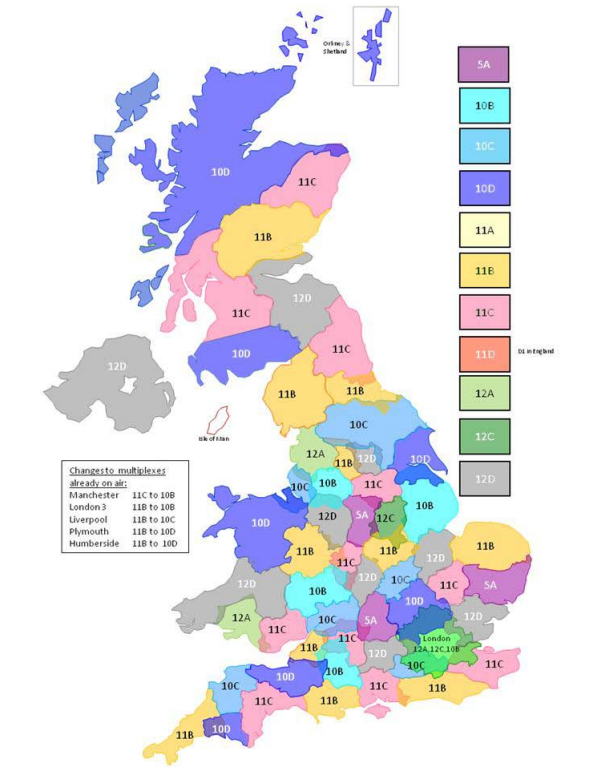 Diagram from
Ofcom - An approach to DAB coverage planning
.
Originally published on 26th September 2012 at 16:24
Comments
Sunday, 7 July 2013

We need the Mux to be launched soon for Crawley.

Mike's 10 posts
Thursday, 25 July 2013

Muxco:Hereford/Worcester mux will be using vacated 12A frequency from Sept 2013

Aerialman's 140 posts

Sorry to be loosing LBC from the West Mids. good station in the morning, alternative to Radio 4.

Sid's 33 posts
Sid's:
map
S's Freeview map
terrain
S's terrain plot
waves
S's frequency data
S's Freeview Detailed Coverage
Friday, 26 July 2013

I have steered clear of DAB mainly for the quantity over quality audio reasons. If I do need to hear a digital-only radio channel (not often), I use Freeview or BBC Radio iPlayer.

There is however another weakness of digital radio (Freeview/DAB/internet) that hasn't been mentioned. I can have multiple FM receivers in different rooms and they are all in sync. This doesn't work on DAB, even using identical receivers.

Ian's 13 posts

It has all gone very quiet about the so called "Digital Switchover". Practically every mobile phone has an FM tuner and none have a DAB tuner. This means the sale of FM radio is much bigger than DAB.

It seems clear now that the internet is becoming the medium of choice. The advantage to the BBC is that internet broadcasting is relatively cheap.

Continued investmemt in DAB is probably the worst example of BBC waisting money.

As I understand a number of FM transmitters and getting to end of life and will need replacement. The BBC hoped they would be able to turn off the main transmitters for thier national stations. With FM listening still increasing the BBC is going to have to replace those transmitters.

trevorjharris's 367 posts

trevorjharris: it has certainly not gone quiet...

Ed Vaizey confirms digital plan complete : Radio Today

A digital radio future is one step closer today as Communications Minister Ed Vaizey confirmed the completion of the Digital Radio Action Plan.

The Minister for Culture, Communications and the Creative Industries met with radio broadcasters at a Go Digital reception in the House of Commons and confirmed that significant progress had been made in the transition to digital radio in the UK.

Vaizey confirmed that the Government will announce their decision on a future radio switchover at the end of the year and hailed the positive progress in terms of consumers, cars and coverage.

It was three years ago when Vaizey first announced the Digital Radio Action Plan, which includes agreeing a coverage plan for building DAB coverage to match FM, a strategic marketing and communications plan and the development of a digital radio kite mark scheme.

The reception was hosted by Lauren Laverne and brought together many radio presenters including Neil Fox, Denise Van Outen, Elaine Paige, Paul Gambaccini, Ricky, Melvin and Charlie, Al Murray, Pete Waterman and David Kid Jensen, with over 70 MPs.

Helen Boaden, Director of BBC Radio, said that the BBC digital radio stations were well loved by listeners and that the BBC was continuing to invest in digital content and the expansion of DAB digital radio coverage. She welcomed the Government commitment to a decision on radio switchover this year and said that this would provide welcome certainty for the industry.

Radio 1 Controller Ben Cooper with Digital Radio UK's Ford Ennals
Radio 1 Controller Ben Cooper with Digital Radio UKs Ford Ennals
Ford Ennals, CEO of Digital Radio UK, highlighted the importance of radio listening in cars and announced that nearly 40% of new cars in the UK now come with digital radio as standard, which compares with 25.1% in June 2012, and just 12.1% in June 2011.

He said that major car brands BMW, Mini, Land Rover and Jaguar already have 100% of new cars with digital radio as standard and that Ford, Audi, Volvo and Toyota have the majority of their cars with digital radio. Mr Ennals also confirmed the Toyota announcement that its leading Lexus brand will have digital radio as standard in all new cars from September.

Parliamentarians also heard from John Cresswell, CEO of broadcasting and communications infrastructure company Arqiva, who confirmed that DAB digital radio coverage of both national and local stations continues to expand and that Ofcom has completed the plan for building out DAB coverage to FM equivalence.

Helen Boaden, Director of BBC Radio, says: The BBC is committed to a digital future for radio and is investing in expanding the DAB coverage of our national stations and innovating online to provide a better service to listeners: feedback from our successful digital radio coverage of Glastonbury proves yet again how much our audiences love digital radio.

John Cresswell, CEO of Arqiva, says: Arqiva is fully committed to investing in Radios digital future and is continually improving national and local DAB coverage so that more listeners can come to love digital radio.





Briantist's 38,908 posts

Actually I was aware of this meeting.

Firstly lets take Ed Vaizey. He is a Government Minister and so he has probably been missinformed of progress. What Minister is going to admit his plan has failed. He offered no significant evidence.

As for BBC Directors we all know that they have not got a clue to what is going on inside the BBC as has been shown from recent events.

The installation of Dab radios in new cars does not help the millions of cars which don't have DAB.

The plan has a fatal flaw in thinking they can turn off national FM with 50% of the population still listening to it. They are not even on track for the 50%.

Although DAB has well documented fatal flaws another issue has become more significant. The DAB system cannot support any further expansion due to spectrum issues. They had to reduce bit rates to unacceptable limits to support the small number of stations now available. Even the current plan has to continue to use FM for local stations.

It seems that many people believe that Ed Vaizey will delay the decision for 2 years bringing us nicely to the election and the probability that another Government will have to sort out the mess.

The Government and the BBC also try to cloud the issue by talking about DAB and "Digital Radio" in the same breath. Of course Digital includes internet broadcasting which is doing rather well. Infact I believe that the Internet will become the medium of choice making DAB redundant.

trevorjharris's 367 posts

@trevorjharris

FM listening is NOT increasing - it was 67% in Q4 2010 and 60% in Q1 2013 (Q2 2013 results are out next Thursday). Even if you extrapolate on s straight line basis digital listening will exceed analogue listening by the end of 2016.

In practice digital listening is likely to accelerate as more people have DAB built into the car and more listen to the radio via smartphones and tablets.

All of the indicators from Government are that the decision will be made (in December 2013) to go ahead with a switch-off in 2018-2020 (phased by region, with Wales & Scotland being last due to the terrain).

For the record internet radio only accounts for 5% of listening while DAB accounts for 22%.

I'm not sure what the "expansion issues" are - there is a national multiplex block (11A) which is internationally cleared for use in the UK and waiting to be allocated to a new operator by Ofcom (Digital 2).

One other interesting piece of international news this week, Sweden has appointed a "special investigator" to handle a transition from FM to DAB+ (in 2022). This follows similar announcements in Norway, Switzerland & Germany.

Mark's 181 posts
Saturday, 27 July 2013

I have to say... I do prefer Fm as DAB is unusable in the car if your going 70mph DAB just breaks up so badly while fm works fine... I do dread the day they switch off Fm for good in 2015......Just have to get ipod and fill it up with my songs...

Rob's 171 posts
Rob's:
map
R's Freeview map
terrain
R's terrain plot
waves
R's frequency data
R's Freeview Detailed Coverage
Sunday, 28 July 2013

I was wondering why on Sunday whilst I cook the dinner I couldn't listen to my favorite radio station on DAB radio, it kept repeating that I could no longer get that radio station on DAB from the 26th July 2013. Wow, was I upset, it kept saying I could listen on the tv, phone but not on the thing I actually bought for listening to it. I must have been confused when I bought a DAB radio, I thought it was listening to music and my tv was four watching pictures, oh, and my phone was for making telephone calls and texting, silly me.....

Dave Briggs's 1 post
Select more comments
Your comment please