Four regional DAB multiplexes to close in 2013 to allow for better local DAB

Brian Butterworth published on UK Free TV
The government's radio switchover strategy incorporates a plan to match the DAB coverage of local radio stations (both BBC and commercial - see Ofcom - Annex B. Local DAB build-out plans) with that currently provided on FM (see Ofcom - Maps).

To do this, the regional multiplexes will be closed and their frequencies used to do a large-scale replanning, incorporating a new one called 5A.




MXR will close the following multiplexes:


When complete, the new plan looks like: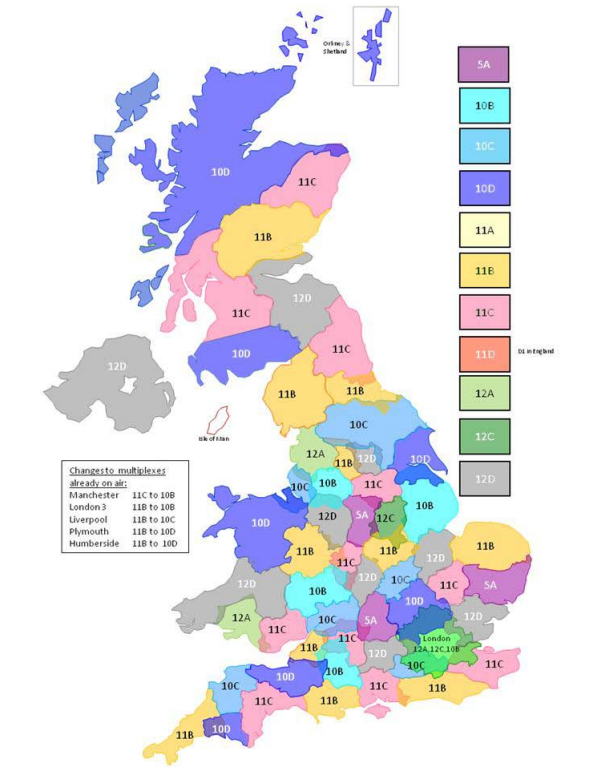 Diagram from
Ofcom - An approach to DAB coverage planning
.
Originally published on 26th September 2012 at 16:24
Comments
Monday, 5 August 2013

@ trevorjharris

"The expansion issue I refered to was that the DAB system has a limit on the spacial density of transmitters. As I understand it this limit has been reached in many areas."

This is a completely wrong statement I'm afraid. The BBC has plans to add another 175 transmitters to its national multiplex, and there will be around 500 transmitters added to local multiplexes over the next 4-5 years.

The closure of the MXR regional multiplexes will improve reception on many local multiplexes.

Mark's 181 posts

Mark: I was very impressed with the "how to do a pirate DAB radio station" report from Ofcom today.

The reality is that as the DAB patents have all expired, and you can make a transmitter using cheap hardware and not a lot of software, it might be possible now to allocate DAB to groups of community stations.

It certainly would be useful to lower the costs...

Briantist's 38,907 posts
Tuesday, 6 August 2013

... and it might persuade the BBC to add more DAB fillers for BBC local and regional radio. On the other hand, making the technically relative simplicity of diy DAB so public, as Ofcom now has, could lead to saturation problems in some areas.

michael's 869 posts
Wednesday, 7 August 2013

Had a quick look at Ofcoms paper and checked it wasn't April Fools day. Although techncally interesting it still suffers from all the disadvantages of DAB. Of course only a small proportion of people have DAB radios and everyone has at least one FM radio.

In any case it has nothing to do with the Governments plan to force people to buy DAB radios by threatening to switch off national FM.

Interestingly Ruxandra Obreja is Chair of the DRM Consortium, and Head of Digital Radio Development ,BBC World Service, UK. So the BBC is very involved in the development of DRM.

Came acros this rather good Webinar

http://www.drm.org/wp-con….pdf


trevorjharris's 367 posts

michael: I did think be very useful for DAB if someone could put together a simple, cheap "microcell" solution.

The main problem for this is one of timing. The BBC national multiplex (and most other local ones) are SFN (single frequency networks) and each new transmitter has to be synchronised.

So, you can't "relay" a signal, each new node needs access to the "master" multiplex.

The internet, being a asynchronous service isn't really suitable for this - unless you could buffer the data enough - so you would probably have to use satellite distribution, or possibly ISDN30.




Briantist's 38,907 posts

trevorjharris: Interesting.

The document concludes

"DRM is the digital radio standard that complements and works seamlessly with other DIGITAL radio standards.

DRM and DAB+ provide complementary solutions.

DAB is an efficient solution for local/regional terrestrial broadcast in case of many services with identical coverage area (multiplex transmissions).

DRM & DAB+ offer identical features = One Digital Radio Family.

Combined receiver implementations are cost-efficient and straightforward.

DRM+/DRM30 ... terrestrial broadcast solution for ... individual-service transmissions."

Briantist's 38,907 posts

... there is more technical info here
Digital Radio Mondiale - Projects - BBC R&D
.

Briantist's 38,907 posts

@ trevorjharris

"Of course only a small proportion of people have DAB radios and everyone has at least one FM radio."

From RAJAR Q2 2013: 24 million people now have access to a DAB radio (45.7% of the population).

Mark's 181 posts

It would seem evident that the future remains uncertain. The new diy DAB technology might well be a viable compromise to fill DAB gaps - and enrapture pirates and community broadcasters. Software magic should surely be able to conjure up an SFN solution where needed. For the foreseeable future, it has to be a combination of DAB and FM (hopefully with vestiges of AM where neither of the above will provide a continuing service. DAB+ and DRM would have been better choices, but it would be disastrous to expect listeners to now ditch their DAB radios after so much relentles plugging. The DAB take-up statistics do not indicate how many DAB radios each household has acquired. FM will be in many rooms, plus portable - so it would burden the household budget in difficult times for each to equal its FM assets - assuming equal coverage.

michael's 869 posts
Tuesday, 20 August 2013
Stuart Owens
11:03 AM
Wrexham

Has any announcements been made yet as to which services will switch to local DAB multiplexes and which services will cease on DAB altogether when the West Midlands regional multiplex closes next week and when the North West regional multiplex closes in about 5 weeks?

Stuart Owens's 156 posts
Stuart's:
map
S's Freeview map
terrain
S's terrain plot
waves
S's frequency data
S's Freeview Detailed Coverage
Select more comments
Your comment please