Northern Ireland RTE1, RTE2, TG4 special mini-multiplex from 24 October

Brian Butterworth published on UK Free TV
Following on from the 1st February 2012, article Northern Ireland "mini multiplex" (NIMM), here is a summary of the services that will be available to most Freeview homes in Northern Ireland.

It is VERY IMPORTANT to note, however, that you MUST have Freeview HD (DVB-T2) equipment to receive RTE1, RTE2 and TG4 - even though the services are NOT provided in high definition from the Northern Ireland transmitters.

Many homes in the province will be able to get a special "Northern Ireland" mini-multiplex from one of three transmitters - Brougher Mountain (Enniskillen AND Omagh) , Black Mountain and Carnmoney Hill (both Belfast). This very special service is broadcast using the latest standards, which are called DVB-T2 and MPEG4. In the UK, these are used to provide high definition, but only in Northern Ireland are they used to provide three standard definition services from RoI.

The NIMM coverage from these transmitters is shown here:




If you get the NIMM, you will find channel 51 is TG4, 52 is RTE ONE, and 53 is RTE TWO.

This is shown on the transmitter pages like this (Carnmoney Hill) example:





If you can't get the NIMM, you will probably be able to get the extra channels directly from transmitters in the RoI. The following map shows the transmitters: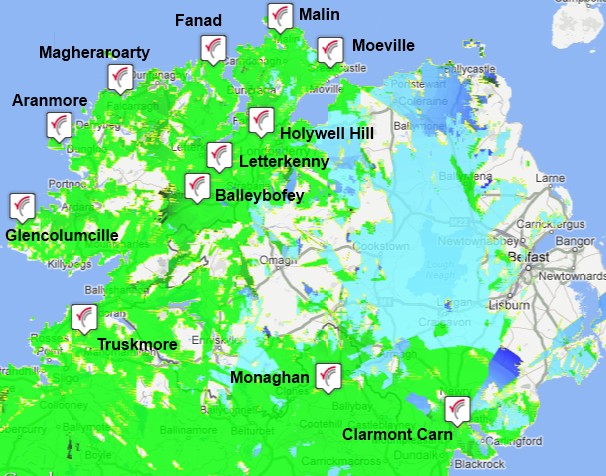 Your existing aerial may not be the right "group", or be pointing in the correct direction.

The RoI service is called Saorview (which is Irish for "Freeview") - see Saorview interactive map.

However, even though Saorview broadcasts in DVB-T mode, it uses the MPEG4 "compression" system - most UK non-HD boxes use MPEG2 (apart from BT Vision boxes, which support MPEG4). So, again, you will need a Freeview HD box.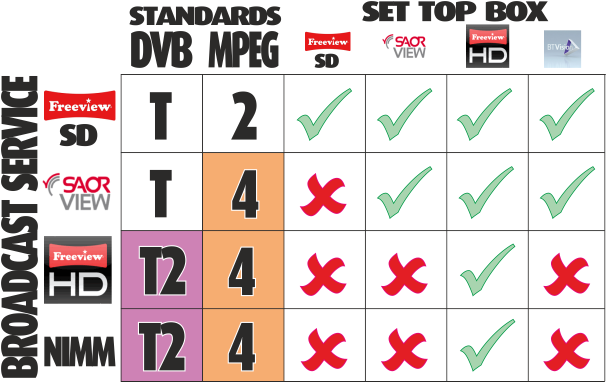 The services broadcast on Saorview at the time of writing are:

1 RTE One, 2 RTE Two HD, 3 TV3, 4 TG4, 5 RTE News Now/Euronews, 6 3e, 7 RTE jr, 8 RTE One +1, 200 RTE Radio 1, 201 RTE Radio 1 Extra, 202 RTE 2FM, 203 RTE Lyric FM, 204 RTE Raidio na Gaeltachta, 205 RTE Pulse, 206 RTE 2XM, 207 RTE Choice, 208 RTE Gold, 209 RTE Chill, 209 RTE Junior,

It is possible that the Freeview HD box will not place the channels on these numbers, but in the 800-899 range.

The Saorview trasmitter pages show the information like this:





Multiplex Broadcasting Services N I Ltd is the not-for-profit joint venture formed by RTE and TG4 to operate a new additional multiplex from a small number of transmission sites in Northern Ireland. The UK and Republic of Ireland Governments Memorandum of Understanding of February 2010 confirmed their intention to make TG4 available on digital terrestrial TV to much of Northern Ireland and to also facilitate the provision of RTE One and RTE Two through NImux or overspill from Saorview (the Republic of Ireland digital TV service).

Ofcom predicts that NIMM services will reach 76% of the population in Northern Ireland and that Saorview overspill will reach 56% of Northern Ireland viewers. Ofcom also predicts that the combined NIMM and Saorview coverage will reach 93.3% of Northern Ireland viewers.
Comments
Wednesday, 10 October 2012

Brian: The Black Mountain coverage looks like that of the 5 watt PSB relay for west Belfast, not the 2 kw NI mux transmitter which has fairly extensive coverage(at least according to Ofcom and Digital UK's postcode checker.

It definitely doesn't look correct.

Peter Henderson's 240 posts

Stuart Owens: They already can in Wales. In Scotland they will get NIMM coverage and Clermont Carn coverage which are powering up on the 24th, and Mount Leinster is changing channels and powering up as well...

mrdtv's 321 posts

Peter Henderson: You are correct about the NIMM coverage. I posted the Ofcom coverage map earlier. Also just input postcodes for Downpatrick, Strangford, Newcastle etc. The DVB-T2 station at Black Mountain is designed to plug the Saorview coverage holes, beautifully illustrated in the OFFICIAL Ofcom coverage maps based on the UK computer prediction models.

mrdtv's 321 posts
Thursday, 11 October 2012

I have said to my MP what about the people who only have freesat and virgin who can not get RTE 1 or 2 or TG4 in northern ireland they do not get RTE as part of the good friday are they not get them channels F.T.A on those platforms if not RTE and BBC need to get that sorted asap the people on sky already get those channels and why do people have to buy freeview Hd boxes to get RTE channels and TG4

conor's 60 posts

conor: RT/TG4 is not on Freesat is for licensing reasons. If it were then the programmes they broadcast would be available across the UK and beyond.

RT is available via Saorsat.

Freeview HD devices are required to receive RT/TG4 in Northern Ireland because the NI Mux uses DVB-T2 mode which is the same as that of Freeview HD.

According to the post code attached to one of your previous postings, you are in Belfast and are expected to be able to receive the NI Mux from Black Mountain. This is the same direction as Divis and so your current aerial will probably work.

Dave Lindsay's 5,724 posts

I have only got freesat hd boxes and what i have read in the good friday agreement it was on all platforms north and south not only freeview and FTA on sky and cable also that was disgust in storm mount in the last few weeks if people are geting free to air on freeview why not on sky freesat and virgin also that is the question I asked my MLA about and it is going to be looked at closely and that is what I have been told

conor's 60 posts

conor: The answer is as I said.

Whenever broadcasters show programmes, they must purchase the rights to show them. If RT were to become available over a wider area then this would likely have cost implications for such licensing.

Perhaps Northern Ireland could have an additional TV licence so as to fund this additional cost.

Freesat is broadcast from a satellite whose footprint covers the whole of the UK and beyond. Thus it would not be possible for some services to only be available over part of that area, even if they wanted to be.

It is possible to receive the Saorsat channels and Freesat channels using a large enough dish with two LNBs and a suitable receiver.

Dave Lindsay's 5,724 posts

with Astra 1n and Astra 2f doing uk and ireland spot beams witch do not cover nortern europe i dont see why not

conor's 60 posts

Sorry to every for the error in the NIMM coverage map. It has now been corrected.

Also there is now a NIMM button to click on the maps for the three transmitters concerned.

Briantist's 38,899 posts

sory abouty astra 2f not in operation yet

conor's 60 posts
Select more comments
Your comment please