Northern Ireland RTE1, RTE2, TG4 special mini-multiplex from 24 October

Brian Butterworth published on UK Free TV
Following on from the 1st February 2012, article Northern Ireland "mini multiplex" (NIMM), here is a summary of the services that will be available to most Freeview homes in Northern Ireland.

It is VERY IMPORTANT to note, however, that you MUST have Freeview HD (DVB-T2) equipment to receive RTE1, RTE2 and TG4 - even though the services are NOT provided in high definition from the Northern Ireland transmitters.

Many homes in the province will be able to get a special "Northern Ireland" mini-multiplex from one of three transmitters - Brougher Mountain (Enniskillen AND Omagh) , Black Mountain and Carnmoney Hill (both Belfast). This very special service is broadcast using the latest standards, which are called DVB-T2 and MPEG4. In the UK, these are used to provide high definition, but only in Northern Ireland are they used to provide three standard definition services from RoI.

The NIMM coverage from these transmitters is shown here:




If you get the NIMM, you will find channel 51 is TG4, 52 is RTE ONE, and 53 is RTE TWO.

This is shown on the transmitter pages like this (Carnmoney Hill) example:





If you can't get the NIMM, you will probably be able to get the extra channels directly from transmitters in the RoI. The following map shows the transmitters: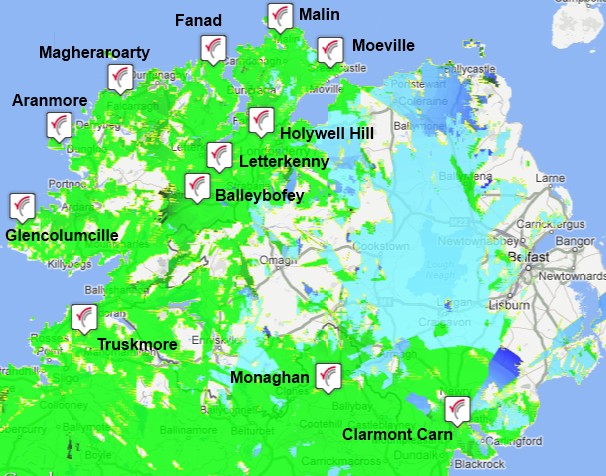 Your existing aerial may not be the right "group", or be pointing in the correct direction.

The RoI service is called Saorview (which is Irish for "Freeview") - see Saorview interactive map.

However, even though Saorview broadcasts in DVB-T mode, it uses the MPEG4 "compression" system - most UK non-HD boxes use MPEG2 (apart from BT Vision boxes, which support MPEG4). So, again, you will need a Freeview HD box.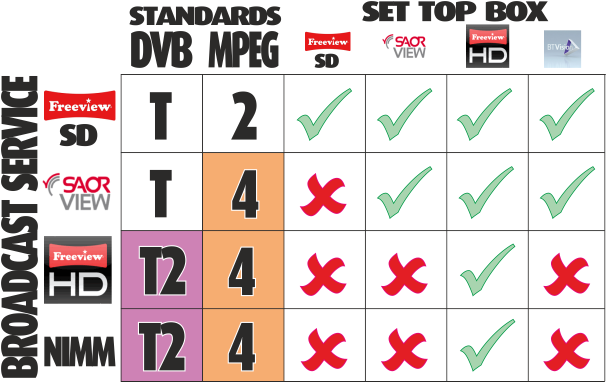 The services broadcast on Saorview at the time of writing are:

1 RTE One, 2 RTE Two HD, 3 TV3, 4 TG4, 5 RTE News Now/Euronews, 6 3e, 7 RTE jr, 8 RTE One +1, 200 RTE Radio 1, 201 RTE Radio 1 Extra, 202 RTE 2FM, 203 RTE Lyric FM, 204 RTE Raidio na Gaeltachta, 205 RTE Pulse, 206 RTE 2XM, 207 RTE Choice, 208 RTE Gold, 209 RTE Chill, 209 RTE Junior,

It is possible that the Freeview HD box will not place the channels on these numbers, but in the 800-899 range.

The Saorview trasmitter pages show the information like this:





Multiplex Broadcasting Services N I Ltd is the not-for-profit joint venture formed by RTE and TG4 to operate a new additional multiplex from a small number of transmission sites in Northern Ireland. The UK and Republic of Ireland Governments Memorandum of Understanding of February 2010 confirmed their intention to make TG4 available on digital terrestrial TV to much of Northern Ireland and to also facilitate the provision of RTE One and RTE Two through NImux or overspill from Saorview (the Republic of Ireland digital TV service).

Ofcom predicts that NIMM services will reach 76% of the population in Northern Ireland and that Saorview overspill will reach 56% of Northern Ireland viewers. Ofcom also predicts that the combined NIMM and Saorview coverage will reach 93.3% of Northern Ireland viewers.
Comments
Friday, 23 August 2013

P. Kieran Ward: Yes, Paddy may be able to receive UHF channel 39 from Black Mountain.

However it broadcasts horizontally and the other channels from the Black Mountain relay are vertically polarised. That said, C39 is much higher power so that will help with the receiving aerial being at opposite polarisation to the signal.

Dave Lindsay's 5,724 posts
Tuesday, 3 December 2013

We had all the rte channels on our free view hd TV up until this afternoon. Tried retuning them in but to no avail. Can anyone help

Niall burns's 4 posts
Saturday, 5 April 2014

mrdtv: I live in East Sussex, UK and I often have my Irish relatives to stay. Where they live in Co Leitrim they have a choice of the NI British channels and also the Irish channels. They keep asking me why I can't get the Irish Republic channels. I have assumed that it's because I'm too far away. I only have a freeview box and don't currently subscribe to a satelite network. I did read a post on another website that it's something to do with media rights, and that it wouldn't be available even if I did subscribe to Sky or the like. I would be grateful for any advice. Many thanks. Nell

Nell's 1 post
Sunday, 6 April 2014

Nell: In Co Leitrim they may be able to receive from a Freeview terrestrial transmitter in the North, as well as Saorview from the South.

Obviously you can't pick up a terrestrial signal from Ireland. You won't get a satellite signal (Saorsat) either because the footprint doesn't cover the UK mainland. So you aren't likely to be able to watch RTE etc at your location.

The reason is as you suggest - it's to do with rights.

You could look to see if you could watch online, although I suspect you'll be disappointed. BBC iPlayer, for example, prohibits viewing outside of the UK and this is for the same reason.

Dave Lindsay's 5,724 posts
Tuesday, 12 August 2014

What equipment do I require to pick up both UK freeview channels and RTE channels in a motorhome touring Ireland north and south?
Simple answer please as I am not technically minded.

M Brady's 1 post

M Brady: The simple answer is a Freeview HD receiver. Plus a TV and aerial obviously. If you know where you are going you can check the coverage using the maps on this site.

Michael's 358 posts

M Brady

The aerial you need should be a log-periodic design intended for use with a caravan. That design will enable you to receive signals across the whole band used for DTV in the UK and Ireland.

Other designs that are not of the log-periodic pattern will not give such good results everywhere, as is the requirement for a non-static caravan on a touring holiday.

A Google search using 'log-periodic caravan aerial' as the search criteria will show a number of suppliers and aerial options.

MikeP's 3,056 posts
Wednesday, 1 October 2014

I have rescanned my freeview box at weekend, I seem to have lost rte1, I have all the rest of the rte channels. I live in co Derry.

Gregory's 1 post
Thursday, 2 October 2014

Gregory : The fact that you are in Co Derry would suggest that you are receiving from one of the Saorview transmitters in the South. Try manually scanning the UHF channel of the transmitter you are using.

Dave Lindsay's 5,724 posts

Gregory - I would take it that you get your Saorview signals from the Holywell Hill transmitter but I may be wrong. If it is Holywell Hill have a look at this page on this site. Holywell Hill Saorview transmitter | ukfree.tv - 12 years of independent, free digital TV advice

P. Kieran Ward's 89 posts
Select more comments
Your comment please