Northern Ireland RTE1, RTE2, TG4 special mini-multiplex from 24 October

Brian Butterworth published on UK Free TV
Following on from the 1st February 2012, article Northern Ireland "mini multiplex" (NIMM), here is a summary of the services that will be available to most Freeview homes in Northern Ireland.

It is VERY IMPORTANT to note, however, that you MUST have Freeview HD (DVB-T2) equipment to receive RTE1, RTE2 and TG4 - even though the services are NOT provided in high definition from the Northern Ireland transmitters.

Many homes in the province will be able to get a special "Northern Ireland" mini-multiplex from one of three transmitters - Brougher Mountain (Enniskillen AND Omagh) , Black Mountain and Carnmoney Hill (both Belfast). This very special service is broadcast using the latest standards, which are called DVB-T2 and MPEG4. In the UK, these are used to provide high definition, but only in Northern Ireland are they used to provide three standard definition services from RoI.

The NIMM coverage from these transmitters is shown here:




If you get the NIMM, you will find channel 51 is TG4, 52 is RTE ONE, and 53 is RTE TWO.

This is shown on the transmitter pages like this (Carnmoney Hill) example:





If you can't get the NIMM, you will probably be able to get the extra channels directly from transmitters in the RoI. The following map shows the transmitters: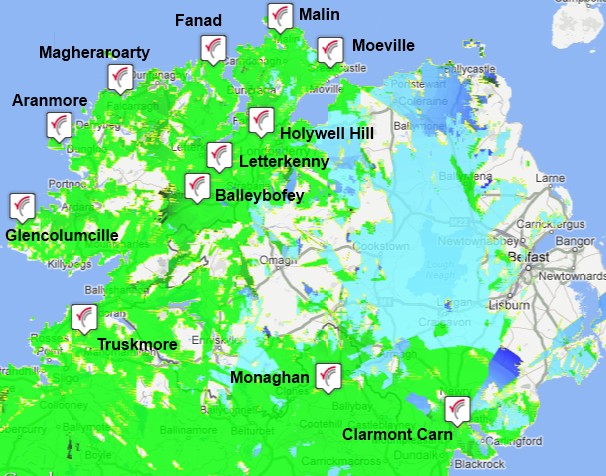 Your existing aerial may not be the right "group", or be pointing in the correct direction.

The RoI service is called Saorview (which is Irish for "Freeview") - see Saorview interactive map.

However, even though Saorview broadcasts in DVB-T mode, it uses the MPEG4 "compression" system - most UK non-HD boxes use MPEG2 (apart from BT Vision boxes, which support MPEG4). So, again, you will need a Freeview HD box.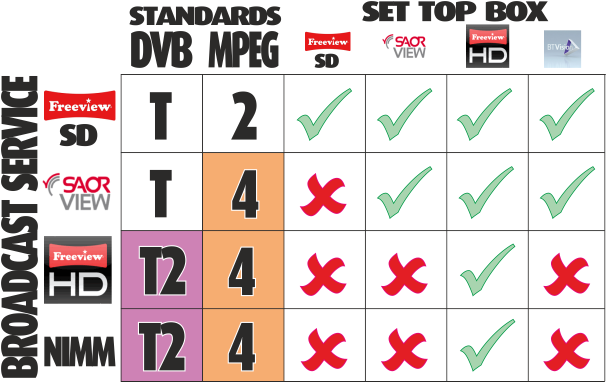 The services broadcast on Saorview at the time of writing are:

1 RTE One, 2 RTE Two HD, 3 TV3, 4 TG4, 5 RTE News Now/Euronews, 6 3e, 7 RTE jr, 8 RTE One +1, 200 RTE Radio 1, 201 RTE Radio 1 Extra, 202 RTE 2FM, 203 RTE Lyric FM, 204 RTE Raidio na Gaeltachta, 205 RTE Pulse, 206 RTE 2XM, 207 RTE Choice, 208 RTE Gold, 209 RTE Chill, 209 RTE Junior,

It is possible that the Freeview HD box will not place the channels on these numbers, but in the 800-899 range.

The Saorview trasmitter pages show the information like this:





Multiplex Broadcasting Services N I Ltd is the not-for-profit joint venture formed by RTE and TG4 to operate a new additional multiplex from a small number of transmission sites in Northern Ireland. The UK and Republic of Ireland Governments Memorandum of Understanding of February 2010 confirmed their intention to make TG4 available on digital terrestrial TV to much of Northern Ireland and to also facilitate the provision of RTE One and RTE Two through NImux or overspill from Saorview (the Republic of Ireland digital TV service).

Ofcom predicts that NIMM services will reach 76% of the population in Northern Ireland and that Saorview overspill will reach 56% of Northern Ireland viewers. Ofcom also predicts that the combined NIMM and Saorview coverage will reach 93.3% of Northern Ireland viewers.
Comments
Sunday, 2 September 2018

Jake: Have you checked for any loose or damaged cables or connections behind your TV? The RTE channels are not broadcast from Divis, they come from the nearby Black Mountain transmitter using QPSK modulation which provide a more robust signal allowing it to be broadcast at a lower power level.

StevensOnln1's 3,567 posts
Wednesday, 5 September 2018

Is there any technical or commercial reason why the NI Mux is not carried by local relays in Northern Ireland? I receive Freeview from the Cushendun relay in the Glens of Antrim, a notoriously difficult area for TV and radio reception. There is a much reduced list of Freeview channels here, but the absence of the three RT channels is a serious drawback for viewers who have no chance of receiving a direct signal from RT.

Sean Quinn's 3 posts

Sean Quinn: It costs money to broadcast the NI mux and no one is prepared to pay for it beyond the 3 transmitters which already carry it.

StevensOnln1's 3,567 posts
Wednesday, 12 September 2018

Are we not all paying for the NI Mux through our licence fee? If a main transmitter carries those channels why are they not automatically relayed along with all the Freebiew channels? The Cushendun relay only has a limited Freeview set an no RTE.

Sean Quinn's 3 posts

Sean Quinn: No, the TV Licence only funds the BBC and S4C. It does not provide any funding for RTE or any other channels to be broadcast on Freeview.

StevensOnln1's 3,567 posts
Select more comments
Your comment please