Northern Ireland RTE1, RTE2, TG4 special mini-multiplex from 24 October

Brian Butterworth published on UK Free TV
Following on from the 1st February 2012, article Northern Ireland "mini multiplex" (NIMM), here is a summary of the services that will be available to most Freeview homes in Northern Ireland.

It is VERY IMPORTANT to note, however, that you MUST have Freeview HD (DVB-T2) equipment to receive RTE1, RTE2 and TG4 - even though the services are NOT provided in high definition from the Northern Ireland transmitters.

Many homes in the province will be able to get a special "Northern Ireland" mini-multiplex from one of three transmitters - Brougher Mountain (Enniskillen AND Omagh) , Black Mountain and Carnmoney Hill (both Belfast). This very special service is broadcast using the latest standards, which are called DVB-T2 and MPEG4. In the UK, these are used to provide high definition, but only in Northern Ireland are they used to provide three standard definition services from RoI.

The NIMM coverage from these transmitters is shown here:




If you get the NIMM, you will find channel 51 is TG4, 52 is RTE ONE, and 53 is RTE TWO.

This is shown on the transmitter pages like this (Carnmoney Hill) example:





If you can't get the NIMM, you will probably be able to get the extra channels directly from transmitters in the RoI. The following map shows the transmitters: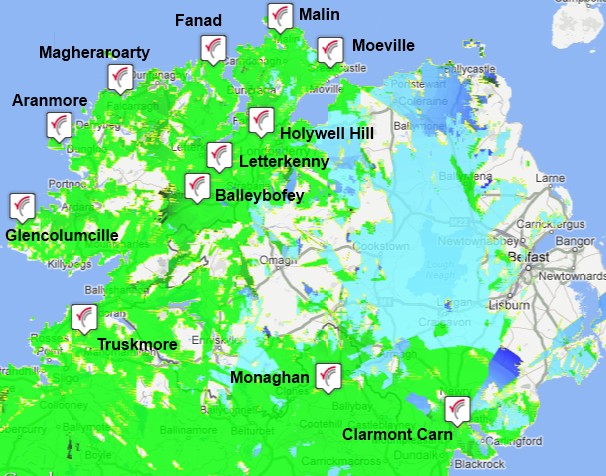 Your existing aerial may not be the right "group", or be pointing in the correct direction.

The RoI service is called Saorview (which is Irish for "Freeview") - see Saorview interactive map.

However, even though Saorview broadcasts in DVB-T mode, it uses the MPEG4 "compression" system - most UK non-HD boxes use MPEG2 (apart from BT Vision boxes, which support MPEG4). So, again, you will need a Freeview HD box.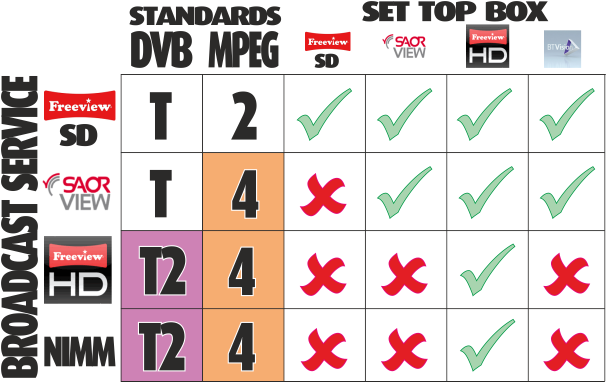 The services broadcast on Saorview at the time of writing are:

1 RTE One, 2 RTE Two HD, 3 TV3, 4 TG4, 5 RTE News Now/Euronews, 6 3e, 7 RTE jr, 8 RTE One +1, 200 RTE Radio 1, 201 RTE Radio 1 Extra, 202 RTE 2FM, 203 RTE Lyric FM, 204 RTE Raidio na Gaeltachta, 205 RTE Pulse, 206 RTE 2XM, 207 RTE Choice, 208 RTE Gold, 209 RTE Chill, 209 RTE Junior,

It is possible that the Freeview HD box will not place the channels on these numbers, but in the 800-899 range.

The Saorview trasmitter pages show the information like this:





Multiplex Broadcasting Services N I Ltd is the not-for-profit joint venture formed by RTE and TG4 to operate a new additional multiplex from a small number of transmission sites in Northern Ireland. The UK and Republic of Ireland Governments Memorandum of Understanding of February 2010 confirmed their intention to make TG4 available on digital terrestrial TV to much of Northern Ireland and to also facilitate the provision of RTE One and RTE Two through NImux or overspill from Saorview (the Republic of Ireland digital TV service).

Ofcom predicts that NIMM services will reach 76% of the population in Northern Ireland and that Saorview overspill will reach 56% of Northern Ireland viewers. Ofcom also predicts that the combined NIMM and Saorview coverage will reach 93.3% of Northern Ireland viewers.
Comments
Wednesday, 31 October 2012

adrian: Try tuning in the NI Mux from Black Mountain. It is on C39 and uses DVB-T2 signal mode, so if your I-Can gives you that option (I'm not familiar with them), then you need to select it.

Dave Lindsay's 5,724 posts

Hi,

I live in the Craigavon area. On my lg tv which has a built in freeview tuner I can pick up all the saorview channels. However on my icecrypt t2400 HD box I can see all the saorview channels in my guide but there are no tv listings for these channels and I can't access them either. I have an rte aerial whose coax is joined in the attic to a uk aerial and comes down to the living room as one lead. Any ideas why the HD box is "acting up"?

Mark's 1 post
Saturday, 3 November 2012

I got my I Can HD Box today in the post to get RTE and TG4 at Belfast BT9 6TZ

After few hours trying to set the 4 digit code for the I can remote control for my Samsung TV, I got all HD and SD plus radio working.

One error is only on Irish channel TG4 is showing 3:4 screen size not 16:9 RTE 1 and 2 showing 16:9

When you change the screen size to 3:4 on the I Can HD Box setting the TG4 channel views screen size to 16:9 widescreen but leave all other channels as letterbox 16:9.

Fergus Maunsell's 6 posts
Tuesday, 6 November 2012

I got a Freeview box from ASDA. It is a Goodmans HD at £39.97 (no this was a one-off that they found in the back). Main delivery soon. Tried it on my MPEG4 set with digital aerial. Nothing, but got all my usual Freeview channels, no RTE. Then tried it on another newish tv in bedroom (old aerial but boosted). Lost everything. Tried again, still nothing. Third time all back except RTE. How do I get RTE? Am I missing something?

Michael's 7 posts
Michael's:
map
M's Freeview map
terrain
M's terrain plot
waves
M's frequency data
M's Freeview Detailed Coverage
Wednesday, 7 November 2012

Michael: If your aerial is directed to Brougher Mountain, then try a manual tune on C30. Select DVB-T2 mode, rather than DVB-T if the option is presented within the manual tuning function.

If your aerial points to Strabane, then it doesn't broadcast the NI Mux/RT.

One observation I have made it that Holywell Hill also broadcasts on C30 horizontally, so if you happen to be in a spot where it comes in well, then you may have an issue.

An aerial is an aerial and is not special for reception of digital signals, above that of former analogue ones. Brougher Mountain is all Group A (including the NI Mux), so the (Group A) aerial used for former analogue should work.

Dave Lindsay's 5,724 posts
Friday, 9 November 2012

To those who have an I-Can HD box, make sure you update the firmware, get it from the I-Can site. Download to a key pen and update. Some I-Can Boxes need the update to get RTE and a lot more.

Alec's 12 posts
Saturday, 10 November 2012

Mark commented that his Icecrypt T2400 was seeing Saorview channels but he could not select or watch them. I am having the same problem with the T2400. I tried a firmware upgrade and factory reset but no joy. I am in the Craigavon area too. It picked up the three NIMM channels no problem but the Soarview channels are showing as 800, 801 etc. but they are greyed out. I know it is not my aerial as a borrowed HD freeview box picked up all channels no problem.
Does anybody know if the Humax hdr-fox t2 will work with Saorview?

Alister's 3 posts

Hi Alister!

I have a Humax HDR Fox-T2 recorder and I will record Saorview channels provided you are receiving the said channels. The Humax HDR Fox T2 has a DVB-T2 tuner. Are you sure you are getting good enough signal from Clermont Carn transmitter?

This is the link to the Saorview hel/support site for the spec required for equipment that will receive Saorview.

SAORVIEW Equipment | SAORVIEW

On this page of the same site there is a coverage checker similar to the Digital UK coverage checker.

Can I get SAORVIEW? | SAORVIEW

Let me know how you get on.

Regards

Kieran (BT146NQ)

P. Kieran Ward's 89 posts

Hi Kieran
Thanks for the reply, I get the channels ok with a different freeview box, For some reason the Icecrypt cant process Soarview even though it's spec would suggest it should. Strangely it is happy with TG4, RTE1 and RTE2 from the NIMM transmitter. I only asked about the Humax as it would be my next PVR of choice. I bought the Icecrypt T2400 with a 1Tb HDD on Ebay for £60 inc P&P so I sould be able to sell it again at a profit and buy the Humax I really wanted. Are they really as good as people say? Can you get all the Saorview channels alongside the NI freeview?

Alister's 3 posts
Sunday, 11 November 2012

Why are RTE channels not transmitted from Limavady transmitter. Here on the north coast we are too far from Divis, Carnmoney and Brougher Mountain. I have a Humax HD-FOX T2 box which receives RTE pictures but no sound presumably as overspill, I have been told that this is caused by a weak signal.
Is there anything that I can do to pick up sound.

Gus McCurdy's 3 posts
Select more comments
Your comment please