Changes to Saorview frequencies and power levels, 24th October 2012

Brian Butterworth published on UK Free TV
The Saorview (Irish for "Freeview") service has been running for some years now, and 24th October 2012 marks the day in the Republic of Ireland where the old VHF and UHF analogue television services are discontinued. You can see full interactive maps of Saorview at Saorview (and relays).

In addition, there will be a small number of changes to power levels and frequencies for Saorview.

These are:

Clermont Carn, first multiplex moves from C53 to C52

Mount Leinster transmitter, C45 will change to C23

Truskmore transmitter , power level increases to 160kW

Moville transmitter , power level increases to 2kW

Here is a reminder of which set-top boxes are compatible with which services in the Northern Ireland and the Republic of Ireland: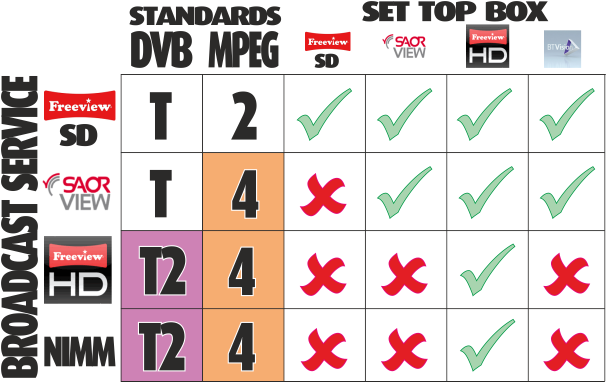 From Technical Parameters - ComReg and http://www.rtenl.ie/wp-content/uploads/2012/10/SAORVIEW-Frequencies-Rev-2.4.pdf.
Comments
Wednesday, 24 October 2012
W
William
10:54 AM
Strabane

paul allen: Hi Paul what kind of Box are you using ? is it an old Picnic box ? if so you will indeed receive everything but RTE2

William's 2 posts
William's:
map
W's Freeview map
terrain
W's terrain plot
waves
W's frequency data
W's Freeview Detailed Coverage
Thursday, 25 October 2012

iam tv aertal satellite rigger from dublin. i installed a new tv aerial no ambs in skerries north dublin wednesday 24/10/2012 for saorview.clermontcarn i got all saorview channels and all the free view channels on same aerial did thay put up the power the channels the channels is 45 and 55 not sure wat multiplex transmiter iam getting fron please if sum one can let me noe ware iam getting fron. my name is gerry

gerry flanagan's 4 posts

gerry flanagan: See C45 (666.0MHz) before switchover | ukfree.tv - 10 years of independent, free digital TV advice and C55 (746.0MHz) before switchover | ukfree.tv - 10 years of independent, free digital TV advice for the transmitters on those two UHF channels.

Michael's 358 posts
Saturday, 27 October 2012

the signal for rte channels is weak and picture keeps breaking up. my post code is BT15 4DL. Is there to be an improvement/

brianM's 1 post
brianM's:
map
B's Freeview map
terrain
B's terrain plot
waves
B's frequency data
B's Freeview Detailed Coverage

brianM: What aerials have you got pointing where?

Are these (if you have more than one) connected together so as to allow you to view channels from each on the same TV?

At your location the following may be possibilities:

- Divis (Freeview): aerial horizontal @ 240 degrees
- Carnmoney Hill (Freeview): aerial vertical @ 8degrees
- Clermont Carn (Saorview): aerial vertical @ 202degrees

Dave Lindsay's 5,724 posts

brianM: Also, select one of the RT channels and bring up the signal strength screen. What UHF/RF channel does it say that it is tuned to?

The possibilities are probably 39, 48 or 52.

Dave Lindsay's 5,724 posts

Hi I have a Toshiba Regza model no 32C3030D. After retuning in the channel menu there is the RTE channels listed, but when you try to select them there is no picture. I am in Craigavon Co Armagh Any advice? Thanks

Eddie's 1 post

Eddie: You must be receiving RT from one of the Saorview transmitters in the Republic.

Saorview pictures use the MPEG4 format whereas Freeview standard definition ones use the earlier MPEG2. As a result, many Freeview standard definition receivers don't have the capability to resolve MPEG4 pictures.

Freeview HD receivers will work or of course a Saorview box will work.

Dave Lindsay's 5,724 posts

Need help getting RTE direct from Clermont Carn. My postcode is predicted to have good reception even though I'm quite far away in Ballymena (BT43 7DX).

My Grundig GUD300HD box is picking up all six muxes from Divis and the NIMM. It is also finding another signal higher up which I assume is Clermont Carn but the box seems unable to 'lock' on this channel as the signal strength constantly wavers from 0% to 5%. Unfortunately this box does not have a manual tuning option, only automatic.

Mark's 13 posts
Mark's:
map
M's Freeview map
terrain
M's terrain plot
waves
M's frequency data
M's Freeview Detailed Coverage

Mark: You need to try an aerial pointing directly at Clermont Carn, preferably a group B for best signal pick up of C52. If your present aerial is a group A for the Divis frequencies it will not be very effective at receiving anything over about C40. Even if it is a wideband type, the angle between Divis and Clermont Carn will probably cause you to lose quite a lot of the available signal from Clermont Carn.

KMJ,Derby's 1,811 posts
Select more comments
Your comment please