The last day of analogue television in the UK - goodbye PAL

Brian Butterworth published on UK Free TV
We have already sent NICAM and teletext our departing wishes, now we turn to the main analogue transmission system, PAL.

The original television services broadcast in the UK, the BBC from the 1936 (apart from being suspended during WWII) and from 22nd September 1955 the IBA services, were broadcast using the Marconi-EMI "system A" 405-line service.

These services were broadcast on VHF frequencies, and provided 377 active lines of picture at about 414 modern pixels - 156,078 pixels or 0.15 megapixels. As VHF signals travel long distances, the BBC had only around 70 transmitters**, and the IBA over 40***:




However, by the 1960s it became apparent that television technology was moving on. In the USA, colour services using the NTSC standard had been implemented and many more than two channels were being broadcast. An often-quoted meaning for NTSC as "Never Twice the Same Colour" had at least a grain of truth.

In the UK, it was decided that television would move to a different standard called Phase Alternating Line which, as often seems to happen, was referred to as "high definition".

The PAL service would need to be broadcast on UHF frequencies, to provide enough bandwidth for the increased picture quality, often called "625 lines" - and colour.

The 625 lines was a bit of an over-statement of the service provided. Only 576 lines were used for the picture, as the other 49 were required to allow the receiver equipment time to synchronise at the top of the screen and reverse course upwards at the end - this is how the cathode ray tube system worked.





In today's terms, the picture resolution was 720 wide by 576 high, which is 414,720 pixels, or about 0.4 megapixels. This was about 2.7 times that provided before. More at A comparison of TV, HDTV and computer monitors.

The upgraded system was designed to be watch on both "black and white" television sets, which attached a lower Licence Fee, as well as the new-fangled colour television sets. This is done by providing a monochrome signal and adding to it a 'colour information' signal in parallel, which could be safely ignored by cheaper sets.

The first service to be provided this way was BBC TWO, which went on air on 20 April 1964, with colour programmes from July 1967. Following on from this the BBC ONE and IBA channels began broadcasting on both systems - and this continued until the mid 1980s.

The UHF frequency plan had always allowed for four and a half channels to be broadcast (using the UHF channels from C21 to C68). So, S4C in Wales and Channel 4 in the rest of the UK started at the beginning of November 1982. It would take an amazing fifteen years for Channel 5 to start on 30th March 1997. And it will only be the final digital switchover that brings Channel 5 to the whole of the UK, due to it having only "half" an analogue channel allocation.

You can read more TV history here - History - ukfree.tv - 10 years of independent, free digital TV advice.

PAL is often referred to by engineers as "People Are Lavender" because the colour encoding, whilst better than some other analogue systems, is poor at producing skin tones. This is why the "test card F" featured the face of 8 year-old Carole Hersee, (holding chalk over the centre of the screen on the "X" of the noughts and crosses) next to a lavender-faced clown toy.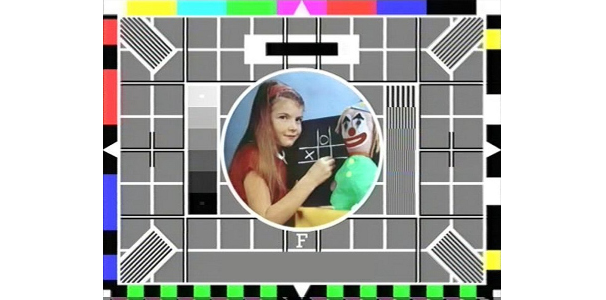 And so, it is now time to say a final farewell to analogue interference effects. Goodbye to overlaid channels, to loss of colour, to snowy and blurred pictures:




And goodbye to regular problems with the Inversion Effect! Digital reception has the famous "digital cliff" - either you have a strong enough signal for a perfect picture, or nothing at all.

** BBC VHF television sites: Abergavenny, Aldeburgh, Ayr South, Ballachulish, Ballycastle, Barnstaple, Bath, Belmont, Betws-y-Coed, BlaenPlwyf, Bressay, Brougher Mountain, Campbeltown, Churchdown Hill, Crystal Palace, Divis, Dolgellau, Douglas (IoM), Eastbourne, Ffestiniog, Folkestone, Girvan, Grantown Link, Hastings, Haverfordwest, Hereford, Isles of Scilly, Kendal, Kilkeel, Kilvey Hill, Kingussie, Kinlochleven, Larne, Llanddona, Llandrindod Wells, Llanelli, Llangollen, Llanidloes, Londonderry, Machynlleth, Madingley (Cambridge), Marlborough, Millburn Muir, Moel-Y-Parc, Newhaven, Newry South, North Hessary Tor, Oban, Okehampton, Oxford, Penifiler, Perth, Pitlochry, Pontop Pike, Port Ellen, Redruth, Rosemarkie, Rosneath, Rowridge, Rye, Sandale, Sheffield, Sidmouth, Skriaig (Skye), Sutton Coldfield, Tacolneston, Ventnor, Weardale, Wenvoe, Weymouth, Whitby, Whitehawk Hill and Winter Hill.

*** IBA VHF television sites: Abergavenny, Angus, Arfon, Aviemore, Bala, Ballycastle, Bath, Belmont, Black Hill, Black Mountain, Brecon, Burnhope, Caldbeck, Caradon Hill, Croydon, Dover, Durris, Emley Moor, Ffestiniog, Fremont Point, Huntshaw Cross, Lethanhill, Lichfield, Llandrindod Wells, Moel-Y-Parc, Mounteagle, Newhaven, Preseli, Ridge Hill, Rosneath, Rothesay, Rumster Forest, Sandy Heath, Selkirk, Sheffield, Stockland Hill, Strabane, Whitehaven and Winter Hill.
Comments
Monday, 22 October 2012

Bonus old GIF I found ...
.

Briantist's 38,899 posts
Tuesday, 23 October 2012

Interesting article again - thanks for that! If I recall correctly, I think it was the 1970s when the West Highlands finally got ITV, with some surprise that it was STV and not Grampian. One of the biggest advances is that TVs no longer break down every few weeks. It happened to me on Christmas day once in the 1970s. And are there any rental companies left now, once so ubiquitous.

George Buchanan's 43 posts
J
James Cawte
9:07 AM
Highbridge

I had just graduated (1976?) and had a summer job near Oban in a hotel. When I arrived we got
snowy B&W pictures from Ulster on a good day.

Then a new transmitter opened (on Mull ?) and suddenly perfect colour pictures - mind you I was far to busy having the time of my life to watch TV !

James Cawte's 11 posts
James's:
map
J's Freeview map
terrain
J's terrain plot
waves
J's frequency data
J's Freeview Detailed Coverage

"
And so, it is now time to say a final farewell to analogue interference effects. Goodbye to overlaid channels, to loss of colour, to snowy and blurred pictures: "

And hello to pixelation, sound drop and constant re-tuning. LOL

Ian's 497 posts

Unless I've missed something, your list of BBC VHF transmitters seems to have omitted Holme Moss (the BBC's equivalent of Emley Moor). I think Holme Moss served the whole North of England until the East/West split in 1968. Winter Hill only came into use as a BBC transmitter when they split the region.

Steve's 27 posts
Wednesday, 24 October 2012

James Cawte, It was the then Craignure transmitter that not only brought colour tv to the area but ITV and BBC2 as Oban only transmitted BBC1

Iain Davies's 351 posts

Steve: Not only Holme Moss missing. Other important BBC transmitters were Kirk o'Shotts, Ashkirk, Meldrum, Thrumster, Fort William, Orkney, Morecambe Bay, Peterborough, Manningtree, Swingate and Les Platons. For the IBA there were St Hilary, Mendlesham, Chillerton Down, Richmond Hill and Membury. I have not mentioned a few low power relays that were also missing.

KMJ,Derby's 1,811 posts
Saturday, 27 October 2012

The Americans also referred to PAL as "Pale And Lousy", but we both agreed that the French SECAM was an acronym for "Scarcely Ever Colour As Meant"

Peter Smith's 18 posts

What about the American system N T S C - Never Twice Same Colour!!! The PAL system was the best of the three, using opposite acting phasors to each other reducing major colour difference problems.

Iain Davies's 351 posts

The listing of BBC 1 VHF Television transmitters does not appear to have included MANNINGTREE, Essex, which gave a horizontal polarised service to part of East Anglia on VHF Channel 4. Manningtree is still in service BUT now as a Radio FM transmitter

PETER HUGHES's 13 posts
Select more comments
Your comment please