BBC advertise for a new Freeview HD channel

Brian Butterworth published on UK Free TV
The advert states that the services may start very soon:

BBC MAKES AVAILABLE CAPACITY ON DTT MULTIPLEX B

The BBC is offering to the market an amount of spare digital terrestrial television capacity on Multiplex B which could enable the acquiring party (or parties) to launch TV channels as early as spring 2013. Channels carried within this capacity will be able to be watched on all Freeview HD and You View receivers.

The capacity will be available on a 24 hour 7 day a week basis and is suitable for either one high definition television channel one provider or up to three standard definition television channels which may come from either one or a number of different channel providers.

The capacity is being offered to the market through a competitive bidding process.

If your company is interested in part or all of the capacity, you can register your interest by email at dttcapacity@bbc.co.uk

Expressions of interest must be received by 5pm on 20th December 2012. Further information, including commercial and technical details about the capacity and the sales process, will then be sent to you.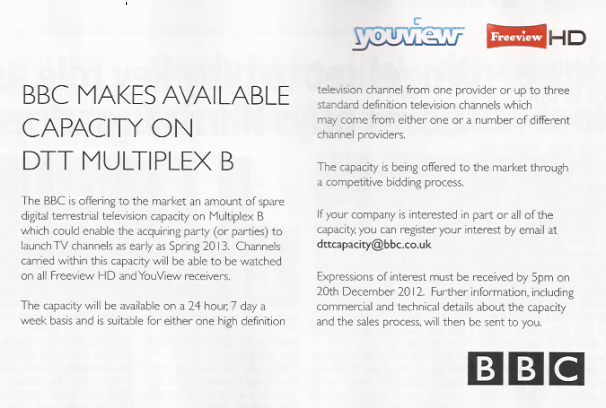 Which channel should be added to Freeview HD?
Comments
Saturday, 15 December 2012

I'd like to see Film4 HD too.

Lee Donaghy's 14 posts

Has to Channel 5 HD surely ? Main 5th chasnnel and all that

Dave's 126 posts

Channel 5 have been canny with their dough.

Pitiable ratings for HD channels may mean we get more SD dross. With the viewer having to actively seek out little known HD channel numbers with numerous button pushes, most apparently settle for SD!

Freeview should mandate easy number re-allocation in all new sets & boxes. Our Sonys make it a breeze. So BBC1HD is on button 1, ITVHD on 3 etc.

woodface's 39 posts

Ch5 does have HD but behind a pay wall deal with sky.

Sid's 33 posts
Sid's:
map
S's Freeview map
terrain
S's terrain plot
waves
S's frequency data
S's Freeview Detailed Coverage
Sunday, 16 December 2012

film4 hd please

sharealam's 225 posts

I'd love to see an HD simulcast of the 24 hour BBC News channel - after all, BBC News as it is looks very professional on those big plasma TVs in waiting areas, why not go that bit further by launching an HD simulcast of BBC News?

Sid: Channel 5 HD is on Virgin Media as well.

Josh's 97 posts
Monday, 17 December 2012

Please not another shopping channel. When I think back to the good old days of Freeview!

Seriously thinking of switching to Freesat. Can you get dual-tuner PVR's for Freesat? Does Freesat have HD?

JDT's 7 posts

JDT: Yep, there are plenty of Freesat HD dual tuner PVRs! You will currently get 5 HD channels on Freesat.

Josh's 97 posts

Yes Josh, but we can't get Channel Five in HD.

David's 306 posts

... Channel 5 have applied Channel 5 HD will launch on Freeview | ukfree.tv - 10 years of independent, free digital TV advice (1st November 2011) and then cancelled Channel 5 HD on Freeview cancelled ... again | ukfree.tv - 10 years of independent, free digital TV advice (16th December 2011) their Freeview HD slot.

Briantist's 38,899 posts
Select more comments
Your comment please