BBC advertise for a new Freeview HD channel

Brian Butterworth published on UK Free TV
The advert states that the services may start very soon:

BBC MAKES AVAILABLE CAPACITY ON DTT MULTIPLEX B

The BBC is offering to the market an amount of spare digital terrestrial television capacity on Multiplex B which could enable the acquiring party (or parties) to launch TV channels as early as spring 2013. Channels carried within this capacity will be able to be watched on all Freeview HD and You View receivers.

The capacity will be available on a 24 hour 7 day a week basis and is suitable for either one high definition television channel one provider or up to three standard definition television channels which may come from either one or a number of different channel providers.

The capacity is being offered to the market through a competitive bidding process.

If your company is interested in part or all of the capacity, you can register your interest by email at dttcapacity@bbc.co.uk

Expressions of interest must be received by 5pm on 20th December 2012. Further information, including commercial and technical details about the capacity and the sales process, will then be sent to you.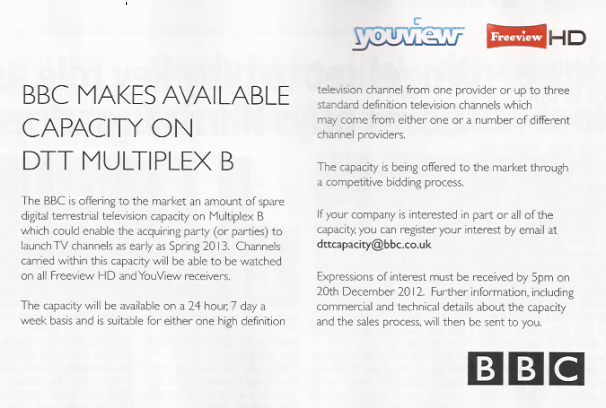 Which channel should be added to Freeview HD?
Comments
Monday, 17 December 2012

... and here's the March 2010 cancellation of FIVE HD No FIVE on Freeview HD, BBC to provide BBC HD 2 | ukfree.tv - 10 years of independent, free digital TV advice

Briantist's 38,905 posts

Josh was talking Freesat I believe that Channel Five already have satellite HD transmission, but I presume they get paid by Sky to keep it Sky access only.
Of course it all boils down to the fact digital broadcasting is in a real mess in the UK. Government and Ofcom doing a bad job in controlling.

David's 306 posts

David: The laws that various governments have made, and the implementation of them by Ofcom are exactly as planned.

BSkyB has the legal power to offer "exclusive" deals to HD channels, and it does so.

This is policy, not a "bad job".

Briantist's 38,905 posts

.. and here's where the fifth slot was advertised Freeview to get fifth HD channel, possibly by Christmas 2011 | ukfree.tv - 10 years of independent, free digital TV advice (5th September 2011) and here's where FIVE HD was deemed "unsuitable" for Freeview HD.

Briantist's 38,905 posts

Ok Brian,
Bad policy of Government and Ofcom.

David's 306 posts

This is very odd. This multiplex uses DVB-T2 so will not be viewable on most if not all SD receivers. Considering the very limited HD output on Freeview this should have been an HD only slot. I am suprised Ofcom has allowed them to do this.

It demonstrates once again the BBC's lack of commitment to HD. They could certainly use this space for thier own channel.

Just to correct previous posts Channel 5 HD is not behind a pay wall. It is FTV and can be watched on any sky box with a sky card. No subscription is needed.

trevorjharris's 367 posts

trevorjharris: It *IS* worth noting that Ofcom set to precedent for SD channels using DVB-T2 with the Northern Ireland Minimux.

Briantist's 38,905 posts

Trevor, you say it has to have a Sky Card so it is not FTV on a Freesat TV or box so Sky must have some financial power over Channel Five.

David's 306 posts

trevorjharris: Ofcom are keen for the Freeview muxes to move over to DVB-T2 transmission as soon as possible, so that more SFN working can be introduced as spectrum is made available for 4G/5G. They are not really bothered whether broadcasters choose to remain in SD or change to HD. Rather like they are not bothered if radio stations choose to transmit in mono on DAB to reduce transmission costs!

KMJ,Derby's 1,811 posts

What has been described in this blog article is exactly one of many reasons why shops need to phase out the sales of DVB-T only equipment!

deadendwaterfall's 5 posts
Select more comments
Your comment please