Upgrade to transmitter coverage maps - now showing potential interference areas

Brian Butterworth published on UK Free TV
Now, on the maps the bright green areas shown where the signal from this transmitter is strong, dark green areas are poorer signals. Those parts shown in yellow may have interference on the same frequency from other masts.

The next change is that the frequency usage maps (such as C21 (474.0MHz) after switchover) show the polarity (the position the receiver aerial has to be in) by the use of a black triangle to show "vertical".




The transmitter pages now show overlaps - for example Sudbury (Suffolk, England) full-Freeview transmitter shows a large overlap area to the south.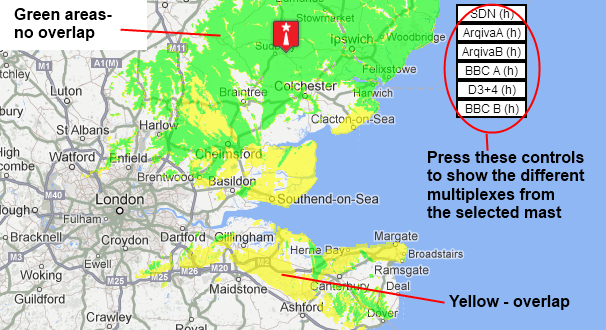 On transmitter site that broadcast in both horizontal and vertical, you can now see the difference that the selection of position makes (for example at Rowridge (Isle Of Wight, England) full-Freeview transmitter ):



Comments
Tuesday, 8 January 2013

so is there anything i can do to get a decent signal? do you know of a complaints procedure/board?

Lesley's 11 posts
Lesley's:
map
L's Freeview map
terrain
L's terrain plot
waves
L's frequency data
L's Freeview Detailed Coverage

Lesley: If you are using a comunal (shared) aerial system and it is at fault, then you need to speak to whoever maintains it (e.g. your landlord). It might be worth asking neighbours if they are having the same issue.

Dave Lindsay's 5,724 posts

Lesley: I would add that if you speak to neighbours, ensure that you ask about Freeview as, if there are connections for satellite TV (Sky/Freesat) some may be using them exclusively.

Dave Lindsay's 5,724 posts
Wednesday, 9 January 2013

I receive ITV channels from the Mendip transmitter.I used to receive ITV 3 ok,however,for the last month or so this channel and also Pick TV,Dave TV,5* all these are via the Freeview tuner in the TV receiver and are now no longer available.I have retuned the Freeview tuner with no improvement.Any ideas as to what has happened?

E.Richards's 1 post
Saturday, 12 January 2013
S
Simon Firth
8:00 AM
Coventry

We have lost freeview ITV, channel 4 and 5 and sky news. There is a new steel building been built next to us would this have any affect or is there is a transmitter fault in our area. We live in the Warwickshire/West Mids area. Thank you in anticipation.

Simon Firth's 1 post
Simon's:
map
S's Freeview map
terrain
S's terrain plot
waves
S's frequency data
S's Freeview Detailed Coverage

Simon Firth: You are located at approx 22 miles away from Sutton Coldfield transmitter which is also indicated as being at an angle of 315 degrees from your position, and so whether or not the new building will have any effect on your reception depends on two factors, the first being concerning the location of the new building in relation to the angle that the signal is being received at, and secondly, should it be clear (angle wise) of the first then whether the signal you receive is only managed by a strong element of signal reflection attached to it and which the new building has blocked, as in many cases this applies albeit that a viewer might be totally unaware of this fact.

That said, if you are only referring to a very recent loss of these programmes then its unlikely that the new building is the cause, that is unless the construction team are super fast workers!

Go into your TV or boxes tuning menu and enter mux Ch46 (ITV / Ch4 & 5) but do NOT press search or scan, because if the signal is there it should indicate a level, note whatever it is then change the channel number entered to mux Ch45 which is Sky news / Pick TV / Dave etc and check the levels shown there, then finally changing the number again to mux Ch43 and comparing its level against the other two.

Or you could just carry out a factory reset followed by an auto tune, or ignoring the fist if your TV or box offers a "first time installation" facility.

jb38's 7,179 posts

Simon Firth: a building with lots of steel can do two things it can seem to absorb the signal I have seen big container ships remove the signal from aerials even though they have no direct line of between the aerial ship or transmitter. the other thing I have seen is signal reflecting off the metal causing problems in random areas. you could do with the signal being checked hope this helps.

Mazbar's 384 posts
Friday, 18 January 2013

I hardly get any channels using Freeview even tho I bought a signal booster & retuned. I am just outside Evesham about 12 miles from Lark Stoke transmitter.

Can anyone help please?

Tea's 1 post
Tea's:
map
T's Freeview map
terrain
T's terrain plot
waves
T's frequency data
T's Freeview Detailed Coverage
Saturday, 19 January 2013

Tea: Which channels are you missing? Is it the COMs (it usually is the case).

See here and identify which multiplex(es) you are missing (PSB1, PSB2, PSB3, COM4, COM5, COM6):

DTG :: DTT Services by Multiplex

For the COM channels from Lark Stone you may have to replace your aerial with a wideband (or Group K) one, if you haven't already done so.

Or, instead of Lark Stone, you might be able to use Sutton Coldfield for all channels.

Dave Lindsay's 5,724 posts
Wednesday, 23 January 2013

why am I getting ITV CALENDER and Yorkshire
weather at tea time instead if ITV CENTRAL.
Supposed to be WALTHAMSTOW Transmitter ?

Grfaham Tuggey's 1 post
Select more comments
Your comment please