How do I know if the 4G broadband will overload my Freeview?

Brian Butterworth published on UK Free TV
Back in June 2011, we looked at how Ofcom moves to protect Freeview interference from 4G mobile .

Since then, the television Digital Switchover has been finished and 4th generation (4G) mobile broadband services - also known as Long Term Evoluition (LTE) have launched all over the world, including a service from Everything Everywhere (EE) in the UK.

To understand why and how these 4G broadband services will cause problems during 2013, you need to take into consideration a number of technical factors.


Understanding the radio spectrum
The
Radio spectrum
is the name given to the frequencies of the electromagnetic spectrum that can be usefully used to transmit radio, television and data services.
The top bar on the diagram below (or
download
) shows a selection of the services used in the UK, with old-fashioned long-wave radio, then medium-wave radio, though FM radio, the digital
DAB
radio services up to those used for television broadcasting. (See
here
for a
really
complex chart).

The highest frequencies on the diagram, the "ultra high frequencies" (or UHF) band is shown enlarged as the lower purple bar. In this range we can see TV "
channels
C21
to
C60
" (blue), second- and third- generation mobile phones (
2G
orange, 3G pink) and the location for the 4G services.
It is important to note that some of the 2G capacity in the "1800MHz" range has already been converted to 4G operation by Everything Everywhere (EE). The other two yellow boxes show the "
800MHz
" (to the left) "2.6GHz" (on the right).
For the purpose of
Freeview
reception
, only the
800MHz range
need be considered. The other two ranges will not cause Freeview problems.
Protecting Freeview receivers against overload
As we have seen already -
Freeview signals: too much of a good thing is bad for you
- Freeview boxes are designed to protect themselves against signal overloads. When they do this they close down and people often incorrectly
diagnose
the problem as being "
no signal
" when there is too much.
The problem that has to be solved as the 4G services launch, is that the new mobile broadband signals can cause overloads onto the frequencies that are being used for Freeview.

One particular problem is that a very common type of Freeview signal decoder, a
superheterodyne receivers
are sensitive to signals being present nine channels (72MHz) away.
In addition to overloads, 4G may also cause Signal-
Interference
Noise Ratio degradation, where reception breaks down because the
receiver
can no longer decode the digital information in the transmission.
Knowing who will win the 4G auction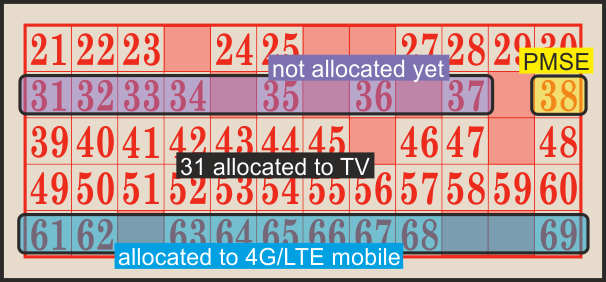 Until the
4G auction
takes place, no one will know which company has the right to use the 800MHz channels for mobile devices. The following companies have qualified to
bid
:
Everything Everywhere Limited (UK)
HKT (UK) Company Limited (a subsidiary of PCCW Limited)
Hutchison 3G UK Limited
MLL Telecom Ltd
Niche Spectrum Ventures Limited (a subsidiary of BT Group plc)
Telefonica UK Limited
Vodafone Limited
Viewing high power television and using low power mobiles
Using the
'Sitefinder' Mobile Phone Base Station Database
you can compare the locations of existing mobile phone "masts" with those used for
Freeview Transmitters
. Here is an example from Brighton and Hove, where a medium-sized single
mast
(
Whitehawk Hill
) can cover a whole city, but where hundreds of mobile phone base-stations cover a many smaller-by-comparison areas.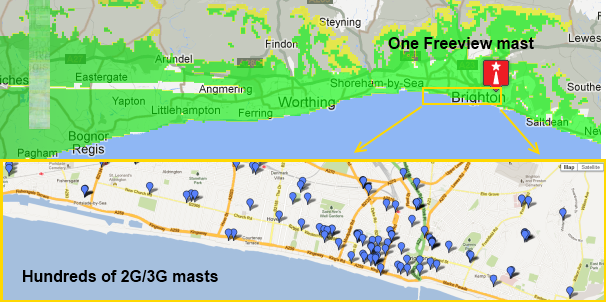 This illustrates two points. Firstly, that Freeview broadcasts are high powered and one-to-many - mobile devices are low
power
and peer-to-peer. The mast your TV signal comes from may be miles, sometimes tens or miles away, for your mobile perhaps only meters away.
The second point is that if an existing 2G/3G mobile supplier wins a 800MHz 4G slot, they will wish to use their existing "phone mast" locations (especially the 900MHz ones) as this would be most economical for them. Until the action winners emerge, and then plan their
network
, only
idle
speculation about possible interference can be made.
Using the TV frequencies for 4G masts and phones
Research (see
here
) shows that a 4G mast in relative close proximity, or a mobile 4G handset closer than a meter to an unfiltered Freeview box will cause overloading on many tested devices. The following diagram shows the relationship between the 4G use and the old TV channel designations.
Those
Freeview transmitters
that use channels above
C52
are most likely to have receivers that get overloaded by the use of 4G signals in the 800MHz area. FDD is
Frequency-division duplexing
- the transmitter and receiver operate at different carrier frequencies.
Interpreting the aerial and mast locations
Once the proposed mast locations for 4G services are known, it will then be possible to predict which homes will need to fit the special filters in areas
where Freeview uses the higher channel numbers (the C52 to C60 range)
.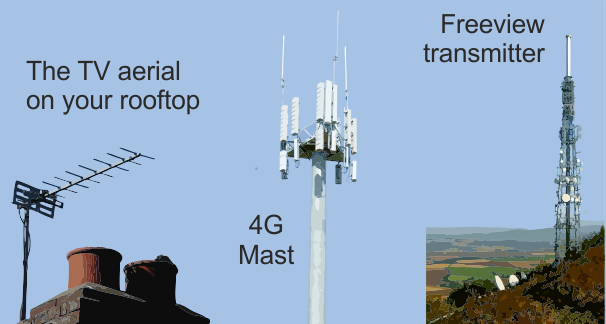 If you then have a rooftop
aerial
without a signal
amplifier
, to get an overload you will need the 4G mast to be in the line-of-sight between your Freeview transmitter and the aerial, or possibly "directly behind" the aerial.
If you then have a rooftop aerial and an amplifier, or perhaps have lower-grade cables, you are likely to need to protect from a 4G overload if the phone mast is close to your rooftop aerial.
Finding transmitters that use the higher range frequencies
Some powerful transmitters and many relays use the high frequencies:
Sudbury
,
Oxford
,
Belmont
,
Winter Hill
,
Tacolneston
,
Pontop Pike
,
Mendip
,
Emley Moor
,
Clermont Carn
,
Truskmore
and
Maghera
.
Click below to find out the transmitters in with high
frequency
allocations:
Protecting Freeview boxes and sets, cables, amplifiers from 4G devices
Again in areas where Freeview uses the higher channel numbers (C52 and above) you may have to protect your Freeview devices from signals from a 4G handset (such as mobile phone, tablet, or USB "dongle").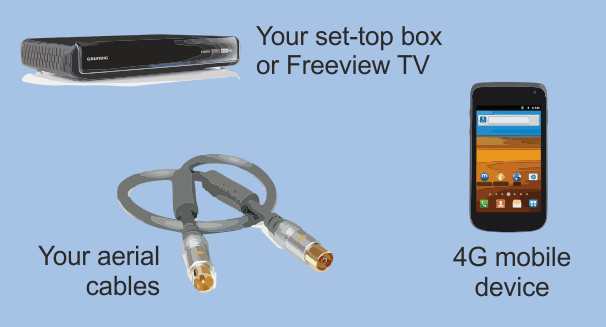 This may, once again, require the fitting of a special filter, or the upgrading of the "fly leads" used to connect your aerial to the set top box or TV. This may be a particular problem if you have used an indoor aerial or signal amplifier.
Comments
Sunday, 3 March 2013

Nicholas Willmott: To add to that said by Andrew Brown, its not so much the format of the 4G signal that has the potential to cause problems but the RF power level it will represent in a receiving aerial compared to that of DTT mux signals being received from muxes that operate round the top end of the band, something that could have a serious affect for viewers in locations where signal levels that their TV's or boxes are operating on is inclined to be at the lower end of ideal for reception even although the quality of the signal is reasonably stable, a situation which unfortunately affects a multitude of viewers even although they may not be aware of this fact.

Although I personally feel that this issue is up to a point being over hyped and which is responsible for a great deal of anguish being caused amongst viewers, however I also feel that's its undeniable that viewers located anywhere within about 500 yards or so from one of these base stations are very likely to suffer from varying degrees of problems caused by the swamping effect that the powerful signal will have on the tuners used in their TV's or boxes, and its by no means guaranteed that a relatively cheap filter will cure the problem although I believe that a somewhat more expensive and technically superior item is being developed for communal aerial use.

That said though, the whole issue of the potential interference caused by 4G is determined by a number of variables such as whether or not the 4G base station is located anywhere near to that of the direction which DTT transmitter is being received on, plus the fact that some TV's or boxes are liable to be affected much more than others simply because some tuners are technically superior to others, and so there is an element of hit and miss about the whole situation making it an issue of "wait and see", as in most situations where RF signal issues are concerned nothing is really exact about what will happen.

By the way, although a standard DVB-T tuner will appear not to see a DVB-T2 signal during a retune the actual RF side of the tuner still does, whereas not the decoding side of the circuitry hence the sometimes "no signal" indication seen on some devices if a manual tune has been carried out on the DVB-T2 mux.

jb38's 7,179 posts

Thank you for your explanation Andrew Brown and jb38. Worryingly the Bath relay (although group A and not itself affected), still has to pick up the signals for D3&4 on C54 and HD on C58 from Mendip to relay them to Bath on C28 and C22 respectively. So could 4G interference prevent the Bath relay picking them up from Mendip to rebroadcast them? What kind of filters will they need to use at the Bath relay to get around the problem?

The question remains, do they really need to use the ex-TV UHF channels 61-69 for 4G?
Why not replace the rest of the 1710-1880 MHz 2G, and all the 880-960MHz 2G with 4G? Surely 2G is obsolete now.
Why not just switch off the 1900-2170 MHz 3G in a stroke and replace it with 4G?
Why not switch off the MW radio band (540-1600 kHz) and replace it with 4G? I don't really see the need for MW radio any more, surely hardly anyone listens to it these days.

Nicholas Willmott's 80 posts

Nicholas Willmott: Just to nip in here and the question about relay picking up the off-air signals.

As there are a small number of such sites - plus another 55-ish that are used for "cable head-ends" are know and will be dealt with specially.

MW can't be used for LTE, it would not be able to provide any useful bitrate.

Briantist's 38,908 posts

jb38: From what I have seen from the public statements by at800, it would appear that the proximity to a mobile phone mast (1.5km) is the primary effect on "overload" interference.

The second effect is that masthead and domestic (ie, unshielded) distribution amplifiers are problematic.

Another point, which was in the first lot of the Ofcom reports is that Virgin Media Boxes CAN be effected.

Briantist's 38,908 posts

Briantist: Mendip alone has 61 relays. Only two are fibre optic fed from Mendip, the rest are over-the-air fed for rebroadcasting to their local areas. Other group C/D transmitters such as Winter Hill have relays which are over-the-air fed. So altogether, won't there be an awful lot of relays to worry about, anything but a small number? Any idea how many relays in total might need some sort of protection from 4G interference.

Why would MW not provide any useful bitrate for LTE? Please explain the problem more fully.

Nicholas Willmott's 80 posts

Nicholas Willmott: It's a very small number compared to the millions of homes in the UK with off-air reception. And they are all owned by one company (Arqiva).

The bitrate that can be achieved by digital communications is a function of the bandwidth aviliable.

LTE is 5MHz up and 5MHz down in the UHF band.

The whole of the MW is just 1MHz in totoal - from 588kHz to 1602kHz. - List of all analogue radio frequencies | ukfree.tv - 10 years of independent, free digital TV advice

Remember, the diagram at the top of the page is logarithmic.

Briantist's 38,908 posts

Thanks Briantist. So basically 4G LTE uses channels 5 MHz wide (thus collectively they won't directly map to the traditional UHF TV channels 61 to 69 which I've been led to believe are 8 MHz wide each).

Now that DAB is increasing in popularity, could they turn of FM radio (88 to 108 MHz) and use that for 4G LTE - would the resulting clear 20 MHz bandwidth be enough?

Nicholas Willmott's 80 posts

Nicholas Willmott: It's 5MHz per operator per direction (one up, one down), with O2 having two and Vodafone having two allocations, with 3 and T-Mobile having one each.

The problem with FM radio is there would be no room for the 10MHz of "duplexing gap" between the upload and download allocations.

Briantist's 38,908 posts

Briantist: Yes, quite so! and I do appreciate that these statements have indeed been made, but though what always slightly niggles me when reading these sort of reports is that they are frequently seen made in a somewhat black and white fashion (my interpretation anyway!) as though what has been said is absolute fact, whereas anyone involved in dealing with RF equipment and its potential for causing possible interference problems knows full well that in most cases variables will always exist, and so I always take statements made in a categorical fashion with the proverbial pinch of salt.

Of course the variables I refer to in this type of situation are mainly concerned with a viewers installation and the multiplex channel range being received by the viewer as well as the level that the Freeview signal is being received at, and with this also being coupled to all aspects concerning the installation including the type (brand) of equipment they are using, the tuners used in some brands (not necessarily cheap either) being most intolerant to sensing an excessive level of RF on the input.

However, what actually happens once that the 4G transmitters are up and running will be of great interest to me as I can envisage a situation developing where a viewer in one household is relatively unaffected whereas their neighbours reception next door is being devastated, and its in cases involving the latter that the effectiveness (or lack of) in using these cheap filters will soon be revealed.

P.S: Will also keep in mind what you have said regarding Virgin media boxes being mentioned, as I was unaware of that having been reported.

jb38's 7,179 posts

Briantist: Just a little addition to that having been said earlier on, insomuch that I also accept that 4G does have more of a potential to interfere with DTT transmissions by the fact of the radiating elements used by its aerial system being much lower down, and indeed in many cases not being that terribly far above that of the average height of a domestic roof mounted aerial, this meaning that the main beam from the 4G aerial will have maximum impact on a DTT receiving aerial.

This of course making the situation worse than say for a viewer residing up to about a mile or so away from a relatively high powered DTT transmitter mast and where the main beam from its aerial is passing overhead.

jb38's 7,179 posts
Select more comments
Your comment please