4G test signals areas listed by the BBC

Brian Butterworth published on UK Free TV
BBC News (see BBC News - Organisation launches to help combat 4G interference ) has provided the location to the public where the 4G at 800MHz test signals will be provided.




Locations of Cradley Heath and Rowley Regis.

To save you looking on Ofcom's Sitefinder ('Sitefinder' Mobile Phone Base Station Database) I have reproduced the locations of mobile phone masts in the two locations: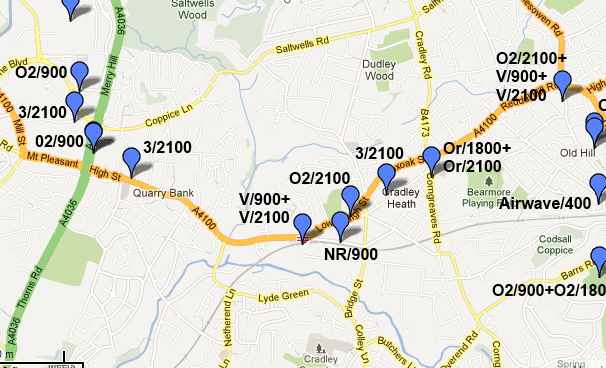 Cradley Heath




Rowley Regis

Each location lists the mobile phone operator: O2, T is T-Mobile (now part of EE), Or is Orange (also EE), V is Vodafone, NR is Network Rail, 3 is 3.

The second number is the frequency range used, 900MHz, 2100MHz etc.

It is expected that 4G 800 will operate from existing "900MHz" locations.
Comments
Monday, 18 March 2013

Vision do their own FM, DAB & UHF Triplexer(V24-310) which may give enough rejection of the 4G signal passing through the FM & DAB.

Frequency Range:

FM 88-108MHz
DAB 216-240MHz
UHF 470-860MHz

Inputs: 1-FM 1-DAB 1-UHF

Outputs: 1

Insertion Loss dB: FM 1.0dB
DAB 1.5dB
UHF 0.7dB

DC Pass: 12v 50ma

UHF Input/Output Rejection dB: >30dB

Well worth giving a try.

Kurt Eaves's 12 posts
Tuesday, 19 March 2013

Kurt Eaves: Thanks for all the information. I would be very interested to know if the situation is the same today.

Briantist's 38,906 posts

Briantist : Yes still the same today, affecting Channel 59 more so today, in the sense that Sky News & Pick TV and everything else on that MUX have completely disappeared. The VBER is off the scale no doubt accounting for the complete loss of the MUX.

So I've disconnected the FM and DAB yet again and the problem is resolved. Ive got a Vision V24-310 on order so hopefully that will clear the problem once and for all.

Kurt Eaves's 12 posts

Kurt - It is likely that your DAB aerial is the guilty party when plugged into the triplexer - as you say, the problem ceases when the DAB aerial is unplugged.
If the DAB aerial is a half wave dipole then each leg will be a quarter wavelength at around 220Mhz and therefore will represent a full wavelength at around 800+Mhz.
That's going to pull some 4G signals down the cable and through your system with the results that you describe and will certainly need a good filter to keep the noise out of the TV system.
As DAB aerials are vertically polarised and so are 4G signals this will cause more grief than the FM aerial (which are normally horizontally polarised).

Ben Hardaker's 5 posts

It's definitely the DAB thats causing the issue, I've left the FM connected to the Triplexer and disconnected the DAB and tapped off the input with a 75ohm terminator and all seems well.

As said before i'm waiting for a Vision triplexer which offers about 30db of rejection outside all three bands, so we'll give that a try, as the triplexer in using is a Labgear one at the moment.

Kurt Eaves's 12 posts
Wednesday, 20 March 2013

Kurt - email me ben.roome@at800.tv with your address. I can get our test team to check your issue - bespoke. They come armed with free filters. I was in the area yesterday.

Cheers,

Ben at800.tv

Ben Roome's 1 post
Friday, 22 March 2013

Ben Roome : Thanks for the offer however my Vision filter arrived this morning.... Problem sorted..

However what are the chances the 4G signals affecting some of the transponders situated low down on some of the Sky digital channels?

In the 4 years of being a Sky subscriber I have never noticed any freezing on any of the channels, however the last few days have seen an intermittent freeze on Sky 1 HD & Film, might just be me or co incidence.

Kurt Eaves's 12 posts

Film 4 that is.

Kurt Eaves's 12 posts
Saturday, 23 March 2013

Im in the Ipswich area Over the last 4 to 5 days we have been experiencing reception problems on the digital channels - the freeview ones being least affected. The ariel is relatively new and carries a booster. At first we put the problem down to atmospheric/ weather, but its gone on for days now. At the moment all channels are affected some without picture just sound. Is this specific to me and my set up or could this be a signal strength/transmission/ outside interference thing? You might gather Im not too technical, my knowledge stops at retuning , something I have done frequently over the last few days , with no improvement.

T Clarkson's 1 post
Tuesday, 26 March 2013
B
Ben Hardaker
6:15 PM
Ipswich

T Clarkson. Are your neighbours getting the same problems? The faults you mention should have nothing to do with 4G mobile phone signals as the current tests are only in the West Midlands I believe.
You don't say how far you are from the TV transmitter and I am wondering whether the booster is actually needed, as boosters can cause too much signal to enter your TV set and give similar faults as not enough signal so ask your neighbours if they're having problems.
If you access the TV's menu system you can check both signal strength and more importantly signal quality. TV's operate well on a poor to medium signal strength as long as signal quality is good to very good. Check the TV's user manual to check how to find the signal check option.

Ben Hardaker's 5 posts
Ben's:
map
B's Freeview map
terrain
B's terrain plot
waves
B's frequency data
B's Freeview Detailed Coverage
Select more comments
Your comment please