BBC TWO HD launch causes some channel number shifts

Brian Butterworth published on UK Free TV
Following on from BBC Two HD Channel to launch 26th March 2013, the BBC said today there will be some channel number changes (see BBC - Blogs - About the BBC - Hello BBC Two HD; Goodbye BBC HD ).

As well as BBC ALBA moving to 143 on Sky, the following allocations will be in use: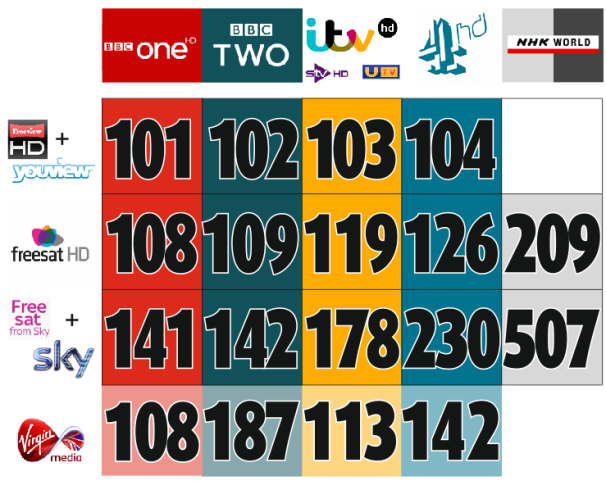 Here is a notice from BBC HD about the change:
Comments
Friday, 29 March 2013

I preferred the BBC HD channel, it may have had the preview feed often but it did mean you got the best HD content from BBC 2, 3 or 4 now its just 2, just up-scaled when the source isn't HD

And I hate the dog on BBC 3, so never watch programmes on that and only rarely BBC 4 as it often has a lousy dog too!

Matthew's 3 posts
A
A Systems Installer
9:53 PM

No need to retune? Tell that to the OAP's in a shelter housing block I attended to yesterday. Over 60% of them needed to have there freeview receivers retuned.If we had not been attending to the communal aerial system, some of them probably would have to pay someone to carry out a retune. How many times is to happen? Why was it Channel 5 had to pay for a retune programme, but freeview operators don't.

A Systems Installer's 4 posts
Saturday, 30 March 2013

hi
i am in bristol.
i have lost all bbc channels + some others 5* 5 usa and itv 3
i notice that works were carried out 3 days ago.
i have retuned and no reappearance of missing channels yet

can you help?

Fiona's 7 posts

I am in Taunton, Somerset and have Youview Humax box and reset, re tuned several times each day for 3 days since 27th March, I cannot get BBC One SD, BBC2, BBC3.

Vic Grubb's 1 post
Sunday, 31 March 2013

Is it possibly that you can tell me why there are no BBC Local radio stations on Virgin cable anymore, with the exception of BBC Radio London? I know this has been like this now for maybe 3 or more years if I remember correctly. I dont personally have cable or even wish to, but I have been to other peoples homes who do & noticed this.

I live in Birmingham & radio stations like BBC Radio WM, BRMB, Beacon Radio (now Free Radio) had been available, but not anymore. Why were they removed? I dont really need BBC Radio London; it is of little use here. Theres plenty of other radio services, but nothing LOCAL to this area. Ive noticed on Virgin cables web-site you can find out plenty of information about the TV & telephone services, but if you try to search out any information about the radio services they put out there seems to be absolutely no information to be found.

The other day I was staying at my daughters house who has cable. I thought theres a couple of radio programmes that Id quite like to hear that were broadcast a couple of days previously, maybe I could do that on the catch-up service. No such luck. If it was for a TV programme however there would have been no problem. Radio really does get a raw deal it seems.

John Gleeson's 13 posts

Brian Wright:
Briantist, Tuesday 26 March 2013 6:48PM.

Interesting about the HD content on the iplayer. I have noticed very few programes available ,compared to the original broadcast.
What I am finding on my new 50" smart TV is that the iplayer streaming is much better in SD than the Freeview is over the "ethos".It just shows how the processing for Transmision over the air waves degrades the motion clarity of edge movement ,quite noticeable on faces.

Monday, 1 April 2013
D
Daphne Tregear
8:07 PM
Manchester

Hi. We've been away over Easter and on switching on the TV tonight we had no channels, presumably as a result of the switching on of BBC2 HD. Did an automatic retune (Winter Hill) and it's found some, but not all channels (BBC4 is a notable omission). Last time this happened I had to do a manual retune. Is the right list of channels now
54, 55, 57, 58, 59?
Or is this likely to be a side effect of the 4G switch on -- I can see Winter Hill from one of our windows but we are within 1.5 km of the 4G masts shown on the map...

Daphne Tregear's 3 posts
Daphne's:
map
D's Freeview map
terrain
D's terrain plot
waves
D's frequency data
D's Freeview Detailed Coverage
D
Daphne Tregear
8:22 PM
Manchester

OK. I've found different channel lists now:

1st April: 62, 59, 54-, 58, 61-, 55
10th April: 50, 59, 54-, 58, 49, 55

What does the - symbol designate in 54-?

Daphne Tregear's 3 posts
Daphne's:
map
D's Freeview map
terrain
D's terrain plot
waves
D's frequency data
D's Freeview Detailed Coverage

Daphne Tregear: The present channels are as follows / 62(BBC) - 59(ITV) - 54(HD) - 58(SDN, ITV3 etc) - 61(Pick TV etc) - 55(Film4 etc) As from April 10th / 50 - 59 - 54 - 58 - 49 - 55.

jb38's 7,179 posts

Daphne Tregear: Just to add, that 62- / 54- / 61- indicates that these channels are transmitting with a negative offset on their frequency, this meaning slightly lower than on the exact frequency than the channel number corresponds to, this mostly being done to avoid them from causing interference to a channel used by another station located in an area that's within reception range, or on the other hand the other channel interfering with them.

These offsets being taken off (with exception of HD service) on the 10th when the channel numbers are altered on the BBC and ArqA (Pick TV) muxes, but as far as reception is concerned these variations are neither here nor there as your TV or boxes tuner is designed to accommodate this type of thing.

jb38's 7,179 posts
Select more comments
Your comment please