Mendip, Bristol and relay transmitters - retune require on 27th March 2013

Brian Butterworth published on UK Free TV
At 6am on 27th March 2013, several multiplexes will change their transmission frequencies.

Notably the main transmitters will make changes. This includes the Mendip transmitter, where the BBCA multiplex (including 1 BBC One West, 2 BBC Two England, 7 BBC Three, 9 BBC Four, 70 CBBC Channel, 71 CBeebies, 80 BBC News, 81 BBC Parliament) will move from C61 to C49.

Also changing is Bristol Kings Weston where the D3+4 multiplex (3 ITV (West), 4 Channel 4 South ads, 5 Channel 5 Part Network ads, 6 ITV 2, 13 Channel 4+1 South ads, 14 More 4, 28 E4, 33 ITV +1 (West)) will move from C50 to C40, and Bristol Ilchester Crescent where ArqivaB (15 Film 4, 18 4Music, 19 Yesterday, 21 VIVA, 24 ITV 4, 41 Sky Sports 1 (not free), 42 Sky Sports 2 (not free), 47 4seven, 83 Al Jazeera English, 85 Russia Today English,) moves from C49 to C39+.

See below for a full list of transmission masts that will make changes.

When you now rescan, you MUST do a "first time installation" or "factory reset" scan, not an "add channels". Do the procedure you did on September 30th 2009. If you can't recall what this was, please see List of manuals for Freeview retune, or try the generic clear and rescan procedure.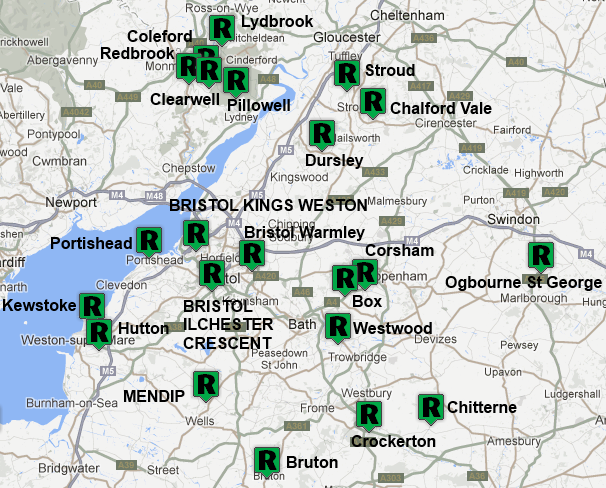 Bampton: PSB1 C49 to C39
Box: PSB2 C50 to C40
Bristol Ilchester Crescent: COM6 C49 to C39+
Bristol Kings Weston: COM6 C60 to C60- PSB2 C50 to C40
Bristol Warmley: PSB3 C49 to C39
Bruton: PSB2 C50 to C40
Chalford Vale: PSB3 C50 to C40
Chilfrome: PSB2 C50 to C40
Chitterne: PSB2 C50 to C40
Clearwell: PSB2 C62- to C50
Coleford: PSB2 C49 to C39
Corsham: PSB1 C50 to C40 PSB1 C50 to C40 5W to 8W
Countisbury: PSB2 C62- to C50
Crewkerne: PSB2 C50 to C40
Crockerton: PSB3 C50 to C40
Culm Valley: PSB2 C49 to C39
Dursley: PSB2 C50 to C40
Hutton: PSB2 C62- to C50
Kewstoke: PSB2 C50 to C40
Kilve: PSB2 C62- to C50
Lydbrook: PSB2 C50 to C40
Mendip: PSB1 C61 to C49
Monksilver: PSB1 C50 to C40
Ogbourne St George: PSB2 C50 to C40
Pillowell: PSB2 C50 to C40 PSB2 C50 to C40
Portishead: PSB2 C62- to C50
Redbrook: PSB3 C49 to C39
Stroud: PSB1 C50 to C40
Washford: PSB2 C62- to C50
Westwood: PSB2 C50 to C40
Woodcombe: PSB2 C62- to C50

Now changing on 5th June 2013

Beaminster: PSB1 C62- to C50 3.8W to 15W PSB2 3.8W to 15W PSB3 3.8W to 15W
Beer: PSB1 C62- to C50 3W to 4.8W PSB2 3W to 4.8W PSB3 3W to 4.8W
Bincombe Hill: PSB1 C62- to C50
Crediton: PSB3 C50 to C40
Dawlish: PSB1 C62- to C48 PSB2 C59 to C52
Pennsylvania: PSB2 C61 to C56
Preston: PSB1 C61 to C52
Rampisham: PSB3 C50 to C40
Comments
Thursday, 28 March 2013

Jane Bruce: I think that's likely to be the answer.

From transmitters in Wales, S4C is on logical channel number (LCN) 4 and Channel 4 is on LCN 8.

When you run the automatic tuning scan, have the aerial out until 55% to miss out Wenvoe. You may miss out some of the lower Mendip channels as well and if your receiver has manual tuning, you can add them afterwards.

C48 is COM4 (ITV3 etc)
C49 is PSB1 (BBC One etc)

If it doesn't have manual tuning, then it might be a trial and error job. You need to get it in early enough, but not too early that you get Welsh channels.

Dave Lindsay's 5,724 posts

I have completed a total retune and have lost access to the bbc channels. I have conducted a search on c49 and it states there is no signal. Is there a problem in the taunton area? My postcode is ta12es

Roger Millard's 1 post

Roger Millard: If you have two aerials diplexed (combined) into one feed, then perhaps this is the cause of your difficulty.

Dave Lindsay's 5,724 posts

In Stroud we have lost BBC 1 2 and 9 off mendip with a group C D aerial all for 4 G which we will never get in the Cotswolds!

Mark's 9 posts

Mark: An operator full of oxygen has a coverage obligation, so you may get 4G.

Dave Lindsay's 5,724 posts

Been away for a couple of days,but just done retune and no longer have any BBC channels.
What is going on?
I am in Longwell Green and belive signal commes from Mendip.

Colin's 1 post
Colin's:
map
C's Freeview map
terrain
C's terrain plot
waves
C's frequency data
C's Freeview Detailed Coverage

The sheltered accommodation which my mother lives has lost BBC channels too progress! And engineer says nothing can be done, satellite may be only option. They really know how to muck things up for a minority of 4G users!

Mark's 9 posts

We won't get 4G live in AONB so every planning application is rejected the operators have given up we will be part of the 2% that won't get it!

Mark's 9 posts

Mark: Communal aerial systems may need adjustment where they are fitted with filters to only allow through (from aerials) the frequencies used by transmitters.

Speak to the organisation that runs the accommodation - I should imagine that they will have a deluge of people reporting the same issue.

Dave Lindsay's 5,724 posts

I am in Wellington and have no channels whatsoever! Tried several times to do a re-tune but no success yet!Anyone have any ideas? Please.

Kim's 1 post
Kim's:
map
K's Freeview map
terrain
K's terrain plot
waves
K's frequency data
K's Freeview Detailed Coverage
Select more comments
Your comment please