10th April 2013 retune for Winter Hill, Keighley transmitters and relays

Brian Butterworth published on UK Free TV
From 6am on 10th April 2013, several multiplexes will change their transmission frequencies.

Notably the main transmitters will make changes. This includes the WINTER HILL transmitter, where the BBCA multiplex (including 1 BBC One North West, 2 BBC Two England, 7 BBC Three, 9 BBC Four, 70 CBBC Channel,71 CBeebies, 80 BBC News, 81 BBC Parliament, ) will move from C62- to C50 and the ArqivaA multiplex (11 PICK TV, 12 Dave, 17 Really, 29 E4+1, 32 Movie Mix, 46 Challenge, 48 Food Network, 62 TV Stars, 82 Sky News, 87 Community Channel,) will move from C61- to C49.

On the KEIGHLEY, BBCA will move from C61 to C49.

See below for a full list of transmission masts that will make changes.

When you now rescan, you MUST do a "first time installation" or "factory reset" scan, not an "add channels". Do the procedure you did on September 30th 2009. If you can't recall what this was, please see List of manuals for Freeview retune, or try the generic clear and rescan procedure.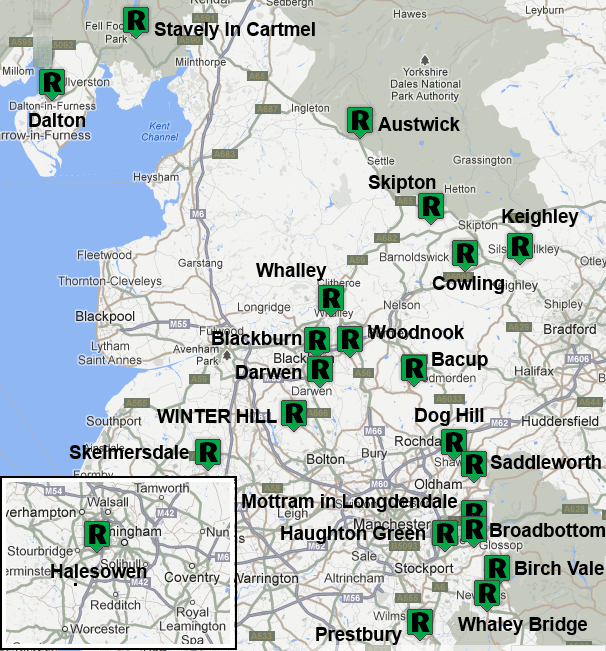 Please note that the relay transmitters will take some time (between 11am and 4pm) to come back to full service:

Austwick: PSB2 C49 to C39
Bacup: PSB3 C50 to C40
Birch Vale: PSB3 C50 to C40
Blackburn: PSB3 C50 to C40
Broadbottom: PSB3 C49 to C39
Cowling: PSB3 C49 to C39
Dalton: PSB3 C50 to C40
Darwen: PSB2 C49 to C39+
Dog Hill: PSB3 C50 to C40
Halesowen: PSB2 C61 to C49
Haughton Green: PSB3 C50 to C40
KEIGHLEY: COM6 C60 to C60- PSB1 C61 to C49
Mottram in Longdendale: PSB3 C50 to C40
Prestbury: PSB3 C50 to C40
Saddleworth: PSB2 C49+ to C39+
Skelmersdale: PSB1 C51 to C46 PSB2 C48 to C43 PSB3 C52 to C40
Skipton: PSB1 C49 to C39+
Stavely In Cartmel: PSB3 C50 to C40
Whaley Bridge: PSB2 C49 to C39
Whalley: PSB3 C50 to C40
WINTER HILL: COM5 C61- to C49 PSB1 C62- to C50
Woodnook: PSB2 C49 to C39

The changes at WINTER HILL will cause the following relays to have no PSB1 service for some time:

Backbarrow, Barrow Town Hall, Bidston, Bollington, Brinscall, Brook Bottom, Burbage, Buxton, Cartmel, Chaigley, Chatburn, Chinley, Congleton, Delph, Elton, Far Highfield, Glossop, Haslingden, Ladder Hill, Lancaster, Langley, Lees, Littleborough, Macclesfield, Manchester Hulme, Melling, Middleton, Millom Park, Moss Bank, New Church, Norden, North Oldham, Oakenhead, Over Biddulph, Parbold, Pendle Forest, Penny Bridge, Portwood, Ramsbottom, Ribblesdale, Romiley, Roose, Stockport, Storeton, Trawden, Urswick, Walton Le Dale, Wardle, West Kirby, Whitewell and Whitworth.

The changes at KEIGHLEY will cause loss of PSB1 for some time at the relays at:

Keighley Town, Oxenhope, Skipton Town and Sutton In Craven

If you get Freeview from these masts - DO NOT retune your Freeview equipment.
Comments
Friday, 5 April 2013

Briantist,I read that Winter Hill Mux A was moving from Ch 62 to Ch 50,not 59.
Mux 2 is already on Ch 59.

Aerialman's 140 posts

Mux 2 should read Mux 3/4

Aerialman's 140 posts

Aerialman: Sorry, typo.

Briantist's 38,899 posts

Can I just throw this out to all the aerial riggers out there what do you charge to go to a customers house and do a retune mine is my call out charge £20 ( I think this is fair but I still have people moaning) so far I have 25 customers booked in for the 10th will take out more hope to be very very busy.

Mazbar's 384 posts

I agree,your call out charge is reasonable.It also depends on how far you have to travel and how many pieces of equipment you need to retune,don't you think?
Customers often,don't take that into consideration.

Aerialman's 140 posts

Aerialman: the amount of tv's doesn't make that much of a difference to me as I start one tuning in I then go to the next tv as that one in tuning in and so far all my retunes are in a 2 1/2 mile radius not too bad.

Mazbar's 384 posts
Sunday, 7 April 2013

It should be pointed out,that the Winter Hill changes,also apply to the estimated 80,000 North Wales viewer's,who depend on Winter Hill,for their Freeview/DTT services.

We in the trade,in the North Wales area,have been trying to get the message out,to viewer's,with no help whatsoever,from Digital UK.

I am expecting a busy Day,on Wednesday 10th April,as we did in November/December,2009.

David Roberts's 23 posts
Wednesday, 10 April 2013
Stuart Owens
2:34 PM
Wrexham

Well for some reason, the frequency changes of 61 and 62 to 49 and 50 has completely knocked out my signals of Sutton Coldfield on 43 and 46.
I don't know why this should be the case as 49 and 50 aren't anywhere really that near to 43 and 46.
At least I can still get The Wrekin for the Midlands even if I can't get SC.

Stuart Owens's 156 posts
Stuart's:
map
S's Freeview map
terrain
S's terrain plot
waves
S's frequency data
S's Freeview Detailed Coverage
J
Jeanette Chalmers
4:05 PM

don't have original handset for View Sonic TV. Replacement doesn't allow me reset channels after Winter Hill retune

Jeanette Chalmers's 1 post
D
Dorothy
4:16 PM
Manchester

Aerialman: I do not have a signal on some of my usual tv channels, how do I reset them?


Dorothy's 1 post
Dorothy's:
map
D's Freeview map
terrain
D's terrain plot
waves
D's frequency data
D's Freeview Detailed Coverage
Select more comments
Your comment please