10th April 2013 retune for Winter Hill, Keighley transmitters and relays

Brian Butterworth published on UK Free TV
From 6am on 10th April 2013, several multiplexes will change their transmission frequencies.

Notably the main transmitters will make changes. This includes the WINTER HILL transmitter, where the BBCA multiplex (including 1 BBC One North West, 2 BBC Two England, 7 BBC Three, 9 BBC Four, 70 CBBC Channel,71 CBeebies, 80 BBC News, 81 BBC Parliament, ) will move from C62- to C50 and the ArqivaA multiplex (11 PICK TV, 12 Dave, 17 Really, 29 E4+1, 32 Movie Mix, 46 Challenge, 48 Food Network, 62 TV Stars, 82 Sky News, 87 Community Channel,) will move from C61- to C49.

On the KEIGHLEY, BBCA will move from C61 to C49.

See below for a full list of transmission masts that will make changes.

When you now rescan, you MUST do a "first time installation" or "factory reset" scan, not an "add channels". Do the procedure you did on September 30th 2009. If you can't recall what this was, please see List of manuals for Freeview retune, or try the generic clear and rescan procedure.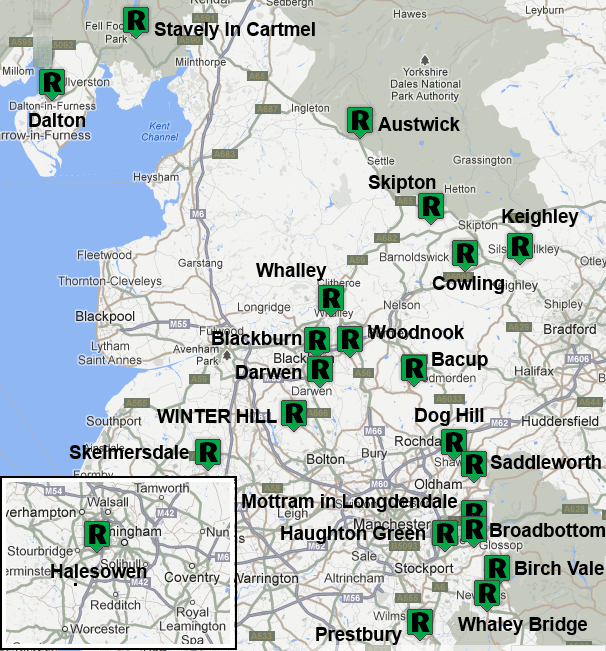 Please note that the relay transmitters will take some time (between 11am and 4pm) to come back to full service:

Austwick: PSB2 C49 to C39
Bacup: PSB3 C50 to C40
Birch Vale: PSB3 C50 to C40
Blackburn: PSB3 C50 to C40
Broadbottom: PSB3 C49 to C39
Cowling: PSB3 C49 to C39
Dalton: PSB3 C50 to C40
Darwen: PSB2 C49 to C39+
Dog Hill: PSB3 C50 to C40
Halesowen: PSB2 C61 to C49
Haughton Green: PSB3 C50 to C40
KEIGHLEY: COM6 C60 to C60- PSB1 C61 to C49
Mottram in Longdendale: PSB3 C50 to C40
Prestbury: PSB3 C50 to C40
Saddleworth: PSB2 C49+ to C39+
Skelmersdale: PSB1 C51 to C46 PSB2 C48 to C43 PSB3 C52 to C40
Skipton: PSB1 C49 to C39+
Stavely In Cartmel: PSB3 C50 to C40
Whaley Bridge: PSB2 C49 to C39
Whalley: PSB3 C50 to C40
WINTER HILL: COM5 C61- to C49 PSB1 C62- to C50
Woodnook: PSB2 C49 to C39

The changes at WINTER HILL will cause the following relays to have no PSB1 service for some time:

Backbarrow, Barrow Town Hall, Bidston, Bollington, Brinscall, Brook Bottom, Burbage, Buxton, Cartmel, Chaigley, Chatburn, Chinley, Congleton, Delph, Elton, Far Highfield, Glossop, Haslingden, Ladder Hill, Lancaster, Langley, Lees, Littleborough, Macclesfield, Manchester Hulme, Melling, Middleton, Millom Park, Moss Bank, New Church, Norden, North Oldham, Oakenhead, Over Biddulph, Parbold, Pendle Forest, Penny Bridge, Portwood, Ramsbottom, Ribblesdale, Romiley, Roose, Stockport, Storeton, Trawden, Urswick, Walton Le Dale, Wardle, West Kirby, Whitewell and Whitworth.

The changes at KEIGHLEY will cause loss of PSB1 for some time at the relays at:

Keighley Town, Oxenhope, Skipton Town and Sutton In Craven

If you get Freeview from these masts - DO NOT retune your Freeview equipment.
Comments
Saturday, 5 October 2013

Remote control will not work ,with the freeveiw box cannot watch programmes that it records.tried new batteries makes no difference help please.

Ann Morris's 1 post

Ann

Try switching off the box at the mains socket, wait at least 2 minutes and then switch the mains socket on again. Then try bringing the box into use again with the remote control.
Sometimes the electronics inside gets confused and needs to be restarted, as suggested above.
Hope that helps. If not then please post back here with details of the equipment (such as make and model number).

MikeP's 3,056 posts
Sunday, 6 October 2013

Ann Morris: MikeP has some excellent advice, but in my experience, if a remote is not working (and the main unit is), its one of three things. You've already changed the batteries, so thats the first one. The second is to check that there is no muck on the emitter or the reciever - just make sure that the bit at the front has no duct, etc.

The third problem is that its broken! How you find this out is by getting a digital camera, and taking a photo while pressing one of the buttons (for chaning channel, for instance), pointing the remote at the camera. When you look at the photo, the infra red signal should appear as a little light/blueish flash at the front of the remote.

If there is no flash, then its broke, and frankly, you'll just going to have to replace it. There are plenty of companies on the net, and of course ebay. Have a look at the back of the remote, it should have some sort of parts code (the manual often has this info as well) - then Google it and off you go. Sony ones, etc might be about £30, possibly cheaper.

MikeB's 2,579 posts
Tuesday, 10 December 2013

Hi everyone I haven'thad any BBC channels for about one month now and am fed up I think I tried everything can anyone help

friendlyfairy's 1 post

friendlyfairy: Without knowledge of your location, preferably in the form of postcode, it isn't possible to make any suggestions. If you don't wish to give your own then one of a nearby property such as that of a shop.

Knowledge of what you've tried would be helpful as it would mean we wouldn't suggest you do it again and it may also be helpful to homing in on a solution.

Dave Lindsay's 5,724 posts
Select more comments
Your comment please