10th April 2013 retune for Winter Hill, Keighley transmitters and relays

Brian Butterworth published on UK Free TV
From 6am on 10th April 2013, several multiplexes will change their transmission frequencies.

Notably the main transmitters will make changes. This includes the WINTER HILL transmitter, where the BBCA multiplex (including 1 BBC One North West, 2 BBC Two England, 7 BBC Three, 9 BBC Four, 70 CBBC Channel,71 CBeebies, 80 BBC News, 81 BBC Parliament, ) will move from C62- to C50 and the ArqivaA multiplex (11 PICK TV, 12 Dave, 17 Really, 29 E4+1, 32 Movie Mix, 46 Challenge, 48 Food Network, 62 TV Stars, 82 Sky News, 87 Community Channel,) will move from C61- to C49.

On the KEIGHLEY, BBCA will move from C61 to C49.

See below for a full list of transmission masts that will make changes.

When you now rescan, you MUST do a "first time installation" or "factory reset" scan, not an "add channels". Do the procedure you did on September 30th 2009. If you can't recall what this was, please see List of manuals for Freeview retune, or try the generic clear and rescan procedure.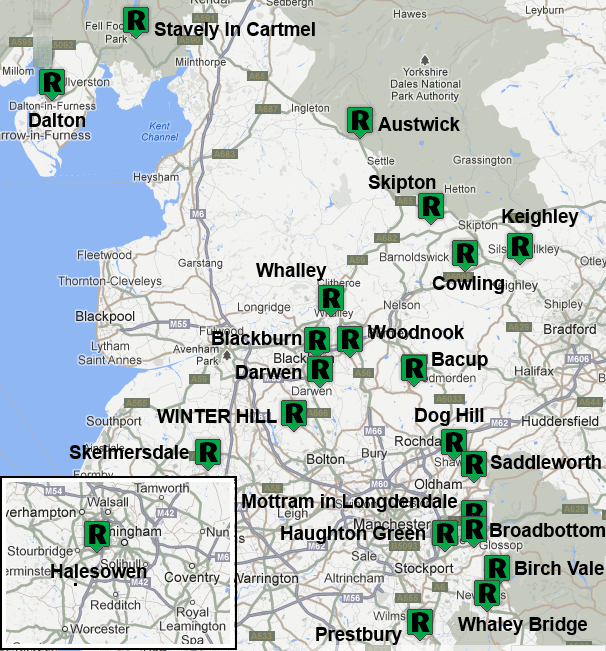 Please note that the relay transmitters will take some time (between 11am and 4pm) to come back to full service:

Austwick: PSB2 C49 to C39
Bacup: PSB3 C50 to C40
Birch Vale: PSB3 C50 to C40
Blackburn: PSB3 C50 to C40
Broadbottom: PSB3 C49 to C39
Cowling: PSB3 C49 to C39
Dalton: PSB3 C50 to C40
Darwen: PSB2 C49 to C39+
Dog Hill: PSB3 C50 to C40
Halesowen: PSB2 C61 to C49
Haughton Green: PSB3 C50 to C40
KEIGHLEY: COM6 C60 to C60- PSB1 C61 to C49
Mottram in Longdendale: PSB3 C50 to C40
Prestbury: PSB3 C50 to C40
Saddleworth: PSB2 C49+ to C39+
Skelmersdale: PSB1 C51 to C46 PSB2 C48 to C43 PSB3 C52 to C40
Skipton: PSB1 C49 to C39+
Stavely In Cartmel: PSB3 C50 to C40
Whaley Bridge: PSB2 C49 to C39
Whalley: PSB3 C50 to C40
WINTER HILL: COM5 C61- to C49 PSB1 C62- to C50
Woodnook: PSB2 C49 to C39

The changes at WINTER HILL will cause the following relays to have no PSB1 service for some time:

Backbarrow, Barrow Town Hall, Bidston, Bollington, Brinscall, Brook Bottom, Burbage, Buxton, Cartmel, Chaigley, Chatburn, Chinley, Congleton, Delph, Elton, Far Highfield, Glossop, Haslingden, Ladder Hill, Lancaster, Langley, Lees, Littleborough, Macclesfield, Manchester Hulme, Melling, Middleton, Millom Park, Moss Bank, New Church, Norden, North Oldham, Oakenhead, Over Biddulph, Parbold, Pendle Forest, Penny Bridge, Portwood, Ramsbottom, Ribblesdale, Romiley, Roose, Stockport, Storeton, Trawden, Urswick, Walton Le Dale, Wardle, West Kirby, Whitewell and Whitworth.

The changes at KEIGHLEY will cause loss of PSB1 for some time at the relays at:

Keighley Town, Oxenhope, Skipton Town and Sutton In Craven

If you get Freeview from these masts - DO NOT retune your Freeview equipment.
Comments
Thursday, 11 April 2013

J Whyman: Ch4 is on the same mux transmitter as ITV1 / Ch5 etc, and so prior to carrying out an auto-tune you should carry out a "factory reset" on the box, this also called "default setting" or "first time installation" dependant on brand, as the box has to be completely cleared of anything stored before any further retunes are carried out.

jb38's 7,179 posts
R
richard green
9:39 PM
Rotherham

the make is baird and model is CN42LEDBK
ive tried a lot of stuff like retunning without areial in and with in ive tried a reset i even bought a cox cable but dunno if i did that right cos that was worse then just the already made one ive even plugged s-av[think thats wot there called]to extend but its no better

richard green's 11 posts
richard's:
map
R's Freeview map
terrain
R's terrain plot
waves
R's frequency data
R's Freeview Detailed Coverage

Hi, I've done the factory reset with aerial removal and retune etc but still not got any BBC channels. Checked the signal strength for channel 40 onwards and got "None" all the way up to 55 which is "Poor" and goes to "Very Good" from 58. I am in the Dane Bank area of Denton - please can you advise me on how to recover my channels. Thank you.

Paul's 2 posts

Winter hill retune has lost us all of the aforementioned tv channels, we have retuned, but both boxes have the same problem. assuming that they have no LTE yet, any thoughts on how to get them back?

Thanks,
Louise

louise's 1 post

re " ... Skipton Town and Sutton In Craven

If you get Freeview from these masts - DO NOT retune your Freeview equipment", I have had to retune all my equipment to restore BBC TV and radio, following the changes to Skipton Town transmissions.

Andy's 9 posts
Andy's:
map
A's Freeview map
terrain
A's terrain plot
waves
A's frequency data
A's Freeview Detailed Coverage

Andy: That's because you were should be receiving from Skipton and not Skipton Town...

Michael's 358 posts

Thanks Michael for clarifying

Andy's 9 posts
Andy's:
map
A's Freeview map
terrain
A's terrain plot
waves
A's frequency data
A's Freeview Detailed Coverage
Friday, 12 April 2013

Like Paul, since the changes to Winter Hill cannot get channels on either of the two multiplexes that have moved- i.e. BBC and the one with Pick TV, Sky News etc etc. No problem with Marks and Spencer branded freeview box upstairs but 2007 Philips 37 PFL7662 TV set holds the signal for about 2 minutes after retuning with perfect picture- then it just goes and the "No signal" message appears. The set only allows manual tuning by frequency not channel numbers.

Richard's 3 posts

I'm now unable to record to my Panasonic DVD recorder any BBC channels (TV or radio) via Freeview. A few days ago I couldn't get BBC TV reception ("no signal"), so rescanned which fully restored all channels for viewing and listening. But as a consequence, I now can't record BBC ("no signal"). Other channels (ITV, channel 4) etc are still properly recording. I have tried disconnecting and resetting recorder. Any advice appreciated. Martin

Martin's 2 posts
J
Julian Morley
10:07 AM
Chester

Have DVB signal strengths in this area been reducing? Following the recent re-tune, I can now get no better than 7 on my 6-year old Panasonic digital TV and the picture is so unreliable as to be almost unwatchable. It used to be 10. My more recent digital recorder, on the same signal, is still getting 10, but I suspect it's more sensitive.

Can anyone help?

Julian Morley's 3 posts
Julian's:
map
J's Freeview map
terrain
J's terrain plot
waves
J's frequency data
J's Freeview Detailed Coverage
Select more comments
Your comment please