10th April 2013 retune for Winter Hill, Keighley transmitters and relays

Brian Butterworth published on UK Free TV
From 6am on 10th April 2013, several multiplexes will change their transmission frequencies.

Notably the main transmitters will make changes. This includes the WINTER HILL transmitter, where the BBCA multiplex (including 1 BBC One North West, 2 BBC Two England, 7 BBC Three, 9 BBC Four, 70 CBBC Channel,71 CBeebies, 80 BBC News, 81 BBC Parliament, ) will move from C62- to C50 and the ArqivaA multiplex (11 PICK TV, 12 Dave, 17 Really, 29 E4+1, 32 Movie Mix, 46 Challenge, 48 Food Network, 62 TV Stars, 82 Sky News, 87 Community Channel,) will move from C61- to C49.

On the KEIGHLEY, BBCA will move from C61 to C49.

See below for a full list of transmission masts that will make changes.

When you now rescan, you MUST do a "first time installation" or "factory reset" scan, not an "add channels". Do the procedure you did on September 30th 2009. If you can't recall what this was, please see List of manuals for Freeview retune, or try the generic clear and rescan procedure.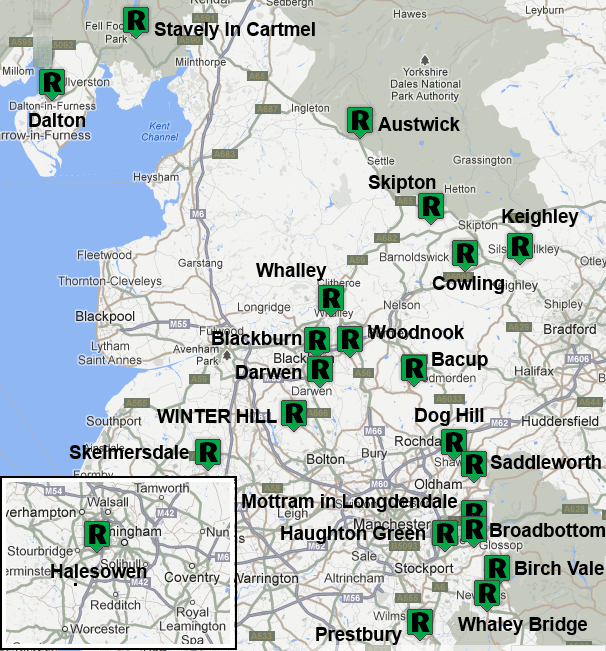 Please note that the relay transmitters will take some time (between 11am and 4pm) to come back to full service:

Austwick: PSB2 C49 to C39
Bacup: PSB3 C50 to C40
Birch Vale: PSB3 C50 to C40
Blackburn: PSB3 C50 to C40
Broadbottom: PSB3 C49 to C39
Cowling: PSB3 C49 to C39
Dalton: PSB3 C50 to C40
Darwen: PSB2 C49 to C39+
Dog Hill: PSB3 C50 to C40
Halesowen: PSB2 C61 to C49
Haughton Green: PSB3 C50 to C40
KEIGHLEY: COM6 C60 to C60- PSB1 C61 to C49
Mottram in Longdendale: PSB3 C50 to C40
Prestbury: PSB3 C50 to C40
Saddleworth: PSB2 C49+ to C39+
Skelmersdale: PSB1 C51 to C46 PSB2 C48 to C43 PSB3 C52 to C40
Skipton: PSB1 C49 to C39+
Stavely In Cartmel: PSB3 C50 to C40
Whaley Bridge: PSB2 C49 to C39
Whalley: PSB3 C50 to C40
WINTER HILL: COM5 C61- to C49 PSB1 C62- to C50
Woodnook: PSB2 C49 to C39

The changes at WINTER HILL will cause the following relays to have no PSB1 service for some time:

Backbarrow, Barrow Town Hall, Bidston, Bollington, Brinscall, Brook Bottom, Burbage, Buxton, Cartmel, Chaigley, Chatburn, Chinley, Congleton, Delph, Elton, Far Highfield, Glossop, Haslingden, Ladder Hill, Lancaster, Langley, Lees, Littleborough, Macclesfield, Manchester Hulme, Melling, Middleton, Millom Park, Moss Bank, New Church, Norden, North Oldham, Oakenhead, Over Biddulph, Parbold, Pendle Forest, Penny Bridge, Portwood, Ramsbottom, Ribblesdale, Romiley, Roose, Stockport, Storeton, Trawden, Urswick, Walton Le Dale, Wardle, West Kirby, Whitewell and Whitworth.

The changes at KEIGHLEY will cause loss of PSB1 for some time at the relays at:

Keighley Town, Oxenhope, Skipton Town and Sutton In Craven

If you get Freeview from these masts - DO NOT retune your Freeview equipment.
Comments
Friday, 12 April 2013
R
richard green
8:54 PM
Rotherham

when i do a tune in all i can choose is the country to start after it fails then the region comes up as yorkshire an wont allow me to change it i know its a strange q but why would it be the lead in the house when its brand new but if move it around n that it picks up see when i had old tv with a freeview box the box was on top of my tv and i had to have it pulled tight to keep a signal any ideas what type of fault that would b n any ideas how to sort

richard green's 11 posts

richard green: I gather that there is n aerial wall socket into which you plug the aerial lead and then connect it to your TV.

If the signal varies when you move the aerial lead about and the aerial is plugged into the wall then this suggests that there might be nothing coming out of the wall socket and that it is the aerial lead that is acting to pick up the signal which is why it varies as you move it.

Feed the aerial lead from the wall socket straight into the TV, without any other boxes connected and try again. If you do this and it works, and it stops working when you feed it through the box, then the issue is with the box. If so, knowledge of the make and model of the box might allow further guidance as to how to proceed.

Dave Lindsay's 5,724 posts

richard green: I should emphasise that at this point no signal coming out of the wall socket is only a possibility. The objective to try and prove or disprove this theory.

Trying another receiver known to work is obviously something else that you might be able to do.

Dave Lindsay's 5,724 posts
A
Andrew
10:43 PM
Ashton-under-lyne

I had a signal before winterhill was played with and haven't now, so it's not my tvs fault!!
When will this issue be sorted??

Andrew's 1 post

Oops.
so I've just travelled up to Granadaland to help out my elderly relative who lost her channels from Winter Hill on the 10th. Samsung TV about 4.5 years old.. Retune - no BBC and no signal on C50. (sees everything else).. Same after factory reset.. but if i plug a small, newer samsung portable freeview TV into the same aerial socket, it sees C50 and BBC fine.. high quality signal, low errors.

Problem with the Freeview receiver not understanding the new signal?

thoughts?

Dave S's 1 post
R
richard green
11:42 PM
Rotherham

i will try when there is daylight also how do I do this as the cable in the wall socket is not long enough do i have to extend this some how an thank you

richard green's 11 posts
Saturday, 13 April 2013

Dave S: With regards to the small portable having picked up Ch50 OK whereas the main TV did not, I would suggest that this is much more likely to be due to the small portable TV having a far more sensitive tuner rather than anything connected to the signal, this being exactly the same as before except for the mux transmitter operating on a lower frequency, the difference in propagation of this lower frequency being in my opinion the reason for the problems that many are experiencing and not because of any transmitter fault, albeit that many suspect that it is.

Another aspect that could be exacerbating the problem could be connected to the aerial being used, because prior to the frequency change a C/D group aerial (most likely used by many) and which covers Ch's 48 - 68 had a good overlap of the channel span used by Winter Hills muxes which were Ch54 - 62, whereas since the frequency change the channel span of the stations muxes is now Ch49 - 59, the lower two channels (Ch49 / 50 (BBC) being near to the bottom end of the aerials operating range of Ch48 - 68 hence in the area where its pick up efficiency is tapering off, this likely to be one of the main reasons why the BBC is difficult to receive, i.e: signal level received is sitting under the lower threshold for reception.

jb38's 7,179 posts

Retuned fine except forChannel 4. Which has been replaced by S4C. I live just on the border between Cheshire and Flintshire and have always got my signal from Winter Hill.
Can you please advise the frequencies which I now need to do a manual - by - frequency re- tune.
Many thanks.
Michael C.

Michael Campbell's 1 post

Michael Campbell: Winter Hill's PSB2 mux channel for ITV1/Ch4/Ch5 etc is Ch59 (778.0Mhz)

jb38's 7,179 posts
R
richard green
1:01 PM
Rotherham

Dave Lindsay: I wont to thank you i took the wall socket off and put a cox connector on so i could plug the ariel lead to it and it worked so there is a fault with the socket but it dont matter i have all channels now so cheers

richard green's 11 posts
Select more comments
Your comment please