10th April 2013 retune for Winter Hill, Keighley transmitters and relays

Brian Butterworth published on UK Free TV
From 6am on 10th April 2013, several multiplexes will change their transmission frequencies.

Notably the main transmitters will make changes. This includes the WINTER HILL transmitter, where the BBCA multiplex (including 1 BBC One North West, 2 BBC Two England, 7 BBC Three, 9 BBC Four, 70 CBBC Channel,71 CBeebies, 80 BBC News, 81 BBC Parliament, ) will move from C62- to C50 and the ArqivaA multiplex (11 PICK TV, 12 Dave, 17 Really, 29 E4+1, 32 Movie Mix, 46 Challenge, 48 Food Network, 62 TV Stars, 82 Sky News, 87 Community Channel,) will move from C61- to C49.

On the KEIGHLEY, BBCA will move from C61 to C49.

See below for a full list of transmission masts that will make changes.

When you now rescan, you MUST do a "first time installation" or "factory reset" scan, not an "add channels". Do the procedure you did on September 30th 2009. If you can't recall what this was, please see List of manuals for Freeview retune, or try the generic clear and rescan procedure.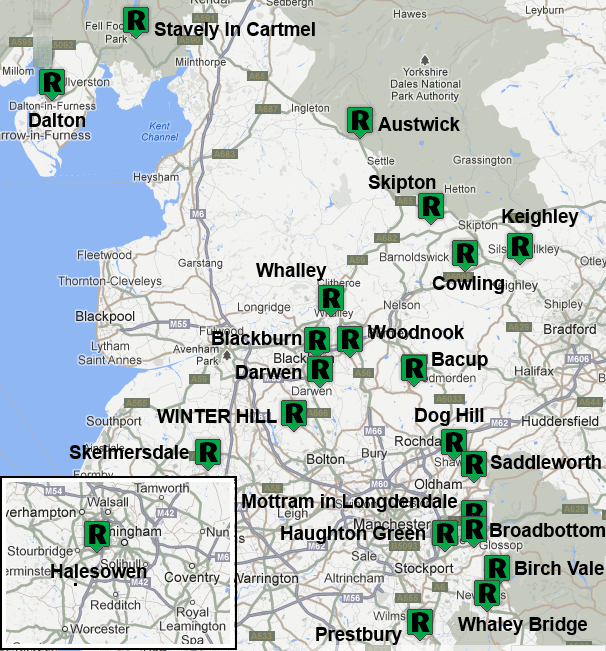 Please note that the relay transmitters will take some time (between 11am and 4pm) to come back to full service:

Austwick: PSB2 C49 to C39
Bacup: PSB3 C50 to C40
Birch Vale: PSB3 C50 to C40
Blackburn: PSB3 C50 to C40
Broadbottom: PSB3 C49 to C39
Cowling: PSB3 C49 to C39
Dalton: PSB3 C50 to C40
Darwen: PSB2 C49 to C39+
Dog Hill: PSB3 C50 to C40
Halesowen: PSB2 C61 to C49
Haughton Green: PSB3 C50 to C40
KEIGHLEY: COM6 C60 to C60- PSB1 C61 to C49
Mottram in Longdendale: PSB3 C50 to C40
Prestbury: PSB3 C50 to C40
Saddleworth: PSB2 C49+ to C39+
Skelmersdale: PSB1 C51 to C46 PSB2 C48 to C43 PSB3 C52 to C40
Skipton: PSB1 C49 to C39+
Stavely In Cartmel: PSB3 C50 to C40
Whaley Bridge: PSB2 C49 to C39
Whalley: PSB3 C50 to C40
WINTER HILL: COM5 C61- to C49 PSB1 C62- to C50
Woodnook: PSB2 C49 to C39

The changes at WINTER HILL will cause the following relays to have no PSB1 service for some time:

Backbarrow, Barrow Town Hall, Bidston, Bollington, Brinscall, Brook Bottom, Burbage, Buxton, Cartmel, Chaigley, Chatburn, Chinley, Congleton, Delph, Elton, Far Highfield, Glossop, Haslingden, Ladder Hill, Lancaster, Langley, Lees, Littleborough, Macclesfield, Manchester Hulme, Melling, Middleton, Millom Park, Moss Bank, New Church, Norden, North Oldham, Oakenhead, Over Biddulph, Parbold, Pendle Forest, Penny Bridge, Portwood, Ramsbottom, Ribblesdale, Romiley, Roose, Stockport, Storeton, Trawden, Urswick, Walton Le Dale, Wardle, West Kirby, Whitewell and Whitworth.

The changes at KEIGHLEY will cause loss of PSB1 for some time at the relays at:

Keighley Town, Oxenhope, Skipton Town and Sutton In Craven

If you get Freeview from these masts - DO NOT retune your Freeview equipment.
Comments
Sunday, 14 April 2013

J Whyman: Film 4 is mux Ch39, the site having cut the number off because it was bracketed.

jb38's 7,179 posts

Have to laugh at those in N Wales moaning about not getting a clear picture from Winter Hill!!
What about us on the Wirral that have to suffer the shite Welsh propaganda TV unless we jump through hoops and spend lots on receiving equipment?

NH65's 1 post

Before the recent retuning I had no problem with any channel. Since april 10th retuning I received all the channels but if I turn my TV off, or leave on standby, when I turn it on again I find I have lost all the BBC channels, that is every single BBC channel, TV and radio. I then retune and they all come back again until I once again put my TV on standby or turn it off. Since I do not want to leave TV on permanently is this problem my TV not working right or a transmitter problem.

jeremy's 3 posts

We have definitely lost signal strength in ellesmere port following the switch of the BBC MAX to Ch 50 on 10th April. I've seen the same on indoor, an amplified loft aerial and an external amplified aerial - using various freeview receivers. Stangely, some of the other MUX's are showing higher signal strengths.

This is not just of academic interest since I am now getting some break-up on BBC1 which was rock solid before. Some of the cr*p shopping channels which were unwatchable are now clear as crystal.

Has someone decided that the priority should be given to commercial channels over the Beeb ?

Richard's 2 posts
Monday, 15 April 2013
L
Lisa Jones
2:13 PM
Runcorn

Hi. We live in the castlefields area of Runcorn and have been unable to get any BBC channels at all since the changeover on the 10th April. We have retuned both the living room tv and the bedroom numerous times but it still won't pick any of the BBC channels and some previous sky channels we had on freeview ie. Challenge, pick tv and Dave. We've also lost the BBC digital radio channels. Can anyone out there help or tell me if this problem is going to be sorted or do we need to sort it ourselves? Thanks in advance for your help. :)

Lisa Jones's 2 posts

Lisa Jones: If you use a communal aerial system then it may need adjustment so as to provide the services you identify as now lost.

Dave Lindsay's 5,724 posts
L
Lisa Jones
8:37 PM
Runcorn

That's great Dave. I'll get onto it. Thanks a million for your help. :)

Lisa Jones's 2 posts
B
Brian Walsh
10:44 PM
Crewe

It appears to me that BBC signal strength across all their TV channels has been reduced dramatically. My signal drops out for a second or 2 intermittently which may not sound bad , but trips out my BT vision box into a restart procedure ( hugely irritating). Are we stuck with this or are there plans to improve anything , looks as if there are plenty of people suffering

Brian Walsh's 1 post
Tuesday, 16 April 2013

I have been to my mothers to re-tune, & talked through with the guy at digital UK (for about 40mins) to no avail, she is on a communal aerial. We enquired with some of the neighbours last night to see if an aerial fault but everyone else is fine.
Any suggestions would be great thanks

carol Johnson's 1 post

Hi. I live in Fallowfield, Manchester and since the 10th April I don't have any of the BBC channels in my Freeview box. All the remaining channels are OK are after retuning. I tried retuning, both automatically and manually, also unplugging the aerial and resetting the system following recommendations. However, the signal for BBC channels is none or poor. Can I ask for help to sort this out or is this is going to improve soon? Thanks in advance for the help.

Paula's 1 post
Select more comments
Your comment please