Improving the 4G-at-800 information on UK Free TV

Brian Butterworth published on UK Free TV
I have been reviewing the Ofcom document: "Technical analysis of interference from mobile base stations in the 800 MHz band to digital terrestrial television - Further modelling" and have made some changes based on the prediction model evidence.

Looking page 42, where the 4g-at-800 effects of four cases - I have compared the "consumer mitigation and network mitigation" values with the "mobile mitigation only" and produced this graph:




This shows that, once the network filters ("network mitigation") are taken into account, the channels that require the fitting of a filter in the home are C22, C23, C30, C59, C60 and C21.

You can see from this pie chart: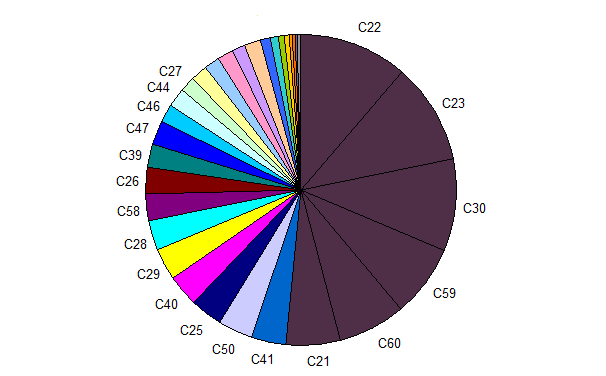 ... that these six channels (out of 40) supply over half of the potential problems.

I have therefore changed the site to now call these the "higher risk range", and highlight these on the transmitter pages. Like this:




This means that the Freeview interference from 800Mhz 4G 2013 - map page now appears like the image below. The red areas are those within 1km of a existing mobile phone mast, the numbers showing the number of multiplexes in the "higher risk range".




I may move to a points-based risk system in future.

Your comments would, as always, be appreciated.
Comments
Monday, 15 April 2013
A
agnes malcolm
5:04 PM
Paisley

My Freeview has no colour the screen is black/grey. Why is this

agnes malcolm's 1 post
agnes's:
map
A's Freeview map
terrain
A's terrain plot
waves
A's frequency data
A's Freeview Detailed Coverage

agnes malcolm: This is only really likely to happen if you are using a separate set-top box.

Try unplugging and plugging the scart lead at each end.

Dave Lindsay's 5,724 posts

agnes malcolm: there is also one other thing it could be you might have changed your scart input to super VHS this is normally shown a s next to the input

Mazbar's 384 posts

With some aerial, booster and box installations, interference to the highest channels is technically understandable. However, if the lowest, in Band-A, might be affected, it must be inferred that some boxes may have such as wideband input as to be vulnerable to interference over a wide segment of the spectrum. Did the original Ofcom specifications not incorporate this? Free filters must be made available to all on demand, without survey, with free installation when requested. "The Market" should be forced to do better! Who will ultimately benefit from 4G? Who will be able to afford its offerings? The "celestial" company must be laughing smugly - apopectically...

michael's 869 posts
Tuesday, 16 April 2013

agnes malcolm: To add to that already said, can it be assumed that you NOT using a Freeview box thats coupled into a old analogue TV's aerial socket via a coax jumper lead? and if not then what type of connection are you using?

jb38's 7,179 posts
Wednesday, 17 April 2013
A
anthony churchill
11:36 PM
Swansea

why cant i get the same amount of channels as the kilvey hill transmitter, i get my freeview from the ystalyfera transmitter and dont have as many channels, my postcode is sa9 2aj

anthony churchill's 1 post
anthony's:
map
A's Freeview map
terrain
A's terrain plot
waves
A's frequency data
A's Freeview Detailed Coverage
Thursday, 18 April 2013

anthoney churchill
Because it's a PSB only multiplex.

Heinz's 25 posts

anthony churchill: Because, as Heinz has said, it only carries PSB (Public Service Broadcaster) channels; the Commercial (COM) channels only broadcast from the larger transmitters. The Commercial broadcasters have no "Public Service" obligation and their primary objective is to generate a profit.

See here for an explanation:

Londonderry (Northern Ireland) digital TV transmitter | ukfree.tv - 10 years of independent, free digital TV advice

Dave Lindsay's 5,724 posts
Sunday, 21 April 2013

I can get over 100 freeview "channels" but I also read about channels CH21 to CH69. Those add up to only 49 "channels". So what IS a "channel" ?

ed's 1 post
Tuesday, 23 April 2013

ed: Freeview should really refer to the schedule of programmes as 'services' rather than 'channels'.

The system used for digital TV delivers between 24 and 40.8 megabits per second of capacity for an 8 MHz block of radio spectrum, which is what we mean when we say 'channel' here. The channels are numbered according to the lower and upper limits of the block of spectrum, from C21 at 470-478 MHz up to C69 at 854-862 MHz.

That amount of capacity, per radio channel, is far more than any one service needs, so a number of services are bundled together into a 'multiplex'. The multiplex alternately takes a block of data from each service so that each service has the same approximate rate of data arriving. Different services are compressed by different amounts, different broadcasters having made different trade-offs between capacity and quality.

There are three Public Service Broadcasting (PSB) multiplexes, transmitted from all 1100 transmitters in the British Isles. There are also three Commercial multiplexes transmitted from 80 of the largest sites (those covering the largest part of the population). The multiplexes and their content are listed at Multiplexes | ukfree.tv - 10 years of independent, free digital TV advice .

Also, many services actually share their capacity over the day. So, for example, the same capacity is used to broadcast CBeebies (6am - 7pm) and BBC Four (7pm to 6am, approx). Some of the commercial multiplexes have up to four different services time-sharing the same slot.

Mike Dimmick's 2,486 posts
Select more comments
Your comment please