Why have I been sent a filter for my Freeview?

Brian Butterworth published on UK Free TV
At800, the people who are going to stop interference from the new mobile internet services (4G) when they start in the old analogue TV frequencies (called the 800MHz band) are performing a third test in the Isleworth area.

The test area is approximately:




Homes which are thought to be at risk from the interference will be sent a special filter before the test signals are broadcast.

This is to allow at800 to find out if sending filters out first is the most effective way of preventing people having problems. This is to compare to the second-phase trail in south west London, where leaflets are sent, but each householder has to call in to be sent a filter (and possibly an engineer).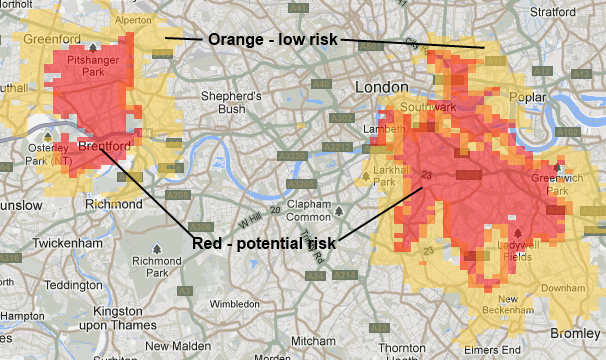 The filter looks like this: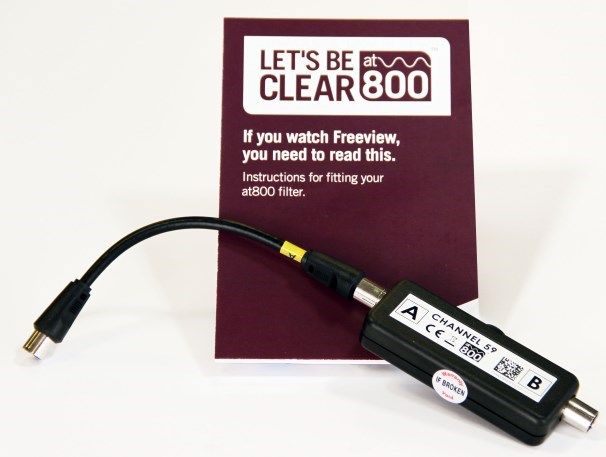 This will need to be fitted to the back of the Freeview box (if there is only one in use) or to the aerial side of an amplifier, if one is in use.
Comments
Wednesday, 9 October 2013

Mike: So she got a postcard? Where does your mother live? And do any of her neighbours have problems?

Michael's 358 posts

Michael: Yes exactly! as I personally have not as yet found any cases where a viewer was genuinely suffering from the effects of residing close to a 4G source being tested out.

jb38's 7,179 posts
Thursday, 17 October 2013

hi can you please help me we have 5 TVs running off 3 aerials the one on roof has 1 TV connected to it, the other 4 TVs are connected to 2 aerials in the loft they all work really well without an amplifier or anything else, my question is do I need a filter for each TV if I do where and how do I get hold of them and how much do they cost, I received my free one today the reason for the 5 TVs we are all pensioners and watch a lot of TV in our rooms.
Kind Regards Peter.

peter atkinson's 1 post
Saturday, 19 October 2013
I
Ian from notts
9:12 AM
Matlock

peter Atkinson- If your TV's are working ok then you do not need a filter.
If you do need a filter then you have 2 options,
you can buy 1 for each TV/ Freeview box and fit it directly before the aerial connects to the TV/box,
or you need 1 for each aerial which needs to be fitted before the aerial cable goes into any boosters/ splitters

Ian from notts's 253 posts
Ian's:
map
I's Freeview map
terrain
I's terrain plot
waves
I's frequency data
I's Freeview Detailed Coverage
Thursday, 14 November 2013

Ok I have been sent one of these but it doesn't seem to solve the problem

B Jackson's 4 posts

B Jackson: What was "the problem"?

Michael's 358 posts

Michael: pixelating on a lot of the freeview channels

B Jackson's 4 posts
B's:
map
B's Freeview map
terrain
B's terrain plot
waves
B's frequency data
B's Freeview Detailed Coverage

B Jackson: if your getting your signal from Saddleworth, I'm not surprised at pixilation - your just 4km away. If your going for winter hill, etc, then your sinal is not predicted to be great.
Check your signal strength and transmitter - but it's unlikely to be 4G, hence to luck with a filter.

MikeB's 2,579 posts

B Jackson: Well, a 4G filter just cuts out signals from UHF channel 59 or 60 and above, and if it doesn't work then you should confirm with at800 on 0333 31 31 800 that there is actually a 4G station active in your area before you go any further.

But since you are 4km from a main Freeview transmitter so you should not be having any problems - however your signal could be too strong, especially if you have a booster connected. Is it happening on more than 1 TV? Outdoor/indoor aerial?

Michael's 358 posts

Michael: outdoor aerial - it happens on the tv but not as much when played through my pvr player - no booster only have one tv


B Jackson's 4 posts
B's:
map
B's Freeview map
terrain
B's terrain plot
waves
B's frequency data
B's Freeview Detailed Coverage
Select more comments
Your comment please