Freesat is "fastest growing TV platform" and "outgrows Pay-TV"

Brian Butterworth published on UK Free TV
Here are the headline figures from Freesat:


Freesat added c.150,000 homes in the last 12 months, more than both Sky and Virgin Media combined
This included 29,000 new Freesat homes in latest quarter, Jan-Mar 2013
51% of Freesat customers switched from Pay-TV in 2012/13, the majority from Sky
Freesat now in 1.7 million homes, c.6% of UK homes
Total unit sales of 3.2 million since launch five years ago
Gross retail UK sales to date of £1.2 billion with particularly strong sales of the new hybrid free time box.
Freesat remains the UK's fastest growing established TV platform, and continues to outgrow Pay-TV rivals.
Freesat say that:
According to Freesat's own customer research (conducted by YouGov in April 2013), 51% of homes that joined the free TV service in 2012/13 were from Pay-TV rivals. The research also indicated that just over 25% of homes are considering changing TV service provider in 2013, and of these, 60% are being driven by the desire to
save
money.
Emma Scott, Freesat's Managing Director commented: "Freesat is truly a TV platform of choice. Our consistently positive results demonstrate fantastic growth and a strong appetite for high
quality
, good value TV, in a challenging economic environment. The success of our
free time
service with its cutting edge TV Guide and on-demand
services
including
BBC iPlayer
, ITV Player and YouTube, gives yet more sensible reasons to switch to Freesat.
"Everyone of us across the UK is continually reassessing how we spend our money, and with 79% of viewing across all platforms, including pay, going to free
channels
, and 52% going to the top 5 channels – having a monthly TV
subscription
just doesn't make sense for most people."
Freesat has now sold 3.2 million units, far exceeding original sales projections and taking total gross retail UK sales to £1.2 billion since launch in May 2008. Freesat will grow the
free time
features over time, including a remote record app for smart phones and tablets as well as the introduction of additional movie and music services.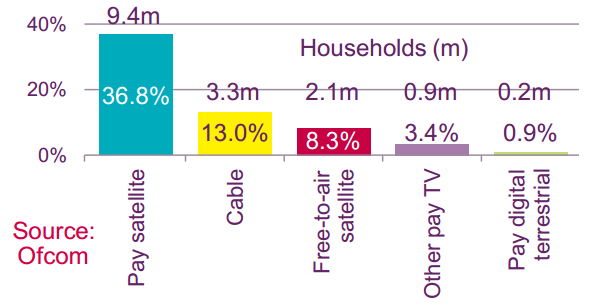 It's worth comparing the figures from Freesat with those from
Ofcom
(from
Digital Television Update Chart Pack for Q4 2012 April 2013
).
The Ofcom figures are for only 97.1% of UK, as they don't include the 1.8 million people in Northern
Ireland
.
Ofcom show 2.1m Free-to-Air
satellite
homes, which is a combination of Freesat's 1.7 million and 0.4m Freesat-from-Sky homes.
Comments
Wednesday, 1 May 2013

Probably all the people discovering just how unreliable freeview is.

Ian's 497 posts
Ian's:
map
I's Freeview map
terrain
I's terrain plot
waves
I's frequency data
I's Freeview Detailed Coverage

Something not right here.
Surely no way to count Freesat customers accurately just as Freeview customers can't be, also Freeview not on above chart.
Where in above will people using a Sky box but not subscribing be recorded, is Freesat claiming them?

David's 306 posts

Ian: The reliability of Freeview depends largely on where you live. If you receive a strong signal from one of the larger main stations, such as Sutton Coldfield, this is likely to be the most reliable service of all the possible options. I have only known analogue transmission to fail 2 or 3 times in 30 years from Sutton Coldfield! Some relays, however seem to fail regularly, often due to vandalism or the poor state of the electricity supply cables in some areas. It makes sense if you are a regular viewer to have back-up whichever platform is chosen. If you can receive from two or more transmitters fitting an aerial to receive the alternative transmitter, at least on one TV, is a good idea. Anyone using satellite or cable is better off having Freeview as back-up in areas where reception is possible. Remember too that satellite is most likely to let you down when the weather is bad (snow or heavy rain), it is these times you are most likely to be indoors watching TV!

KMJ,Derby's 1,811 posts

Many people who have reliable Freeview reception still have Freesat. There are channels on Freesat that aren't on Freeview.

PJH's 75 posts

you should only loose satellite reception in extremely heavy/thick snow or biblical rain storms so 95% of the time it will work fine if correctly set up. i have sky tv,european large motorised dish,freesat and freeview and i think freesat is a excellent idea and good luck to them. my main gripe with freeview is the bandwidth is limited so all channels should be free. theres more adverts/repeats than normal tv on sat/cab and people are voting with their wallets more and more.

mdt's 7 posts
mdt's:
map
M's Freeview map
terrain
M's terrain plot
waves
M's frequency data
M's Freeview Detailed Coverage

If nobody uses Virgin Media and it doesn`t exist then zero people are useing it.
So how can you have a figure of -500 homes in 2012?

Mark Agius's 373 posts
Thursday, 2 May 2013

Mark Agius: The top chart is "platform additions". That's why I included the Ofcom chart to clarify the totals.

Briantist's 38,899 posts

KMJ, never have a problem with satellite, even in the snow, my freeview is OK most of the time but not as reliable as analogue ever was.

Ian's 497 posts
Ian's:
map
I's Freeview map
terrain
I's terrain plot
waves
I's frequency data
I's Freeview Detailed Coverage

4od on freesat by the end of may and when astra 2e gets launched in july more hd channels than freeview freeview has 4 freesat have six and at least 4 or 5 more this year on freesat any body who has bought freeview hd or youview is geting shafted freeview will not exist by 2020 duw to ultra hd broadcasting witch freeview can not Handel ever plus astra did ultra hd test last week so that is sign of things to come on satelite and cable is looking dodgy on ultra hd also an american cable company did 10 seprate tests and all failed

conor's 60 posts

conor: I doubt that most poeple would bother about ultra HD. It has even been suggested that it would only ever be used professionally, say for cinema chains to distribute films to their outlets. What interests most viewers is being able to watch TV for little or no payment!

KMJ,Derby's 1,811 posts
Select more comments
Your comment please