Freesat is "fastest growing TV platform" and "outgrows Pay-TV"

Brian Butterworth published on UK Free TV
Here are the headline figures from Freesat:


Freesat added c.150,000 homes in the last 12 months, more than both Sky and Virgin Media combined
This included 29,000 new Freesat homes in latest quarter, Jan-Mar 2013
51% of Freesat customers switched from Pay-TV in 2012/13, the majority from Sky
Freesat now in 1.7 million homes, c.6% of UK homes
Total unit sales of 3.2 million since launch five years ago
Gross retail UK sales to date of £1.2 billion with particularly strong sales of the new hybrid free time box.
Freesat remains the UK's fastest growing established TV platform, and continues to outgrow Pay-TV rivals.
Freesat say that:
According to Freesat's own customer research (conducted by YouGov in April 2013), 51% of homes that joined the free TV service in 2012/13 were from Pay-TV rivals. The research also indicated that just over 25% of homes are considering changing TV service provider in 2013, and of these, 60% are being driven by the desire to
save
money.
Emma Scott, Freesat's Managing Director commented: "Freesat is truly a TV platform of choice. Our consistently positive results demonstrate fantastic growth and a strong appetite for high
quality
, good value TV, in a challenging economic environment. The success of our
free time
service with its cutting edge TV Guide and on-demand
services
including
BBC iPlayer
, ITV Player and YouTube, gives yet more sensible reasons to switch to Freesat.
"Everyone of us across the UK is continually reassessing how we spend our money, and with 79% of viewing across all platforms, including pay, going to free
channels
, and 52% going to the top 5 channels – having a monthly TV
subscription
just doesn't make sense for most people."
Freesat has now sold 3.2 million units, far exceeding original sales projections and taking total gross retail UK sales to £1.2 billion since launch in May 2008. Freesat will grow the
free time
features over time, including a remote record app for smart phones and tablets as well as the introduction of additional movie and music services.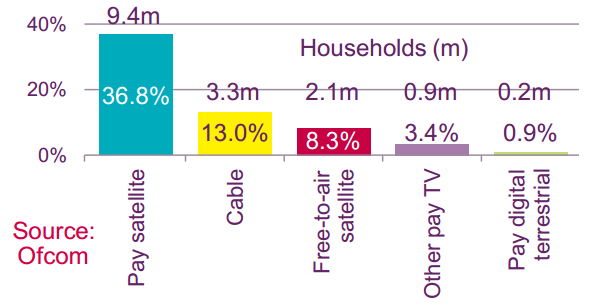 It's worth comparing the figures from Freesat with those from
Ofcom
(from
Digital Television Update Chart Pack for Q4 2012 April 2013
).
The Ofcom figures are for only 97.1% of UK, as they don't include the 1.8 million people in Northern
Ireland
.
Ofcom show 2.1m Free-to-Air
satellite
homes, which is a combination of Freesat's 1.7 million and 0.4m Freesat-from-Sky homes.
Comments
Thursday, 2 May 2013

conor: I doubt that most poeple would bother about ultra HD. It has even been suggested that it would only ever be used professionally, say for cinema chains to distribute films to their outlets. What interests most viewers is being able to watch TV for little or no payment!

KMJ,Derby's 1,811 posts
M
MikeB
10:39 PM
Peterborough

conor: since Ultra HD TV's have only just come out, basically start at 60in screens, its only films (and no means all of them) that are being made in Ultra HD, and our broadband network simply will not have the speed for quite some time to stream such huge volumes of data, Ultra HD is not something any of us should be immediately worried about.

Its likely that OLED 4k screen will become much cheaper, but it will take a while for them to filter through to the market, and of course people will ultimately only buy them for the 4K if there is something to watch on them!

KMJ had it right - most people watch TV using a perfectly decent set, using technology which is reasonably well priced and well proven. And they tend at present to watch free to view most of the time.

MikeB's 2,579 posts
MikeB's:
map
M's Freeview map
terrain
M's terrain plot
waves
M's frequency data
M's Freeview Detailed Coverage
Friday, 3 May 2013

When digital cinema came out at 2k I was quite impressed but of late even with the newer 4K movies I have been unimpressed in picture quality.
Wasn't BBC HD tv like that good at first then dropped off, in other words present HD tv could be better so a new system not needed for the home.

David's 306 posts

David: the bbc hd channels started off as 720 line and only moved to 1080 line reasonably recently.

Briantist's 38,906 posts
Wednesday, 8 May 2013

My freesat never goes dodgy - even during torrential rain storms and snow. My freeview however can be dodgy with very bad weather or if its very cold for some reason - it was bad in early January for instance but has been fine since.

Nick's 6 posts
Thursday, 9 May 2013

Nick: Most people can get totally stable Freeview reception. You didn't provide a postcode so I can't really comment about your specific position.

Briantist's 38,906 posts
Saturday, 11 May 2013

with the ps4 latter this year 4k is only 2 to 3 years away freeview can deal with ulra hd broadcasting i have herd that next year world cup will shot in ultra hd bbc are trying to get ultra hd up and running on satelite cable and freeview viewers will not get it just freesat and sky viewers

conor's 60 posts

I meant freeview can not deal ultra hd

conor's 60 posts
Monday, 22 July 2013

i have tryed to find a freesat not on freesat network but cant find one its a bit of nuisance as i cant get any channells when am i going to see new chanel on freesat ty

leslie rainer's 43 posts
leslie's:
map
L's Freeview map
terrain
L's terrain plot
waves
L's frequency data
L's Freeview Detailed Coverage

leslie rainer: keep a eye on the Eutelsat 28A & Astra 1N/2A/2F at 28.2°E - LyngSat page.

Look for light blue boxes on the right hand side of the tables.

Briantist's 38,906 posts
Select more comments
Your comment please