Brighton to be the fourth at800 test area from mid-May 2013

Brian Butterworth published on UK Free TV
From at800:

at800 is holding an extended trial to help understand the extent to which 4G at 800 MHz could disrupt Freeview. The trial begins in Brighton from mid-May. at800 is the organisation tasked with ensuring viewers continue to receive Freeview when 4G mobile services at 800 MHz are launched later this year.

Brighton has been selected for the trial as Freeview in the city is transmitted on frequencies that are particularly close to the 800 MHz frequencies used for new 4G services. The trial will also be the first time at800 provides specific support to the elderly or those with a disability. Depending on the trial outcome, a decision will be made on whether the 4G masts will remain active indefinitely.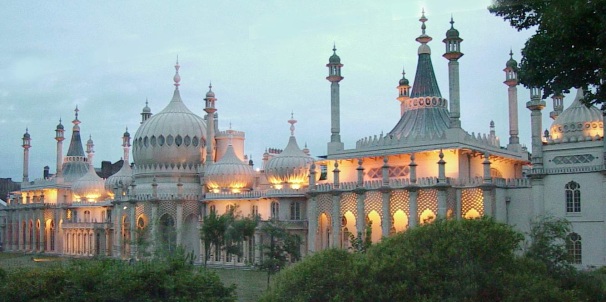 Simon Beresford-Wylie, chief executive of at800, said, "The hilly terrain in Brighton – which can affect TV signals – coupled with Freeview being transmitted on frequencies very close to 4G at 800 MHz will make this a very useful trial. We urge viewers in Brighton to call us should they see any new problems with their Freeview reception."

Approximately 80,000 addresses in Brighton are being sent a postcard explaining that 4G will be activated in their area. Of these, 2,424 households will also be sent an at800 filter before the trial begins. This connects between the existing TV aerial cable and the television or Freeview box and is designed to block 4G at 800 MHz. If viewers have an amplifier or signal booster, the filter needs to be connected between the antenna and the amplifier. at800 believes most people will be able to fit the filter themselves; however, additional support is available to the elderly or people with a disability via a home visit service.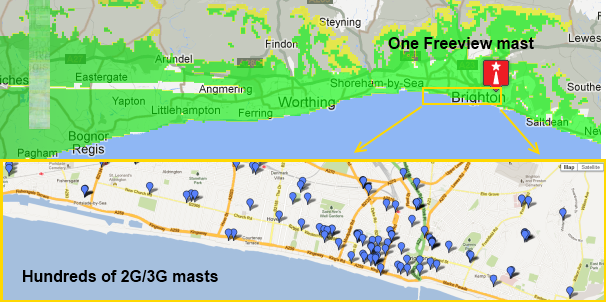 For residents in buildings with a communal aerial system – where the antenna or aerial is not their responsibility – at800 will provide the landlord or property manager with a free communal filter on request.
Comments
Saturday, 4 May 2013

We fail to understand why we will be expected to bear the costs of problems arising from the 4G rollout if we have more than one Freeview receiver in our home. Surely the mobile operators should bear ALL the costs of this, a system that is being foisted upon us? We are told by at800 that we will only get one filter and that, if problems persist, we may need to change our means of TV reception altogether.

Judy Evans's 2 posts

Judy Evans: If you have more than one Freeview box, you can put the filter between the aerial and the splitter (or amplifier, if you have one).

There's a one-in-a-million chance of being so badly affected that the filter won't work. If that's the case, at800 will install Freesat for you, gratis.

Briantist's 38,899 posts
Sunday, 5 May 2013

I have to agree Judy,

I see no reason whatsoever for this disruption, I can only assume it is because freeview is classed as a low quality, loss making enterprise, while 4G is an expensive opt in service, hence profitable

So the cheap service users are expected to get out of the way for the 4G elite

Adrian Taylor's 2 posts

Adrian Taylor: It's nothing to do with "quality" and everything to do with the Treasury raising £2.34bn.. BBC News - Ofcom raises £2.34bn in 4G auction, less than forecast

Freeview isn't loss-making, but the profits made for the Treasury are lower. See Ofcom | Spectrum pricing for terrestrial broadcasting for details.

Briantist's 38,899 posts

Adrian Taylor: Digital switchover was the first step towards reducing the amount of spectrum given over to broadcasting and transfering it to other uses. Advances in technology have both presented ways of reducing further the number of frequencies that may be required to maintain existing levels of broadcasting services, and created a demand for freed up spectrum for mobile broadband etc. Unfortunately for consumers some of the changes result in existing equipment being made useless or requiring modification to allow its continued use. This is a far cry from the days of 405 line TV being switched off when nearly all 405 line only receivers had been replaced. OFCOM's prime function is arguably to raise revenue by any means possible.

KMJ,Derby's 1,811 posts
Tuesday, 4 June 2013
M
Martin Cooper
11:54 AM
Brighton

I had been at a loss to explain why I had lost all BBC channels on my TV. Now, it is starting to make sense.

However, how do I fix this?

If I plug my aerial directly into the TV I get the BBC channels. If I watch it through the Freeview box and switch from the "Scart" (Freeview box) setting back to the TV itself there are no BBC channels.

I like to watch most of my TV on the "television" setting as the picture is much better and only wish to use the Freeview box to record programmes and watch them back.

What can be done?

Martin Cooper's 4 posts
Martin's:
map
M's Freeview map
terrain
M's terrain plot
waves
M's frequency data
M's Freeview Detailed Coverage

Martin Cooper: I suggest that you give at800 a ring:

at800 Brighton 4G test

They may send an engineer to visit you so as to ascertain whether the issue is the 800MHz 4G signal. This may be an opportunity for you to have a professional look at it free of charge to you.

It may be worth noting that BBC services from Whitehawk Hill are on C60- which is the highest frequency channel and is immediately below the 4G signals.

Your box (recorder or whatever) will contain an aerial amplifier this being because the incoming aerial feed is split into two: one for the box itself and one going out to the TV.

If it is the 4G signal, the amplification may just be enough to tip the balance, whereby the 4G signal prevents the TV from resolving the Freeview signal.

You may find that installing a splitter and feeding the TV and box from it might work, this allowing you to turn off the amplifier within the box, sometimes referred to as power save or similar, although not all boxes allow this. This option may be more suited if you wish to solve this yourself.

However, I wonder if you may find that a call to at800 will yield a visit soon, with it presumably having a team of engineers in the area.

Dave Lindsay's 5,724 posts
M
MikeB
1:22 PM
Peterborough

Martin Cooper: Although your problem might be caused by 4G, I suspect that its much closer to home, and that 4G is blamed for everything, rather like 15th century witchcraft.

The clue is in how you describe how you lose your 'BBC Channels'. I'm assuming by 'BBC Channels' you mean Freeview generally.

It would be helpful to have the make and model of the TV and PVR, but in cases where the TV has a Freeview tuner built in, that is the default source for the TV, and the one it will first go to when its switched on.

If you want another source (Scart, RGB, Phono, HDMI, etc) you press the 'source' button on your remote. Most of the time this is a button with a rectangle, a dot in the middle and an arrow, but it can 'AV' on Panasonic's etc. It will hopefully choose the next powered source, say the PVR on scart.

What I think you might be doing is pushing the source button again. However, lots of TV's (including mine) just show the next source, be it connected/powered or not. Your potentially seeing a black screen (although hopefully with an indictaion of the source in the corner), rather than the Freeview tuner, and confusing the blank screen with the loss of your channels.

If you tell us the models of your equipment, I can see how many imputs you have on the TV. If its a CRT, it will normally have two scarts and a phono, and an HD ready TV will have either one/two scarts, and at least one HDMI (depending on the age/size). BTW - if you have an HDMI equiped TV and PVR, use those instead - you'll generally get a better and more reliable signal.

The other thing which might be at fault is the fly lead - if its looped through from the Pvr, it might be loose, which might explain why one box works, and the other doesnt always.

MikeB's 2,579 posts
MikeB's:
map
M's Freeview map
terrain
M's terrain plot
waves
M's frequency data
M's Freeview Detailed Coverage
M
Martin Cooper
2:47 PM
Brighton

Thanks for your advice, Dave and Mike.

I have rang at800 and they were very helpful. Going to try a few things at home. The fact my whole system was working fine until 4G moved into the area suggests to me that it is the cause of my problem but will try some more retuning and changing of Scart leads etc.

By the way, Mike, my freeview box is Hitachi going into a Bush TV.

Martin Cooper's 4 posts
Martin's:
map
M's Freeview map
terrain
M's terrain plot
waves
M's frequency data
M's Freeview Detailed Coverage

Martin Cooper: Whilst we can't be sure which sites are currently used for the test 4G 800MHz signals, there are base stations for several of the networks on the top of Enterprise Point.

Dave Lindsay's 5,724 posts
Select more comments
Your comment please