Want EVEN better ADVANCED aerial to Freeview transmitter terrain plots?

Brian Butterworth published on UK Free TV
A big thank you to the feedback from Want better aerial to Freeview transmitter terrain plots? Check out UK Free TV! yesterday.

Several people have asked for a more advanced mode of operation, and this is now provided.

Go to My Freeview - ukfree.tv as before and enter a postcode, national grid location or latitude longitude co-ordinates, and then select "Terrain plot".

You will now see, after the last diagram a new feature: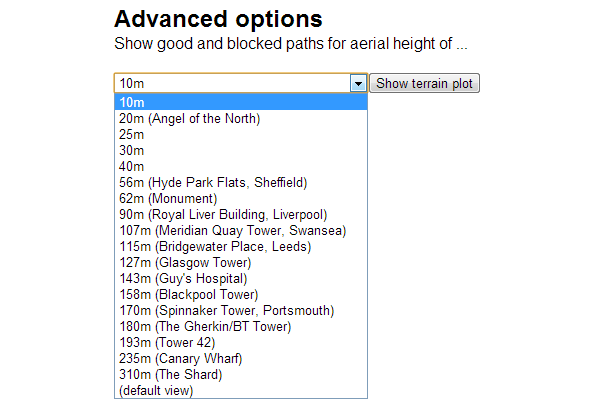 You can now select the aerial height above ground level you want - and press the "show terrain plot" button.

Here is an example: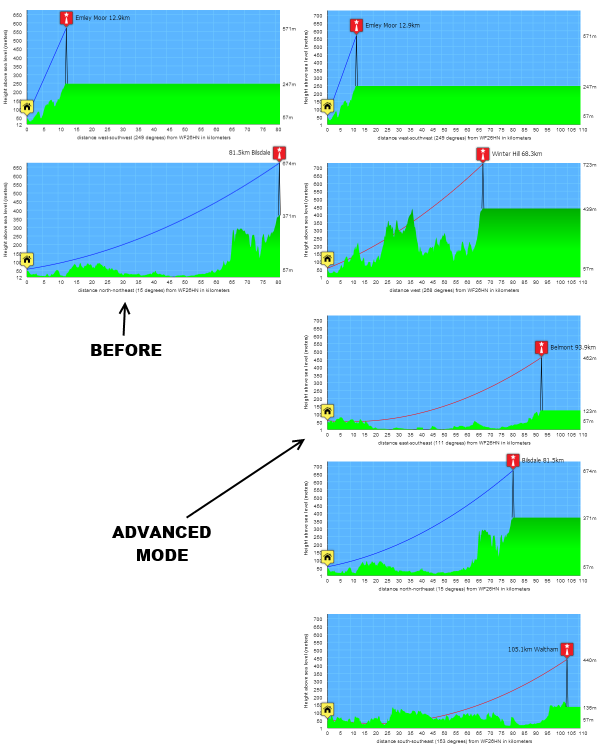 Comments
Thursday, 9 May 2013

Well according to the terrain map I would need an aerial mounted at 30m to receive Waltham. Don't think this is correct as mine is on the eves of a standard 2 story house.

Ian's 497 posts
Ian's:
map
I's Freeview map
terrain
I's terrain plot
waves
I's frequency data
I's Freeview Detailed Coverage

Thank you Peter. I'm pretty sure I was joking too!

60 cheers for the Babylonians, btw...

woodface's 39 posts

Ian: It says you need be 30 meter above ground level for a ***LINE-OF-SIGHT*** to Waltham.

The system says you can get Waltham, because the backend uses Fresnel Zone calculations.

A line-of-sight aerial link will guard against reception problems, but you will get an acceptable signal level.

Briantist's 38,899 posts

woodface: But we weirdly use much later Roman designations for Babylonian measurements ("pars minuta prima" and "secunda pars minuta")...

Briantist's 38,899 posts
Friday, 10 May 2013

when will salisbury get local tv local dab

david's 66 posts
david's:
map
D's Freeview map
terrain
D's terrain plot
waves
D's frequency data
D's Freeview Detailed Coverage
R
Richard E
11:19 PM
Halstead

Napoleon got those metric measurements wrong. The Royal Navy Hydrographic Department had already surveyed most of the world in Imperial measurements, before he came on the scene. 1 degree lat & long ,is divided into 60 mins ( of a degree).Each degree is 60 nautical miles lat , long is squashed nearer the poles.The O.S. was also originally surveyed in Imperial , they just converted the original measurements to metric. If those measurements are so rubbish , why are they still in use on land & sea , why havn`t all buildings of English construction measurements throughout the world & still in use in North America fallen down then ? Including sending men to the moon , all done in Imperial , I REST my case !

Richard E's 42 posts
Richard's:
map
R's Freeview map
terrain
R's terrain plot
waves
R's frequency data
R's Freeview Detailed Coverage
Saturday, 11 May 2013

Hi Briantist:

To bridge a bit:

Yere I reckon there have been lots of Enlightenments- mainly well out of the records.

It's a pity we are so busy stepping off one.

Your site is a breath of fresh air (and no mention of impact, ...., going forward, Gwoof or "GDP"! )


peter's 16 posts
Sunday, 12 May 2013

Many thanks for this excellent terrain plotter Brian, and here's a useful bit of advice for anybody living in hilly districts. I first tried it using my postcode, and it said my path to Crystal Palace was obscured which I knew was wrong as on a very clear night I can see the strobe light at the top of the mast flashing - at a distance of 58km. I then entered my OS grid reference and it correctly says the path is clear. Out in the country, postcode areas can be quite big and in my case the altitude of my location is 230 metres, but the altitude at the bottom of the lane over a mile away is 150 metres but has the same postcode! Crystal Palace is definitely obscured there. So the moral is: in hilly areas look at the OS map and use the actual grid reference of your location. (SP858039)

Tony's 4 posts
Monday, 13 May 2013

I live in Derry and get great reception on some channels and very bad reception on others ITV3 is crap but the BBC and UTV are excellent.All the channels are coming from the same mast so you would think they would all be the same.Patrick

Patrick's 7 posts

Patrick: What aerials do you have pointing where?

The transmitter on Sheriff Mountain broadcasts only Public Service (PSB) channels, which does not include ITV3. The only way you will receive ITV3, Pick TV, Film4 and others (which are carried on the Commercial/COM multiplexes) is to receive from Limavady, if indeed this is possible.

See here for an explanation of why the COM channels don't have as great a reach as the PSBs:

Londonderry (Northern Ireland) digital TV transmitter | ukfree.tv - 10 years of independent, free digital TV advice

For a list of which services are PSB and which are COM, see:

DTG :: DTT Services by Multiplex

You've posted before about Saorview, which is an added complication. You may be able to receive it from Moville and get away with one horizontally polarised aerial pointing on a bearing somewhere between it and Limavady.

Dave Lindsay's 5,724 posts
Select more comments
Your comment please