Want to better understand the current TV faults? See the all new UK Free TV page

Brian Butterworth published on UK Free TV
See: All transmitters with faults and engineering

Following from your suggestions, I have made changes to the icons used to show which Freeview transmitters have fault or engineering status associated with them.

Previously, you had to look quite hard to see which transmitters had current faults, and which had faults listed for the last few days.

The new format for the page looks like this.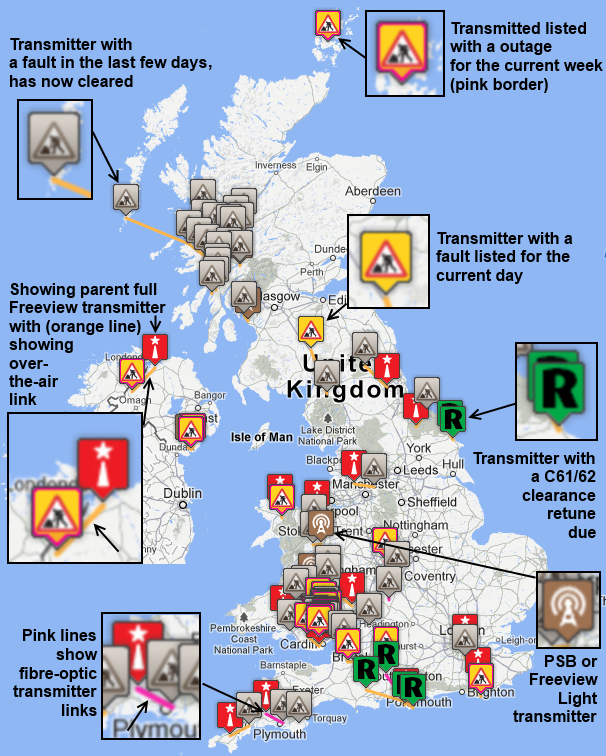 Only the sites with "live" faults are shown with the yellow symbol (those with Digital UK's "this week" status, a pink border).

I hope the above listed changes will help you to understand where the current faults and system outages are.

The new symbols carry though to other pages that shows transmitter symbols.
Comments
Saturday, 18 May 2013

lesley aspin: No the signal is the same at all times.

I would suggest that there is some piece of electrical equipment nearby that is radiating interference. The fact that it starts at a regular time suggests that it is timed.

I would use a AM (MW or LW) radio powered from batteries. Tune it away from a station and listen for any noise.

Have the radio prior to the start time and see if the start of the noise on the radio coincides with the TV signal breaking up, that way you know you are listening to the cause.

AM radios have a ferrite rod in which act as the antenna. They are most sensitive in the axis perpendicular to their length. Hence, if you hold the radio with it facing you, when the sound is the loudest you know that it is coming from in front of, behind, above, or below you (or somewhere on that axis). Spin round to where it is at its quietest and the source of the noise must be from either end of the radio.

Dave Lindsay's 5,724 posts

lesley aspin: Apart from the interference detection advice given by Dave Lindsay, on reading your posting a few times I am not sure if you are stating that the ITV channels break up only when viewed via your hard drive recorder but not when viewed via your TV's tuner.

Maybe you could confirm if this is the case or not?

jb38's 7,179 posts
Friday, 24 May 2013

For the last couple of months I've been receiving BBC local news from the Midlands, not the usual North West, I'm a bit bemused as I'm still receiving ITV Granada Reports.. so I have a signal from my usual Winter Hill transmitter.. can anyone shed any light on this? (I'm in mid Cheshire and receiving freeview via normal tv aerial). Thanks

Leo's 1 post

Leo: All it means is that your TV is tuned to the BBC signal from one of the (West?) Midlands transmitters and Winter Hill for ITV, Channel 4, Channel 5 and some others.

Bring up the signal strength screen and read off the UHF channel number (or frequency) that it is tuned to and we can identify which transmitter it is.

Dave Lindsay's 5,724 posts
Sunday, 23 June 2013

seagry court tx has no itv or c4 c5 , web site incorrect . retuned multitimes still u/s .other people have same prob since sat 21.06.2013. think mendip is ok., contacted national transmitter hotline /they just fobbed me off,.

n holborow's 1 post
Wednesday, 4 September 2013

I have been loosing the Freeview HD channels every night between 2100 and 2200 for the last week. I am not sure when the signal returns, but usually before 1800 the next evening. The signal strength drops from 95 to zero. All other channels remain at a signal strength of 95 (Samsung Smart TV signal diagnostics). I am using the Crystal Palace transmitter.

Where can I get information on signal outages from Crystal Palace?

Warren_C's 1 post
Warren_C's:
map
W's Freeview map
terrain
W's terrain plot
waves
W's frequency data
W's Freeview Detailed Coverage
Friday, 6 September 2013

Warren_C: You might want to have a look at Freeview signals: too much of a good thing is bad for you | Digital switchover | ukfree.tv - 11 years of independent, free digital TV advice ?

Briantist's 38,908 posts
Thursday, 3 October 2013

Our tv signal disappeared from 7pm Wednesday night and is still non-existant! Fault shown on local transmitters yesterday but supposedly fixed today, but still no signal coming through? How can I find out if this is still widespread and what should I do? We are TQ1

Tracey's 1 post
Tracey's:
map
T's Freeview map
terrain
T's terrain plot
waves
T's frequency data
T's Freeview Detailed Coverage

Tracey: Your just 7km from Beacon Hill - which seems to be fine. I'm amazed you can't just use the aerial cable...

If you have a problem with reception, I'd start with your system.

MikeB's 2,579 posts
Thursday, 10 October 2013

I watch TV through my Humax box and have found that all the programmes I wanted to watch that I'd recorded this evening are not there. When I checked the TV channels none of them had a signal and when I tried automatic search no programmes were found. I have connected another Humax box to the same TV and searched again - still no progs found. I live on the coast just outside Dartmouth and I think the engineer said he'd connected me to a transmitter in Paignton.

Diana's 6 posts
Diana's:
map
D's Freeview map
terrain
D's terrain plot
waves
D's frequency data
D's Freeview Detailed Coverage
Select more comments
Your comment please