Want to better understand the current TV faults? See the all new UK Free TV page

Brian Butterworth published on UK Free TV
See: All transmitters with faults and engineering

Following from your suggestions, I have made changes to the icons used to show which Freeview transmitters have fault or engineering status associated with them.

Previously, you had to look quite hard to see which transmitters had current faults, and which had faults listed for the last few days.

The new format for the page looks like this.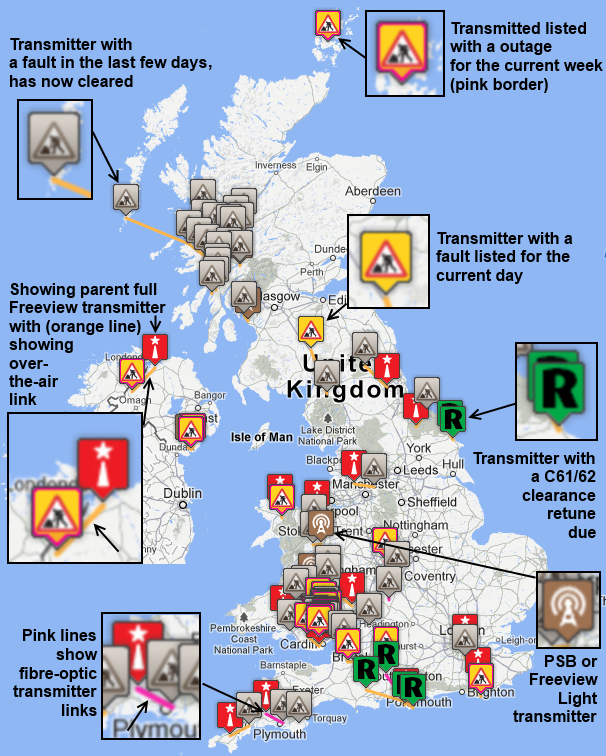 Only the sites with "live" faults are shown with the yellow symbol (those with Digital UK's "this week" status, a pink border).

I hope the above listed changes will help you to understand where the current faults and system outages are.

The new symbols carry though to other pages that shows transmitter symbols.
Comments
Monday, 27 June 2016

I can only get bbc 1 and I have had enoughall the other. Channels I can't watch please can someone tell me what is happening I live in llantwit. Fardre

Janette chalmers's 1 post
R
Richard Cooper
6:44 PM
Norwich

Janette Chalmers: Hi Janette. Viewers in Llantwit Fardre are advised to use the main Wenvoe full Freeview transmitter, a few miles West/South-West of Cardiff. There are no reported problems on this transmitter and so you need to THOROUGHLY check your aerial leads and connections ( tv end and wall-plate end). Ask your next door neighbours if they are having ay reception problems too. It could be that high air pressure and warm temperatures are affecting your reception and , of course, you can't do anything about those - other than to wait until atmospheric conditions change so as to improve your reception. hope this is of assistance, Richard, Norwich.

Richard Cooper's 466 posts
Richard's:
map
R's Freeview map
terrain
R's terrain plot
waves
R's frequency data
R's Freeview Detailed Coverage
Wednesday, 6 July 2016

Is there a problem with the signal in the Guisborough area. On tv it says no signal????. I'm asking this on behalf of my next door neighbour who is 90. She has nothing now.

Astrid Terlouw's 1 post

Astrid Terlouw: Find your local transmitter on this site and check if its working ok. If it is, then its likely to be her system, perhaps nothing more than a loose connection or broken cable. Follow back from the back of the TV, and see if there is a problem.

MikeB's 2,579 posts
Thursday, 7 July 2016

Astrid Terlouw: as reported by transmitter engineering, the Guisborough transmitter was off air between 18.58 and 19.34, also briefly between 22.00 and 22.02 yesterday 6th July 2016.

KMJ,Derby's 1,811 posts
R
Richard Cooper
8:56 AM
Norwich

Astrid Terlouw: Hi, Astrid. You need to go around to your neighbour to inform her that her local tv transmitter, Guisborough, was off the air yesterday evening, which is the reason for her television reporting, ' no signal' because there was no signal to be had for her! Richard, Norwich.

Richard Cooper's 466 posts
Richard's:
map
R's Freeview map
terrain
R's terrain plot
waves
R's frequency data
R's Freeview Detailed Coverage
Sunday, 31 July 2016

Just looked at this site but cannot see our area re problems, Fk102nt.
TV says no or weak signal.

Colin McInnes's 1 post

no signal found from 10.30am until now 20.10 sun31 july 16 Why.

alan cull's 1 post
Tuesday, 2 August 2016

I live in Winchester and cant get any itv related staions on freeview is there a fault on the transmitter

nick's 1 post

nick: Check the transmitter - if its fine, its you. Probably a problem with your system, and that mux is the first one to go.

MikeB's 2,579 posts
Select more comments
Your comment please