Expecting 4G interference? Tests now show that you have a one in 300 chance

Brian Butterworth published on UK Free TV
Looking back the the original posting, Ofcom moves to protect Freeview interference from 4G mobile, we can see the Ofcom suggested that:

Of the 16.3 million UK homes with a standard (unamplified, unshared) Freeview reception, 110,000 (0.67%) would be effected.

Of the 5.2 million homes using communal aerials systems, 550,000 (10.6%) will have problems.

Of the 5.6 million homes using amplified Freeview reception, 100,000 (1.8%) will experience problems.

Today, at800 have published the results of the tests in London, Brighton and Hove and York - at800 updates estimate of likely impact of 4G at 800 MHz on Freeview:

"Following tests conducted across the country, at800, the organisation responsible for protecting Freeview when 4G at 800 MHz is rolled out across the UK, has provided a new estimate of the likely scale of the impact. If national rollout reflects the results seen during its tests, at800 expects no more than 90,000 households, with Freeview as their primary TV service, to experience disruption caused by 4G at 800 MHz. Whatever the level of disruption, at800 is ready to restore Freeview to viewers.





at800 has now sent postcards to households in London and the surrounding areas in preparation for the activation of 4G at 800 MHz masts over the coming weeks and months. at800 is also sending postcards to other areas of the UK ahead of masts switching on. at800's mailing does not mean that 4G services will be available to consumers. For information about the availability of 4G services, people should contact their mobile operators.

In London, in particular, Freeview received from the Crystal Palace transmitter is unlikely to be affected by mast activation because of the strong terrestrial television signal and its relatively large frequency separation from 4G at 800 MHz. However, at800 is sending postcards and running a publicity campaign to ensure anyone who does experience new disruption to their Freeview service knows how to get in touch."

So with 26.50 million TV households in the UK (see Monthly universe summary - BARB) 90,000 represents 0.340% of them - that's a ONE IN THREE HUNDRED chance.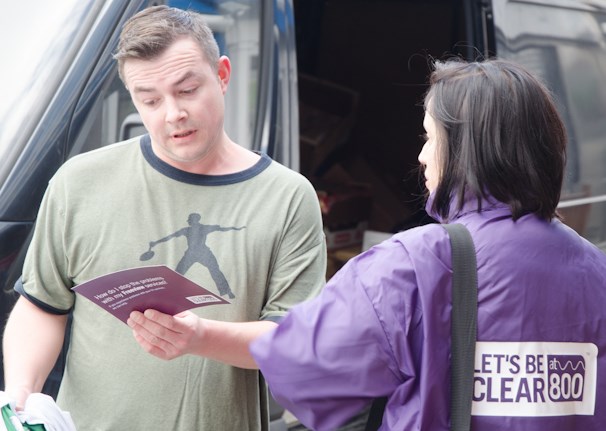 It seems that you are most likely to need a filter if:

a) you are a long way from a high power Freeview transmitter; and

b) you are very close to a 4G mobile phone mast; and

c) you are using a booster.

That's good news for Freeview viewers.



If you have had a postcode from at800 - see Received a postcard from at800?
Comments
Saturday, 8 June 2013

Anonymous: As pointed out before, EE's current 4G service is at 1800MHz, and does not impact on Freeview at all, ever.

EE can't launch an 800MHz service until at800 give the operators the "all clear".

Briantist's 38,899 posts

Anonymous: I am sure I would be concerned about TV reception. Whilst I may observe that it happened at the same time as another event, this doesn't necessarily mean that one is as a result of the other. For that reason I wouldn't be contacting EE in this instance, but instead the party responsible for the aerial system who can call out an engineer who will have test equipment that can determine with certainty whether it is indeed outside interference.

Dave Lindsay's 5,724 posts
Sunday, 9 June 2013

I have sent off a request to Ofcom in order to discover (a) if new mobile phone masts will be erected to cope with 4G (b) if the signals are horizontally or vertically polarised. Perhaps this website knows the answers. I realise that those using signal boosters will be vulnerable, irrespective of polarisation, as the bandwidth of these is designed to accommodate TV, VHF, UHF etc and will no doubt pick up 4G signals. Many of those using boosters do so as they were not conned into buying a 'Digital' aerial when digital TV was introduced as their possibly 40 year old 625 line aerial worked adequately, albeit perhaps with a booster. Buying a booster is somewhat cheaper than having a guy on the roof fixing a new aerial. Will these people now be 'given' a more up to date aerial if they are no longer able to use their booster as I understand a filter will not improve matters if a booster remains in circuit?
As for polarisation, TV relay transmitters are vertically polarised whereas 'main' transmitters use horizontal. Interference from 4G will probably be conditional on polarisation, will those receiving their signals from relay stations be more susceptible than those receiving from 'main' transmitters?

Jack Luxon's 33 posts

Jack Luxon: I expect the answers you will get are:

a) It's up to the operators, but they will generally use the sites they already operate from in the 900MHz band;

b) Some will be horizontal, others vertical.

At800 will remove a rooftop booster if that is causing the problem, but they won't be fitting new aerials.

Following on from (a), interference may happen on the fringes of reception areas where the polarity is the same and the Freeview signals are at their weakest.

The places where reception will be the most problematic is where the digital signal was low before switchover - so fitted boosters - and is now low enough to be overloaded by a 4G signal by being very close to a mast.

Briantist's 38,899 posts

Jack Luxon: From this I gather that those who pick up 4G interference and use a booster will have to scrap it and buy a new aerial. A 'nice little earner' for the aerial suppliers. Hopefully the 'free' filter works OK with the new aerial.
As for using a booster to overcome a low signal prior to switchover I feel that this is not necessarily the case; prior to switchover some 625 line transmissions were at the high end (800+) of the spectrum and the aerials were of a classification to suit this. Since switchover, to accommodate 4G, the frequencies have moved further down the spectrum so a 'high end' aerial is not as efficient, hence the use of booster.

Jack Luxon's 33 posts

Jack Luxon: If the booster is unnecessary then why use it? In such circumstances then the suggestion is that it would be removed.

If the booster is required then at800 will arrange for a filter to be fitted before the booster (if it is mounted on the roof).

Dave Lindsay's 5,724 posts

Dave Lindsay, I feel I have been misunderstood regarding booster. When 625 line transmission was introduced almost 50 years ago many transmitters were using the high end of the spectrum and the receiving aerials were manufactured accordingly, the folded di-pole of quarter wavelength etc. As digital was introduced and some transmission frequencies were reduced people were finding their old aerial would still work OK, up to a point. An improvement could be achieved by incorporating a booster rather than installing a more suitable aerial (less cost). This is why boosters have been used when at first they were not needed. From what I have seen on the at800 website, and your reply, I have inferred that the filter needs to be fitted between the aerial and the booster but might this be only where there are multiple feeds, perhaps, if there's only one feed the filter can be fitted after the booster? I guess it is preferable to have the filter prior to any booster, not much point in amplifying stuff that's going to be filtered out. Does anyone know if the Free filter will cause any signal attenuation? If so someone might think of manufacturing a booster tuned only to TV frequencies which I guess would also act as a filter? I suppose it's a case of wait and see. I get my signals from Mendip with frequency bands from 49 to 58, I have a mobile phone mast about 300 yards away, but not in line, and another 800 yards away in line with Mendip, but operated by Network Rail so I guess this may not be used for 4G.

Jack Luxon's 33 posts

Jack Luxon: The issue with 4G in the 800MHz band may affect amplifiers and therefore any filter should go before an amplifier.

Prior to digital switchover the digital signals operated on lower power than the analogue. Whilst they did serve viewers closer to the transmitters (without the need of an amplifier or replacement aerial) those further away may have replaced their aerials or added amplifiers to bring in the weaker digital. The same may have been true for Channel 5 analogue which, for those transmitters that carried it, was on a lower power than the other four channels.

Today the power of the digital signals, for the Public Service (PSB) channels at least is equivalent of the former four-channel analogue and within the former analogue aerial group with all but a handful of tiny exceptions. The Commercial (COM) channels are not far behind - quite a few transmitters have COMs at half power to PSBs (for the transmitters that they broadcast from).

Obviously the other time amplifiers are used is for distribution. They are probably used at all distances from transmitters, so not necessarily only in weak areas.

Apparently there is a new "wideband" aerial group T which is 21 to 60:

Aerials, TV Aerial and Digital Aerial

Dave Lindsay's 5,724 posts
Monday, 10 June 2013

Jack Luxon: The reason that the filter should be fitted prior to the booster is simply because that the only effect 4G has on Freeview reception is by it swamping the RF input section of the receivers tuner thereby reducing its sensitivity to picking up Freeview signals of a somewhat lower intensity, because if the filter was fitted after the booster then the booster would be amplifying the very thing that you want to restrict the effect of, and with this being applicable no matter what type of amplifier is involved.

If though the 4G signal was of an extremely high intensity then it can completely swamp the tuners automatic gain circuitry to the extent of it being liable to trigger moderate to severe instability to occur in the tuners RF section whereby nothing will be received.

As far as filters are concerned, the more expensive varieties as would be expected have a much more defined cut off point over that of the lower cost devices around, these tending to have an attenuation effect on a number of channels under the range its designed to restrict.


jb38's 7,179 posts

There's a newly published guide to the filters at 4G Filters Buying Guide | at800 .

Briantist's 38,899 posts
Select more comments
Your comment please