Expecting 4G interference? Tests now show that you have a one in 300 chance

Brian Butterworth published on UK Free TV
Looking back the the original posting, Ofcom moves to protect Freeview interference from 4G mobile, we can see the Ofcom suggested that:

Of the 16.3 million UK homes with a standard (unamplified, unshared) Freeview reception, 110,000 (0.67%) would be effected.

Of the 5.2 million homes using communal aerials systems, 550,000 (10.6%) will have problems.

Of the 5.6 million homes using amplified Freeview reception, 100,000 (1.8%) will experience problems.

Today, at800 have published the results of the tests in London, Brighton and Hove and York - at800 updates estimate of likely impact of 4G at 800 MHz on Freeview:

"Following tests conducted across the country, at800, the organisation responsible for protecting Freeview when 4G at 800 MHz is rolled out across the UK, has provided a new estimate of the likely scale of the impact. If national rollout reflects the results seen during its tests, at800 expects no more than 90,000 households, with Freeview as their primary TV service, to experience disruption caused by 4G at 800 MHz. Whatever the level of disruption, at800 is ready to restore Freeview to viewers.





at800 has now sent postcards to households in London and the surrounding areas in preparation for the activation of 4G at 800 MHz masts over the coming weeks and months. at800 is also sending postcards to other areas of the UK ahead of masts switching on. at800's mailing does not mean that 4G services will be available to consumers. For information about the availability of 4G services, people should contact their mobile operators.

In London, in particular, Freeview received from the Crystal Palace transmitter is unlikely to be affected by mast activation because of the strong terrestrial television signal and its relatively large frequency separation from 4G at 800 MHz. However, at800 is sending postcards and running a publicity campaign to ensure anyone who does experience new disruption to their Freeview service knows how to get in touch."

So with 26.50 million TV households in the UK (see Monthly universe summary - BARB) 90,000 represents 0.340% of them - that's a ONE IN THREE HUNDRED chance.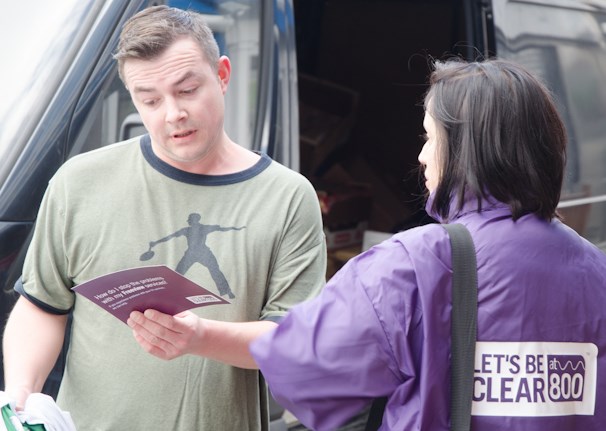 It seems that you are most likely to need a filter if:

a) you are a long way from a high power Freeview transmitter; and

b) you are very close to a 4G mobile phone mast; and

c) you are using a booster.

That's good news for Freeview viewers.



If you have had a postcode from at800 - see Received a postcard from at800?
Comments
Thursday, 5 September 2013
G
Geral Lennon
3:31 PM
Ilfracombe

Geral Lennon:: Success! Long process, but I lined up my arial, with the aid of Google Earth and local terrain, with the Kilvey Hill transmitter. Then followed the suggestion on here of scanning without the arial plug in, wiping the memory. Re-scanned, and there was my BT Sports 2 channel back, along with 125 others.
No factory reset ..Bliss!

Geral Lennon's 3 posts
Geral's:
map
G's Freeview map
terrain
G's terrain plot
waves
G's frequency data
G's Freeview Detailed Coverage
A
alan ripley
11:08 PM
Aldeburgh

We live in Aldeburgh & every afternoon we lose the freeview BBC 1-2&channel 4 although we can sometimes pick up HD.Is this the 4G effect?

alan ripley's 4 posts
alan's:
map
A's Freeview map
terrain
A's terrain plot
waves
A's frequency data
A's Freeview Detailed Coverage
Monday, 9 September 2013
I
Ian from notts
11:44 AM
Nottingham

Alan Ripley- Your HD channels are on a different 'stream' to BBC and shouldn't be a part of your problem, whats your postcode and which Transmitter are you using ? if your losing CH4 then you should also lose CH5 and ITV2 ? without a post code I cannot tell if 4G is to blame

Ian from notts's 253 posts
Ian's:
map
I's Freeview map
terrain
I's terrain plot
waves
I's frequency data
I's Freeview Detailed Coverage
Tuesday, 10 September 2013

This is a 'comment' not a question. It would seem that many people are having difficulties with reception and in view of some questions being somewhat repetitive perhaps it might help if 'include your postcode' was inserted in 'Please post a question, answer or comment' between 'question' and 'answer'. Also it might be worth asking, 'Is your problem occurring on all TV equipment?' and 'Are your neighbours, if any, experiencing the same problem?

Jack Luxon's 33 posts

Jack Luxon: Indeed... such a message appears on pages associated with transmitters, but not on article pages.

Briantist's 38,908 posts

Another comment. So it does! It seems however that many are not aware of that page and get straight into the page about 4G. Might I suggest that what is included above the 'question box' on that page, 'If you have Freeview reception problems before posting a question etc.' is posted above the question box on all pages. I also think it could be worthwhile asking a neighbour. Many years ago on a bright sunny morning my neighbour came to me with 2 13Amp fuses which he wanted me to check with my multi-meter. What's the problem? I asked. "The light's not coming on in the fridge" he replied, " I've already changed the fuse and it's made no difference". I switched on the light in the room we were standing, nothing. "We're having a power cut again" I said. "Ah" said neighbour and returned home to put one of the fuses (both of which were OK) back and drive off to work slightly later than usual.

Jack Luxon's 33 posts

Jack Luxon: Couldn't agree more! I think JB38 & Dave Lindsay have the postcode question on 'copy & paste!'. Signal overload seems to be a big problem at the moment, yet 4G seems to get the blame. A checklist would be very useful for everyone.

The other one would be on 'connecting it all up' - have you read the manual?


MikeB's 2,579 posts
Wednesday, 11 September 2013

Mike B: glad someone agrees, I've read 'connecting it all up', very useful. Many years ago I came across the terms 'Free plug' 'Free socket' etc. today these terms could still be used especially for describing co-ax connectors for PVRs etc. A PVR has a co-ax 'fixed plug' (male) and a 'fixed socket' (female) and of course requires cables to have corresponding 'free plug' and 'free socket' e.g. the one that links the PVR to the TV has both.

Jack Luxon's 33 posts
I
Ian from notts
7:37 AM
Nottingham

Jack Luxon, MikeB- If a checklist or a simple query of problems were put in before the question box, wouldn't that turn into another page to bypass before just putting your question anyway ?
I've done this myself and so did Jack with his first question?

Ian from notts's 253 posts
Ian's:
map
I's Freeview map
terrain
I's terrain plot
waves
I's frequency data
I's Freeview Detailed Coverage
C
Christine Garrett
12:11 PM

Why do we have a problem receiving BBC reception from Ridge Hill transmitter, Herefordshire as the day progresses. It appears to be fine early morning, problems just beginning at lunchtime and by evening it's just impossible to watch. Commercial channels appear to be OK except for the odd flutter every now and again? This problem has gradually got worse over the past fortnight.
We live in Callow, Herefordshire and our neighbours are experiencing the same probem. Digiboxes OK and also aerials

Christine Garrett's 2 posts
Select more comments
Your comment please