Expecting 4G interference? Tests now show that you have a one in 300 chance

Brian Butterworth published on UK Free TV
Looking back the the original posting, Ofcom moves to protect Freeview interference from 4G mobile, we can see the Ofcom suggested that:

Of the 16.3 million UK homes with a standard (unamplified, unshared) Freeview reception, 110,000 (0.67%) would be effected.

Of the 5.2 million homes using communal aerials systems, 550,000 (10.6%) will have problems.

Of the 5.6 million homes using amplified Freeview reception, 100,000 (1.8%) will experience problems.

Today, at800 have published the results of the tests in London, Brighton and Hove and York - at800 updates estimate of likely impact of 4G at 800 MHz on Freeview:

"Following tests conducted across the country, at800, the organisation responsible for protecting Freeview when 4G at 800 MHz is rolled out across the UK, has provided a new estimate of the likely scale of the impact. If national rollout reflects the results seen during its tests, at800 expects no more than 90,000 households, with Freeview as their primary TV service, to experience disruption caused by 4G at 800 MHz. Whatever the level of disruption, at800 is ready to restore Freeview to viewers.





at800 has now sent postcards to households in London and the surrounding areas in preparation for the activation of 4G at 800 MHz masts over the coming weeks and months. at800 is also sending postcards to other areas of the UK ahead of masts switching on. at800's mailing does not mean that 4G services will be available to consumers. For information about the availability of 4G services, people should contact their mobile operators.

In London, in particular, Freeview received from the Crystal Palace transmitter is unlikely to be affected by mast activation because of the strong terrestrial television signal and its relatively large frequency separation from 4G at 800 MHz. However, at800 is sending postcards and running a publicity campaign to ensure anyone who does experience new disruption to their Freeview service knows how to get in touch."

So with 26.50 million TV households in the UK (see Monthly universe summary - BARB) 90,000 represents 0.340% of them - that's a ONE IN THREE HUNDRED chance.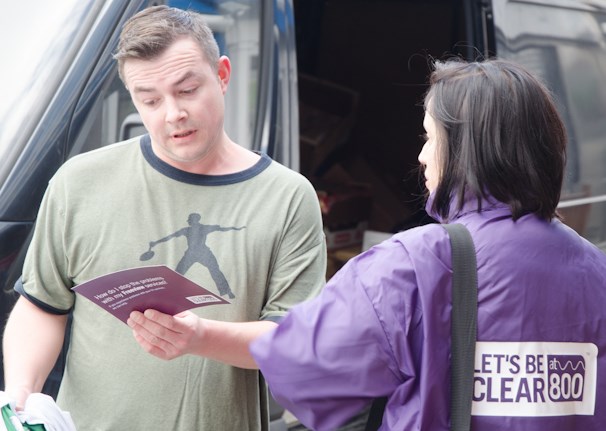 It seems that you are most likely to need a filter if:

a) you are a long way from a high power Freeview transmitter; and

b) you are very close to a 4G mobile phone mast; and

c) you are using a booster.

That's good news for Freeview viewers.



If you have had a postcode from at800 - see Received a postcard from at800?
Comments
Saturday, 28 September 2013
J
J Taylor
10:20 AM
Northampton

terrible reception on 1 2 itv channel 4 ... picture there then cracks up then comes back again ... im Northampton edge of Sandy heath transmitter .... was like this last night and today ????

J Taylor's 1 post
J's:
map
J's Freeview map
terrain
J's terrain plot
waves
J's frequency data
J's Freeview Detailed Coverage
Sunday, 29 September 2013

We receive or rather do not receive a freeview signal from Sudburybut especially in the evenings it goes off. i note from the map that we are on the edge of the transmission zone inAldeburgh & wonder if I should move the aerial towards Tacheston?
Ia anyone else having this problem???
Alan Ripley,LeistonRoad.

alan ripley's 4 posts
Monday, 30 September 2013

i`m well and truly in the strong transmission area (Hull) and i have experienced since last monday every problem everyone else is stating here .Guess I won`t be paying my tv licence installment this month :P (53.7457,-0.3367)

mathew morel's 8 posts
Wednesday, 2 October 2013

Ever since the transmitter at Beacon Hill Torquay was updated and we had to retune in about April the signal breaks up on the TV every time a car passes by.

At lease with analogue TV you could still watch TV when there was interferrence.

As a Class 'A' radio amateur I am well aware of issues that affect signals. The problem is that they are trying to get too much out if these signals and don't test properly. Totally fedup - Better Tele we were told.... I can't write what I think of that.

Phil C's 1 post

Anyone else in Bedford having the same issues?

The image on my screen breaks up every now and then. Sometimes it'll be fine and then it'll just go crazy.

viclaw's 3 posts
Thursday, 3 October 2013

viclaw: You havn't given a postcode, so advice is pretty limited, but check that your TV isn't getting too good/bad a signal - 75% is perfect. Also check your aerial - if your getting little joy from multiple freeview boxes, then it most likely to be the aerial or cabling.

MikeB's 2,579 posts

mikeB: MK42 9BX. Always getting Audio video not available and tried two different freeview boxes and both don't pick up.

Not sure whether anyone else in the building is having the same problem but I won't be able to reach the aerial as it is too high up.

viclaw's 3 posts
viclaw's:
map
V's Freeview map
terrain
V's terrain plot
waves
V's frequency data
V's Freeview Detailed Coverage
Friday, 4 October 2013

I am in Oswestry and we have no tv signal, can you explain whats happened.

sarah's 1 post
Saturday, 5 October 2013
E
Eva
8:45 AM
Milton Keynes

I am in Walnut Tree area in Milton Keynes, the signal from all 5 basic channels disappeared next week.
I have a small indoor aerial and it worked perfectly so far.
Neighbour got a brand new aerial fixed top of the building on the previous day. Could that be the reason of my "No Signal" ?

Eva's 2 posts
Eva's:
map
E's Freeview map
terrain
E's terrain plot
waves
E's frequency data
E's Freeview Detailed Coverage
E
Eva
8:46 AM
Milton Keynes

Sorry, I meant last week.

Eva's 2 posts
Eva's:
map
E's Freeview map
terrain
E's terrain plot
waves
E's frequency data
E's Freeview Detailed Coverage
Select more comments
Your comment please