Expecting 4G interference? Tests now show that you have a one in 300 chance

Brian Butterworth published on UK Free TV
Looking back the the original posting, Ofcom moves to protect Freeview interference from 4G mobile, we can see the Ofcom suggested that:

Of the 16.3 million UK homes with a standard (unamplified, unshared) Freeview reception, 110,000 (0.67%) would be effected.

Of the 5.2 million homes using communal aerials systems, 550,000 (10.6%) will have problems.

Of the 5.6 million homes using amplified Freeview reception, 100,000 (1.8%) will experience problems.

Today, at800 have published the results of the tests in London, Brighton and Hove and York - at800 updates estimate of likely impact of 4G at 800 MHz on Freeview:

"Following tests conducted across the country, at800, the organisation responsible for protecting Freeview when 4G at 800 MHz is rolled out across the UK, has provided a new estimate of the likely scale of the impact. If national rollout reflects the results seen during its tests, at800 expects no more than 90,000 households, with Freeview as their primary TV service, to experience disruption caused by 4G at 800 MHz. Whatever the level of disruption, at800 is ready to restore Freeview to viewers.





at800 has now sent postcards to households in London and the surrounding areas in preparation for the activation of 4G at 800 MHz masts over the coming weeks and months. at800 is also sending postcards to other areas of the UK ahead of masts switching on. at800's mailing does not mean that 4G services will be available to consumers. For information about the availability of 4G services, people should contact their mobile operators.

In London, in particular, Freeview received from the Crystal Palace transmitter is unlikely to be affected by mast activation because of the strong terrestrial television signal and its relatively large frequency separation from 4G at 800 MHz. However, at800 is sending postcards and running a publicity campaign to ensure anyone who does experience new disruption to their Freeview service knows how to get in touch."

So with 26.50 million TV households in the UK (see Monthly universe summary - BARB) 90,000 represents 0.340% of them - that's a ONE IN THREE HUNDRED chance.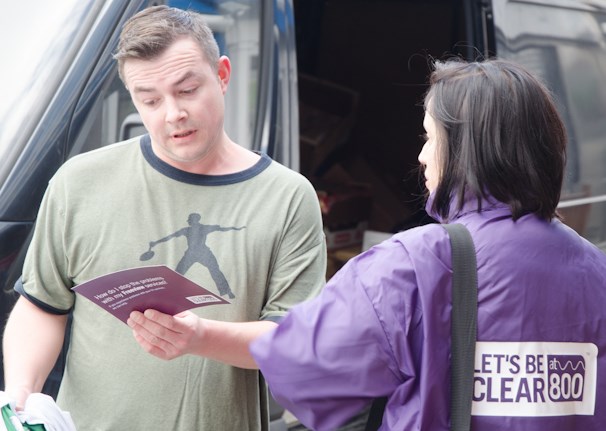 It seems that you are most likely to need a filter if:

a) you are a long way from a high power Freeview transmitter; and

b) you are very close to a 4G mobile phone mast; and

c) you are using a booster.

That's good news for Freeview viewers.



If you have had a postcode from at800 - see Received a postcard from at800?
Comments
Monday, 10 June 2013

It is unacceptable for ANYONE to have to fit a filter.

had enough's 1 post

had enough: how so?

Briantist's 38,899 posts
Tuesday, 11 June 2013

Thanks to all who have provided me with answers to my questions/suggestions etc. I look forward to reading about the Brighton trial as top end of spectrum is used there. I should be interested to know how these trials are run, are local phone masts broadcasting 4G stuff or is there a bloke going around in a van with a transmitter?
I have discovered that signals from phone masts are normally cross polarised at + and - 45 degrees. This is good news.

Jack Luxon's 33 posts
J
John Taylor
2:16 PM
London

Ofcoms pre role out research concluded that polarization difference would not make too much of a difference. The filters (type 59) do cause a small degree of insertion loss (around 3- 5Db). Type 60 supposedly caused none.

John Taylor's 2 posts
John's:
map
J's Freeview map
terrain
J's terrain plot
waves
J's frequency data
J's Freeview Detailed Coverage
J
John Taylor
2:27 PM
London

Apologies, that is the enhanced version not the standard that has non. There is also an enhanced 59.

John Taylor's 2 posts
John's:
map
J's Freeview map
terrain
J's terrain plot
waves
J's frequency data
J's Freeview Detailed Coverage
Wednesday, 12 June 2013

My freeview built in TV has suddently blue screen with no signal - was working fine last week. Could this be down to 4G interference ?

Daniella Dean's 2 posts

Daniella Dean: Its not really possible for anyone to be able to offer assistance when a persons location is not known, this preferably being given in the form of a post code or one from nearby, e.g: a shop/post office.

jb38's 7,179 posts

Cowley in Middlesex area

Daniella Dean's 2 posts

Daniella Dean: The answer to the latter part of your question is "extremely unlikely", and with the somewhat limited info given regarding your location suggesting that you use Crystal Palace for reception, no transmission faults having been reported by this station nor are there any engineering works taking place.

Your problem is likely being caused by a fault in your aerial system.

jb38's 7,179 posts
M
Maureen
6:55 PM
Sutton Coldfield

Post code B75 5nt Sutton Coldfield transmitter in view. Until about 3 weeks ago my reception on free view has been fine with no interference. Up until today it was impossible to view a complete programme without blocking and spitting sounds. It is better today but we are still affected in some way. Any ideas why given the time frame?

Maureen's 2 posts
Maureen's:
map
M's Freeview map
terrain
M's terrain plot
waves
M's frequency data
M's Freeview Detailed Coverage
Select more comments
Your comment please