Expecting 4G interference? Tests now show that you have a one in 300 chance

Brian Butterworth published on UK Free TV
Looking back the the original posting, Ofcom moves to protect Freeview interference from 4G mobile, we can see the Ofcom suggested that:

Of the 16.3 million UK homes with a standard (unamplified, unshared) Freeview reception, 110,000 (0.67%) would be effected.

Of the 5.2 million homes using communal aerials systems, 550,000 (10.6%) will have problems.

Of the 5.6 million homes using amplified Freeview reception, 100,000 (1.8%) will experience problems.

Today, at800 have published the results of the tests in London, Brighton and Hove and York - at800 updates estimate of likely impact of 4G at 800 MHz on Freeview:

"Following tests conducted across the country, at800, the organisation responsible for protecting Freeview when 4G at 800 MHz is rolled out across the UK, has provided a new estimate of the likely scale of the impact. If national rollout reflects the results seen during its tests, at800 expects no more than 90,000 households, with Freeview as their primary TV service, to experience disruption caused by 4G at 800 MHz. Whatever the level of disruption, at800 is ready to restore Freeview to viewers.





at800 has now sent postcards to households in London and the surrounding areas in preparation for the activation of 4G at 800 MHz masts over the coming weeks and months. at800 is also sending postcards to other areas of the UK ahead of masts switching on. at800's mailing does not mean that 4G services will be available to consumers. For information about the availability of 4G services, people should contact their mobile operators.

In London, in particular, Freeview received from the Crystal Palace transmitter is unlikely to be affected by mast activation because of the strong terrestrial television signal and its relatively large frequency separation from 4G at 800 MHz. However, at800 is sending postcards and running a publicity campaign to ensure anyone who does experience new disruption to their Freeview service knows how to get in touch."

So with 26.50 million TV households in the UK (see Monthly universe summary - BARB) 90,000 represents 0.340% of them - that's a ONE IN THREE HUNDRED chance.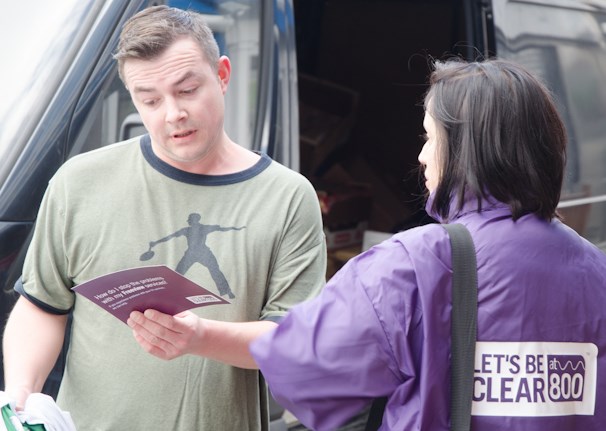 It seems that you are most likely to need a filter if:

a) you are a long way from a high power Freeview transmitter; and

b) you are very close to a 4G mobile phone mast; and

c) you are using a booster.

That's good news for Freeview viewers.



If you have had a postcode from at800 - see Received a postcard from at800?
Comments
Friday, 28 June 2013

Receive Oxford TX on wideband loft antenna horizontally polarised. When it rains CH 59 & 60 mpx degrades sharply with classic digital cliff artifacts. CH 50 is a little better. CH53 and CH55 are OK.
Saw your posts re antenna issues. However i have noticed a gradual deterioration.Was better when shared with analogue service. Nothing has changed at my installation. What has changed at TX? The erp has been increased and the analogue service ceased!!!??
What is situation?

Les's 3 posts

Les: I would suggest that the answer is that the rain water and the roof being in the way of the aerial are the causes!

You may find that repositioning the aerial might help.

One of my receivers had an issue with the picture occasionally freezing and I discovered that moving the aerial so that its end wasn't so close to the inside of the roof cleared up the problem.

Dave Lindsay's 5,724 posts

Dave Lindsay:
Thanks for the suggestion, however the antenna has never been moved, is not close to the roof. Has rained before without causing problems. How can my unchanged local conditions cause such a dramatic reception issues??

Les's 3 posts

Les: At switchover signals changed UHF channel and the mode went from 2k to 8k.

I too had never seen the picture freeze before switchover - it was rock solid. Then following switchover I had to adjust my aerial as, apparently, the loft-mounted aerial being in such close proximity to the inside of the roof was the factor.

Dave Lindsay's 5,724 posts

North Shields and previously rpck solid perfect pictures now break up, become blocky or freeze and the sound drops out. Experienced on Channel 5 and ITV1 over the last couple of days and always around 7.45-8.30pm. Could this be linked to preparation for tests to run 4G in the area?

V's 3 posts
J
Jack Luxon
10:26 PM
Weston-super-mare

I'm probably looking in the wrong place, but am I the only one unable to find the results of the test at Brighton? Freeview in Brighton uses frequencies at the top of the spectrum where problems are likely to show up. No mention of Brighton, or York, when clicking the link at the top of the page, just London.

Jack Luxon's 33 posts
Jack's:
map
J's Freeview map
terrain
J's terrain plot
waves
J's frequency data
J's Freeview Detailed Coverage
Monday, 1 July 2013

I have no Freeview signal at all - Postcode CO9. This happened early hours of Sunday morning and lasted about 30 minutes, and then disappeared again Sunday evening around 10.15pm and have not returned. Just tried a retune on one TV and no DTV channels found.

Andrea's 1 post

Andrea: Is there a single aerial feeding multiple points? If it uses a powered splitter (booster/amplifier) then its integrity must come under suspicion.

Dave Lindsay's 5,724 posts

I'm in HP3.
As of today I have interrupted freeview signal, like it comes in short bursts. I hear every other word or so and picture pixilates. I receive from a communal mast.
Is this 4G interference. I'm very close to a mobile phone mast.

Rob's 1 post
Wednesday, 3 July 2013

Everyone I speak to in Newhaven and Seaford, East Sussex who are using Freeview TV are experiencing dreadful problems of interference; blocking, pixelation, picture and sound breakups and screen blackouts with an on-screen message 'No Signal'. This has been manifest since around mid-May and has got worse over the past week or two. I have two TVs on Freeview and both are experiencing this interference.

Barry Lowden's 2 posts
Select more comments
Your comment please