Expecting 4G interference? Tests now show that you have a one in 300 chance

Brian Butterworth published on UK Free TV
Looking back the the original posting, Ofcom moves to protect Freeview interference from 4G mobile, we can see the Ofcom suggested that:

Of the 16.3 million UK homes with a standard (unamplified, unshared) Freeview reception, 110,000 (0.67%) would be effected.

Of the 5.2 million homes using communal aerials systems, 550,000 (10.6%) will have problems.

Of the 5.6 million homes using amplified Freeview reception, 100,000 (1.8%) will experience problems.

Today, at800 have published the results of the tests in London, Brighton and Hove and York - at800 updates estimate of likely impact of 4G at 800 MHz on Freeview:

"Following tests conducted across the country, at800, the organisation responsible for protecting Freeview when 4G at 800 MHz is rolled out across the UK, has provided a new estimate of the likely scale of the impact. If national rollout reflects the results seen during its tests, at800 expects no more than 90,000 households, with Freeview as their primary TV service, to experience disruption caused by 4G at 800 MHz. Whatever the level of disruption, at800 is ready to restore Freeview to viewers.





at800 has now sent postcards to households in London and the surrounding areas in preparation for the activation of 4G at 800 MHz masts over the coming weeks and months. at800 is also sending postcards to other areas of the UK ahead of masts switching on. at800's mailing does not mean that 4G services will be available to consumers. For information about the availability of 4G services, people should contact their mobile operators.

In London, in particular, Freeview received from the Crystal Palace transmitter is unlikely to be affected by mast activation because of the strong terrestrial television signal and its relatively large frequency separation from 4G at 800 MHz. However, at800 is sending postcards and running a publicity campaign to ensure anyone who does experience new disruption to their Freeview service knows how to get in touch."

So with 26.50 million TV households in the UK (see Monthly universe summary - BARB) 90,000 represents 0.340% of them - that's a ONE IN THREE HUNDRED chance.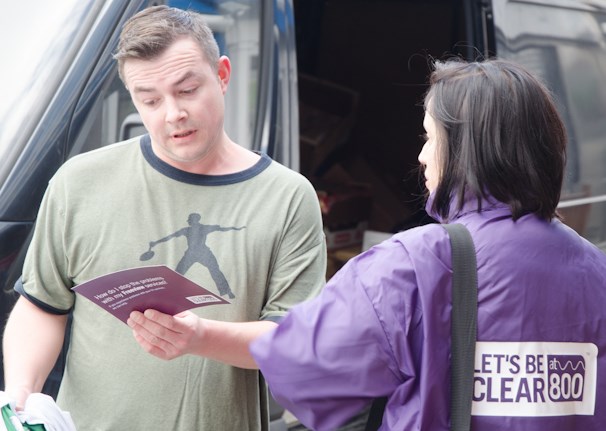 It seems that you are most likely to need a filter if:

a) you are a long way from a high power Freeview transmitter; and

b) you are very close to a 4G mobile phone mast; and

c) you are using a booster.

That's good news for Freeview viewers.



If you have had a postcode from at800 - see Received a postcard from at800?
Comments
Wednesday, 3 July 2013

... and in addition to TV problems, I have had a blackout on DAB radio and also intermittent dis-connections on my mobile broadband - 3 Mobile are on 791-831MHz, close to the 800MHz of both the Freeview TV and the new 4G signal.

Barry Lowden's 2 posts
Friday, 5 July 2013

Can't get a signal in Glasgow

Paul's 1 post
Sunday, 7 July 2013

what can we do in thanet !! our reception is so bad and even our local mp cant do anything to help, could we get a refund on our licence when we get such a bad service

HOWARD's 1 post
HOWARD's:
map
H's Freeview map
terrain
H's terrain plot
waves
H's frequency data
H's Freeview Detailed Coverage
Tuesday, 9 July 2013

I lost ITV stations on oxford BBC is working fine 80% signal but ITV,Pick,dave,film4, i noticed the tv stations on channel 60 is affected while others are okish.... is it caused by 4G? i do use masthead and amp to gain signal as i live in poor reception area.

i live in RG8 8DB cant get Hannington as there is a hill at the back of my house, but oxford is clear line of sight its been working fine for 3 years until now. Please help many thanks

Robert's 171 posts
Robert's:
map
R's Freeview map
terrain
R's terrain plot
waves
R's frequency data
R's Freeview Detailed Coverage

I'm in Margate, no signal at home and my mother in law also in Margate has the same problem - it's a nightmare, just who does one speak with to get the matter sorted - they are all faceless hidden away from reach

Ian's 2 posts
Ian's:
map
I's Freeview map
terrain
I's terrain plot
waves
I's frequency data
I's Freeview Detailed Coverage
Wednesday, 10 July 2013

Robert:
There are currently no active 4G at 800MHz mast active in this area so 4G won't be responsible for the issue you are experiencing.

John's 1 post
John's:
map
J's Freeview map
terrain
J's terrain plot
waves
J's frequency data
J's Freeview Detailed Coverage

Ian: As with Robert no 4G 800MHz masts are active in your area.

John's 1 post
John's:
map
J's Freeview map
terrain
J's terrain plot
waves
J's frequency data
J's Freeview Detailed Coverage

Barry: 4G should not affect DAB nor current mobile internet due to the frequency gap. The only likely things it may affect are Freeview, Microphones using the 800MHzish (which have been reallocated to a lower uhf ch)spec and possibly alarm systems although there is no proof of the later two.

john's 1 post
john's:
map
J's Freeview map
terrain
J's terrain plot
waves
J's frequency data
J's Freeview Detailed Coverage

Robert: Thanks john... it was very strange re tuned the boxes all channels came back... its a mystery why they vanished in the 1st place.. mind you thats on 6 boxes and one freeview tv...

Rob's 171 posts

I live in ts27 area and had interference of itv1 ch4 and 5 and some other channels on Tuesday evening and retuned only to lose them completely, what is going on?

clare's 1 post
Select more comments
Your comment please