I've got an HD TV ... why can't we have high definition channels in place of the

Brian Butterworth published on UK Free TV
They are the most watched TV channels in the UK, but even after all the investment in recording and producing most of their content in lovely high definition, and

Digital UK (in this Consultation on proposals for the Freeview HD genre and on amendments to Digital UKs LCN Policy document) asked 466 household WITH Freeview HD

"How often do you watch an HD channel rather than its SD version?"

16% said "I always watch the HD version and never watch the Standard version"

13% said "I usually watch the HD Version and occasionally watch the Standard version"

30%, I occasionally watch the HD Version but usually watch Standard definition

27%, I always watch the Standard version and never watch the HD version

and 14% Don't know.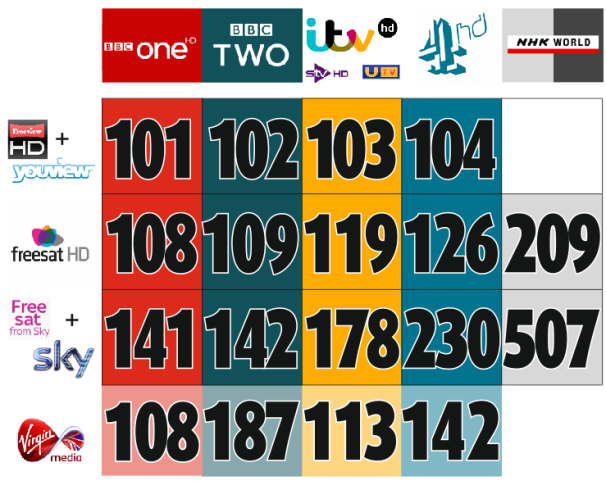 Then asked "Why do you watch SD channels rather than the HD version?"

Among the answer were

18% Laziness/just what I have always watched/habit

16% Don't have HD/can't receive HD

8% Happy with standard tv/the quality of picture

"How do you usually find the HD channel that you watch?"

37% uses the on-screen guide

28% scroll though the entertaiment channels

15% know the channel number and type it in

Which is then followed up by asking where BBC One HD is - with 69% not knowing.





Then asked where they would like to find the channels, the results were as shown:




With 30% saying they would like them on channels 1, 2, 3 and 4. 42% had no preference and 25% like them on 101, 102, 103 and 104.

Another recent report, An Analysis of the Audience Impact of Page One EPG Prominence: A Report for Ofcom shows rather well the effect on TV channels on not being easy to find at the top of the EPG:




The loss of two-thirds of the PICK TV audience when the channel moved down 41 places on the Sky EPG suggests that the Public Service channels need to place their HD services where they can be found - as replacements for the SD ones.


Technical difficulties
The Sky EPG has a feature that swaps HD channels for SD ones. But this is easy for British Sky Broadcasting - all their channels are UK-wide. One SD stream (that's the audio and
video
) is swapped for one HD stream.
However, all of the public service channels have regional versions.
Clearly are the three Channel 3 companies ITV plc, STV and
UTV
.
However, ITV still operates regional news services (for details see ITV PROPOSALS FOR NATIONS AND REGIONS NEWS FOR A NEWCHANNEL 3 PSB LICENCE.

STV also slits into four regions (Glasgow, Edinburgh, Dundee and Aberdeen) for news provision.

For the BBC, BBC TWO is operated with "opt outs" in what the BBC calls "the Nations": Scotland, Wales and Northern Ireland.

And for BBC One there are 14 English regions plus Wales, Scotland and Northern Ireland.

In "the Nations", BBC One is now provided on HD satellite and Freeview HD. BBC One has quite a lot of scheudling changes from the London service in the Nations, but just regional news in England.

Channel 4 is a national channel for scheduling purposes, but sells adverts in six regions.

Channel 5 has no local programming, but five advert regions.
It seems that it's just not possible - because of the time it takes tuning between different satellite transponders - to just redirect the HD channel to an SD channel during the news (or adverts).
This means, the only way that the public service channels could get to the 101, 102, 103 and 104 slots on the satellite services would be to duplicate ALL of their regions in high definition on satellite.
Which is very expensive, and something that "austerity Britain" can't afford.
Is there another way?
Perhaps there is another way. It wouldn't be high defintion, but it could, perhaps, be done.
All it would take is some MHEG5 software (for
Freesat
) and a bit of open-TV tweaking for Sky+HD boxes.
What you do is:
Create just one more full HD resolution BBC One England stream on the
Astra
satellites.
When the regional news is shown, use some standard technology to mix together, eight at a time, the fifteen regional news shows.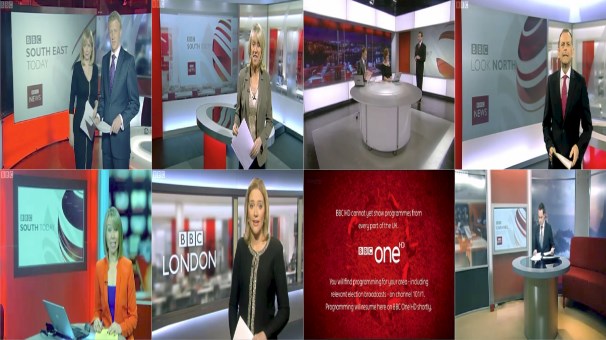 They each would only be at 480x540 resolutions (rather than SD's normal 720x576).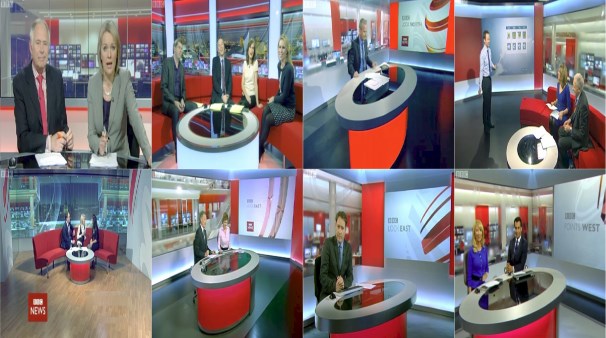 Then use the MHEG5 or Open TV software to stretch the service back into place.
And what of recording? Easy - just redirect the recording to the appropriate SD stream.
Not HD, not ideal, but a good cut-price way to get BBC ONE HD to the top of the EPG.
If there was such a "software solution" then it could be used for other channels too.
What do you think?
Comments
Monday, 24 June 2013

Something weird I noticed last night -
The Confederations Cup game was on BBC3. Freeview HD had channel 303 for the HD coverage. Freesat didnt have a channel for HD coverage. Luckily Ive got Freeview HD and Freesat HD but I thought it was a bit odd that there was room on the Freeview but not the Freesat when it should be the other way round if anything?

Nick's 6 posts

Nick: it's on 983 on freesat and 980 on sky HD

Briantist's 38,908 posts
Tuesday, 25 June 2013

Hi Brian

Yes I tried that and the channel was there but it wasnt actually broadcasting. Strange!

Nick's 6 posts
Sunday, 30 June 2013

@MikeP You appear to have a little confusion here. Analogue PAL SDTV is indeed 625 interlaced lines, but 49 of those lines do not contain image data (used to control old CRTs etc). Digital SDTV on the other hand doesn't need these extra lines so is 576i. Current HDTV in the UK is broadcast at 1080i50 (1080 "lines" of vertical res). You also seem to have muddled up the frame rate somewhat. The 50Hz of SDTV is the field rate, and is equivalent to a frame rate of 25fps since it is interlaced. This is also true of 1080i50. In some parts of Europe (e.g. Germany) they use 720p50, which is also 50Hz, but the fact that it is progressive means it also has 50fps.

According to Wikipedia, while HD-MAC (i.e. 1250 lines - 1152 of which were picture data) was recorded at 20481152p50 (50fps), at the receiver side the output was actually 14401152i50 (25fps), so slightly higher vertical res but lower horizontal res than current broadcast HDTV (19201080i50, although sometimes 14401080i50 has been used). Current HDTV thus actually has 1.25 times the number of pixels as HD-MAC at the same frame rate.

Alphathon's 4 posts

Alphathon:
After 50 years in the TV industry, there is no confusion in my mind! I never stated that frame rate or field rate were other than you say! I never stated how many of those lines contained picture information. That is all defined in the standards for 625 line TV transmission, as it was for 405.
I also never mentioned HD-MAC either! (Plus what is on Wikipedia is not always correct!)
Further, horizontal 'definition' in an analogue service is a product of bandwidth of the transmission channel (5.5 Mhz max for UK UHF TV with 8 MHz channel spacing in transmission) and the amplifiers within the TV set, especially the video output stage. This was traditionally limited to no more than 6 Mhz, but for teletext use it was often increased at the output stage for better clarity of the letters.
The Eureka95 project I was involved with had a horizontal bandwidth of 24 Mhz, 1250 lines total (including the blanking, data, framing pulses, etc) with a non-interlaced vertical scan rate of 100Hz. It never really succeeded as digital techniques were seen by regulators as the way forward. The analogue TV sets offered in the 1990's had to interpolate from 625/50i to 1250/100p and that introduced headaches of its own!
Some of the lines in analogue transmissions contained information to synchronise the horizontal and vertical scans so the image was formed correctly and didn't suffer from rolling (poor frame sync) or skewing (poor line sync). Not specifically required for the CRT but to synchronise the horizontal and vertical scans when shown on any display system. Plus some lines contained the teletext data itself.
Your paragraph on HD-MAC is not relevant as I didn't discuss anywhere the recording of TV programmes at any definition. Judging by the use of a horizontal definition in terms of pixels, I imagine you are discussing a digital system which is not relevant to my discussion about analogue transmissions.
Plus digital TV suffers from significant visual artifacts that many find disturbing and were not present in analogue services.

MikeP's 3,056 posts

FYI There is a page I did a while ago listing the various resolutions - A comparison of TV, HDTV and computer monitors | High definition | ukfree.tv - 10 years of independent, free digital TV advice

Briantist's 38,908 posts
Sunday, 7 July 2013

I'm glad someone mentioned the property of the Humax Freeview HD-PVR giving the option to use the HD channel when an HD programme appears on the SD channel and also the option to use the HD source to record if worthwhile but it only seems to work with BBC1 and 2 and not on ITV1 and C4. Also the Humax seems to compensate for the reduced audio level that my HD-TV(and Pace HD satellite rx) seem to suffer from in 'native' mode on the HD channels.

Mike Davison's 127 posts
Tuesday, 9 July 2013
J
Jack Luxon
7:26 AM
Weston-super-mare

Mike Davison, Thanks for your input regarding option to record in HD. I have this problem with a Sony PVR which Sony told me was a problem with the broadcasters. Humax told me that their PVRs do NOT have the problem. ITV and CH4 told me that the problem is nothing to do with them. All this seems to indicate that the problem MAY be dependent on which transmitter is used, Mendip in my case. At least I don't have any volume problems when switching from SD to HD using the Sony.

Jack Luxon's 33 posts
Jack's:
map
J's Freeview map
terrain
J's terrain plot
waves
J's frequency data
J's Freeview Detailed Coverage
Friday, 26 July 2013

I persuaded my mum to get a Panasonic TX-P42GT50 42" so called Smart Plasma tv to replace her ageing and failing Sony 26" CRT set.

This telly has both Freesat and Freeview tuners and on its Freesat side you are allowed to swap channel numbers in its main channel list as well as being able to deselect some channels from showing altogether.

Using this functionality I moved BBC One HD, BBC Two HD, ITV HD and C4HD in to channel numbers 1, 2, 3 and 4 whilst the SD channels were reassigned to 101 to 104 I also de-selected the SD channel variants of these channels on Freeview from showing in the EPG at all with the exception of Channel 101 (which is now the BBC SD channel). Through Favourites I could then also construct a list with BBC 1 HD at 1 followed by BBC SD at 101, BBC Two HD at 2, ITV1 HD at 3 and C4 HD at 4. This means HD channels are always viewed for these major channels except when the regional news opt out happens on BBC One.

However over on the Freesat Tv it is completely impossible to do the same thing because Freesat has specified that the channel numbers cannot be altered by the end user and the only adjustment the end user can make is to suppress certain channels from appearing at all in the EPG. So now we have a Freesat EPG with no channel 101, 102, 103 or 104 in it and BBC One HD on 108 and ITV HD and C4 HD on whatever ridicuous numbers Freeview has allocated to them. This in effect makes the Freesat side of the tv completely unusable for day to day viewing as a result of which the Freeview part is nearly always used except when something on a satellite only channel needs to be watched.

Just what part exactly of "totally shooting themselves in the foot" is it that Ms Emma Scott and her fellow board directors at Freesat do not seem to get?

Capvermell's 3 posts

Capvermell: According to this thread Re-Order HD Channels - Freesat - Digital Spy Forums , although you cannot reorder the channel numbers, you can have a favourites list (see Finbarrs post - the 5th one down).

The other thing you can do is very analogue, but why not just write down the channel numbers of the ones your mum watches on Freesat on a bit of paper - BBC 1 HD is 108, etc.

Yes, the GT50 is a lovely TV (a couple of staff bought them at the end, since they were a great bit of kit for the money), but 2012 Panasonics were not very 'smart' (although they are rather good this year). A cheap Blu-ray from any of the four major brands should sort that out, as long as they are this years models.

Samsung are apparently the only ones until August with all four channels on demand, but who knows after that. £70 for one from Samsung without wifi, about £99 plus for one with from LG. (PE12QN)

MikeB's 2,579 posts
Select more comments
Your comment please