Using UHF channels C61 to C69? Time to retune

Brian Butterworth published on UK Free TV
Since 1964, the UHF band (channel 21 to channel 68) has been used exclusively for television services.

The main use, of course, has been over-the-air signals to bring five analogue (and latterly lots of extra digital) TV channels, but a secondary use has been for what is called "RF modulation".

In the days before SCART cables, and long before the not ubiquitous HDMI connections, if you wanted to get a signal from a device such as a video recorder, a games console, home computer or a satellite decoder to a TV set, the only option was to "modulate" it.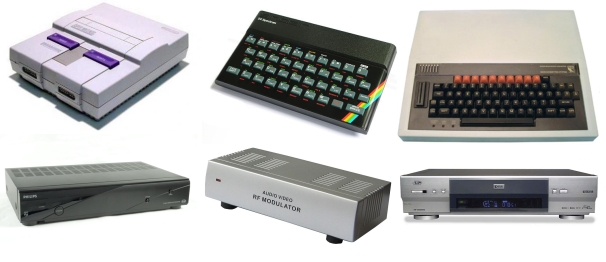 If you are still using a device with an RF modulator, you need to check that the channel allocated is not in the C61-C69 range. If it is, then you need to change it for two reasons: to stop an "illegal broadcast" interfering with 4G devices, and to stop 4G transmissions interrupting your video.





Who owns the 800MHz band? It's not you.

The most common devices are Sky Digital boxes produced from October 1998 to about 2010. See How do I change the RF output channel on a Sky Digibox? .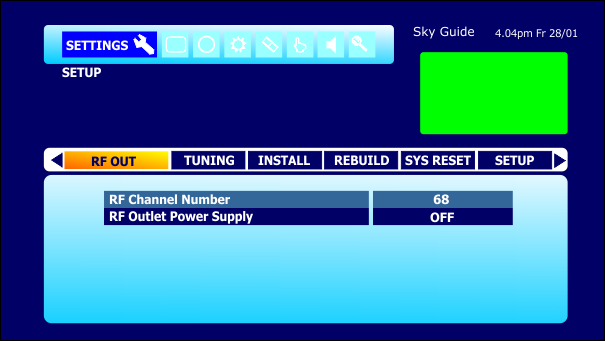 Please don't forget you will need to retune your TV as well as the RF modulator!

If you want to know the best channel to use, enter your postcode into "site settings" box, and see the text that appears there, as shown in this example:



Comments
Thursday, 1 August 2013
I
Ian from notts
8:03 AM
Alfreton

Briantist- Does this mean that all/some Sky boxes using RF68 (most common) will have picture interference on them ? or 4G phones using Vodafone or O2 will fail to work properly ? Or Both ?

Ian from notts's 253 posts
Ian's:
map
I's Freeview map
terrain
I's terrain plot
waves
I's frequency data
I's Freeview Detailed Coverage
I
Ian from notts
8:09 AM
Alfreton

Briantist- I'm asking if it WILL cause an effect as many people wont know they are using this frequency and thus an "illegal broadcast"

Ian from notts's 253 posts
Ian's:
map
I's Freeview map
terrain
I's terrain plot
waves
I's frequency data
I's Freeview Detailed Coverage

Ian from notts: Yes, any Sky box using C68 will potentially now get interference from 4G (at 800MHz) signals when they launch.

It's worth remembering that 4G is ONLY used for data. It is - as it is for IP traffic - asynchronous.

4G phones will continue to use 2G and 3G for synchronous telephone calls.

And, of course, it is only the 4G services in the 800MHz band - so not the current EE @ 1800MHz service.

Briantist's 38,907 posts

Ian from notts: It won't be an "illegal broadcast" if the signal stays inside an RF cable.

Virgin Media's cable system overlaps with Freeview already, and that's perfectly legal.

It's a question of how good the cables, connectors and connections are in a domestic install.

I've seen plenty of instances of RF outputs being attached aerial downlinks, thus sending the signal out of the aerial, or of unscreened cables being used.

And how many broken fly-leads must there be in the UK?

Briantist's 38,907 posts

Users of radio microphones should note that the only licence-free frequencies now are channel 70 (863 - 865 Mhz). You can run up to 4 (or possibly 8) microphones simultaneously in this range. If you are thinking of buying a radio mic check that it operates in this range.

There are lots of "bargains" on ebay that on closer inspection are no longer legal.

You wouldn't want 4G breaking through during a performance!

John's 7 posts

Briantist: 4G is ultimately supposed to have Voice-over-LTE - analogous to Voice-over-IP. It's fundamentally a data network but can carry voice data in packets, unlike 2G which is a voice network that can carry packet data if it's encapsulated properly (but the phone can't do a voice call and data at the same time).

Phones may well need updates to support VoLTE, though, so 2G and 3G will be around for a while yet.

(Incidentally, I've changed email address - planning to leave Demon since I'm moving, they don't do fibre and my new address is too far from the phone exchange for reasonable ADSL speeds, and they got bought by Vodafone. Any chance you can associate my new posts with my old ones?).

Mike Dimmick's 2,486 posts

Mike Dimmick: I have updated the system to use your new email address - News headlines | ukfree.tv - 11 years of independent, free digital TV advice .

The comments are cached for few days and make take a while to update the number of overall posts.

Briantist's 38,907 posts

Mike Dimmick: And the first thing this page does is correct your number of posts from 6 to 2,454...

Yes, there will be voice-over-LTE solutions, (as well as versions such Skype and Facetime Voice) but as I understand it the 2G and 3G networks are expected to both fall-back and fill-in for some time to come.

One service that I didn't know about, and find utterly facinating is GSM-R GSM-R - Wikipedia, the free encyclopedia which is used for controlling trains thoughout Europe. There seems to be a long-term commitment to this version of 2G at least.

Briantist's 38,907 posts

Briantist:
As I worked for Network Rail for a time, all our company supplied phones worked on GSM-R as well as 'standard' GSM. The service was allocated a specific part of the spectrum and is for exclusive use by train operators, track and signalling providers, etc. One key feature is that it allows a signal control centre to directly contact a train driver so they can be warned of any problems on the line ahead. In the UK, the masts are all alongside the tracks so that reception on board is maintained, even in tunnels! Especially important for some such as the Sudbury Tunnel running under the River Severn between England and Wales near Bristol and Chepstow. AFAIK, it is planned to be in use until at least 2025(the rail industry is often reluctant to change what works well already!).

MikeP's 3,056 posts
Tuesday, 15 October 2013

You say about not using C60 to C69 for RF modulation because that range will now be used for 4G LTE. Actually you really mean C61 to C69 as the range to avoid for RF modulation as C60 is still being used for Freeview. If people shouldn't use C61 to C69 for RF modulation now due to that range being reserved for 4G LTE, how come VCR manufacturers set modulators to C36 or C37 in the 1980s at the same time as C35 to C38 were reserved for non broadcasting purposes?

Nicholas Willmott's 80 posts
Select more comments
Your comment please