Do not forget that 4G starting soon in 20 cities and towns really soon

Brian Butterworth published on UK Free TV
The actual 4G services will start very soon in these places:

Birmingham, Bradford, Brighton, Coventry, Edinburgh, Glasgow, Guildford, Leeds, Leicester, London, Manchester, Merseyside, Newbury, Newcastle upon Tyne, Nottingham, Paisley, Sheffield, Slough, St. Albans, York




At800, the people tasked with restoring Freeview to anyone who finds they have problems, have today launched a campaign to reach those people in the UK who are "offline" with a novel campaign to send a "tweet" by postcard for free.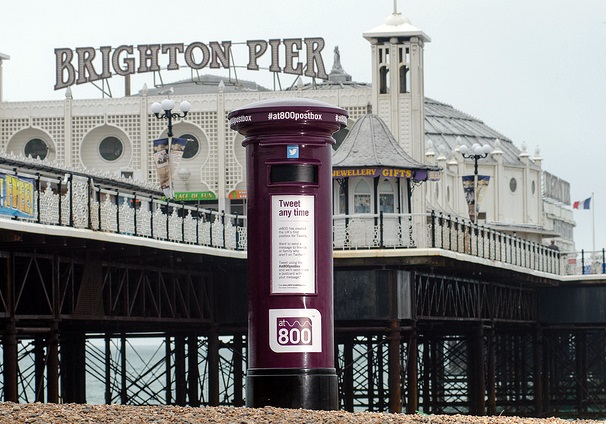 First you have to follow @at800tv on Twitter. Click on the link and then click the "Follow" button.

If you know someone who lives in the places listed above, tweet a message for them using the #at800postbox hash tag (that means put #at800postbox in your twitter message).

At800 will then send you a direct message on Twitter to get the details of the recipients name and address, and that you agree to the terms and conditions.

You find direct messages on Twitter this way:




Find out more about the service here - at800 Postbox
Comments
Wednesday, 21 August 2013

Jamie, it is not only Leeds and London for O2, I happen to know Bradford is the first.

David's 306 posts
Thursday, 22 August 2013

For the record... This being a site about TV, I am concerned about the 800MHz services and their effect on Freeview. It a moot point about when network X starts a service in Y place.

Briantist's 38,899 posts
Saturday, 24 August 2013

What is a "tweet".
Is it something to do with telephones or with TV?
I suspect 40% of the population don't know (or care).


Algernon Black's 23 posts
Tuesday, 10 September 2013

Algernon Black: If you don't know, you're not going to be able to take advantage of this offer.

Briantist's 38,899 posts
Tuesday, 24 September 2013
J
jeanette
6:59 AM
Stoke-on-trent

from 10.30pm 23 sep 2013 at st6 2nl postcode television kept flashing up no signal.







jeanette's 1 post
jeanette's: ...

I have had no coverage since about 9pm last night
I live in Wrexham north Wales but my regional is set to Midlands (annoying) it was "trying" all night but is completely off this morning?

Donna's 1 post
Donna's:
map
D's Freeview map
terrain
D's terrain plot
waves
D's frequency data
D's Freeview Detailed Coverage

jeanette: there are no masts active in your area so the issue wont be 4G.

john's 1 post

Donna : Both neighbours and myself have been having problems with DTV signal from about 18:00hrs yesterday. I have retuned 3 times and no joy. still the same this morning, Can anyone help?

Robert Hussey's 3 posts

Donna, as far as im aware there ar no 4G masts (at800MHz) in this area, whats the postcode?

John's 1 post
M
Mike
8:55 AM
Stoke-on-trent

Jeanette ,
I am in ST7, and on a hill, in a bungalow.Signal has just returned after about 12 hours.We are in a weak area for Wrekin transmissions and this happens occasionally due to atmospherics or sunspots, the inversion or the equinox. The two storey houses with higher aerials are usually ok.

Mike's 7 posts
Mike's:
map
M's Freeview map
terrain
M's terrain plot
waves
M's frequency data
M's Freeview Detailed Coverage
Select more comments
Your comment please