The end is near for analogue radio... Part 3, satellite Freeview online and DAB

Brian Butterworth published on UK Free TV
Radio in the Sky
Looking back to
Astra UK Channels
in 1997, we can see one interesting development for radio was the inclusion of the BBC Radio
services
on the
Astra 1 analogue TV service
.
As each
transponder
could carry six associated audio feeds, UK
Gold
had
BBC World Service
and Radios 2, 4 and 5 Live in mono, and Living carried Radios 1 and 3 in stereo. In addition, Virgin Radio, which was a mono AM service could be heard in stereo from the Astra 1 satellites.
For this reason, it almost came by accident that on 1st October 1998, the new
Sky Digital
television service would also include lots of
digital
radio stations
. With an abundance of capacity and the radio stations could take advantage of the MPEG2 layer III audio system (aka "MP3") and provide many radio stations in high
quality
stereo. The inclusion of radio stations in the
channel
numbers also meant that listeners could tune into radio stations without any difficult tuning issues.
"Eureka"
Of course, the first "official" digital radio service developed out of the Eureka 147 project - see
DAB: an introduction to the Eureka DAB System and a guide to how it works
, which gave the world MPEG-1 layer II audio
MPEG-1 Audio Layer II
.
The BBC started
test
transmissions of
DAB
in January 1990, and its national DAB
multiplex
went on air in 1995.
The DAB service was thought of as a way of supplying superior quality sound for the existing five BBC
network
radio stations. However, the very high cost of receivers, around £800 back in 1998 (£1200 in today's prices). The BBC launched digital radio in the UK in 1995 followed by national commercial multiplex operator Digital One in 1998.
"Extending Choice"
However, as early as 1992, the BBC had published "Extending Choice", which proposed that the BBC stop chasing mass audiences, and provide high quality services to audiences that the commercial broadcasters were not. This first camge to fruition in September, 1998 (
BBC News - ENTERTAINMENT - BBC unveils digital TV
) when the
BBC News
24, Choice and Knowledge
channels
were announced, and that DAB would soon have
BBC Parliament
(an audio service), the Asian Network and a side-channels to back-up Radio Five Live.
Since then local DAB (digital radio) commercial services have become available offering non-national BBC Radio and ILR on a local basis.
Greg Dyke, the BBC DG in 2001
BBC News - TV AND RADIO - Dyke warns of digital backtrack
made a decision to launch three new networks, codenamed X, Y and Z. These became 1Xtra, 6Music and BBC7 (see
radio-now.co.uk
)
This was a strategic decision to remove DAB from being a "sound quality" proposal to one of "listener choice". However, DAB radios still cost £300 (£420 at today's prices).
Radio Freeview
So, it was quite fortunate for these stations that the big digital
terrestrial
balls-up that had been ONdigital (see
ONdigital Timeline - ONhistory
for more) resulted in the BBC having two DTT multiplexes to fill when the replacement service
Freeview
launched.
For quite some time, the second multiplex only carried
BBC FOUR
and
Cbeebies
, and there were plenty of bits left for all of the BBC national stations to be carried to most homes in very high quality.
As the new BBC radio stations came on air, they were also added to the digital
satellite
platform.
From 15 November 1999 the first national DAB commercial multiplex "Digital One" launched. This now adds another 15 national stations.
For those who are not happy with the provision of more services at lower bitrates, most UK radio stations can be listened to online at high quality. The unexpected popularity of listening to radio on Freeview has allowed many homes to sample stations that would otherwise have been exclusive to DAB. Now when people consider a DAB purchase, many "new" stations are already familiar.
The most recent figures show that 52.5% of the population tune in to digital radio every week: 65% of that is DAB, 15% on Freeview,
Freesat
and
Sky
, and 15% online. See
RAJAR DATA RELEASE | QUARTER 2, 2013
How many people are listening on long and medium wave?
Due to the cuts imposed on the BBC from the Licence Fee being frozen, the BBC is looking into removing the Long and Medium Wave services.
According to
BBC News - BBC set to cut ... 2017
"There will also be no reinvestment in long wave, which will lead to the end of Radio 4 on LW in the long term".
"The BBC says the eventual closedown of the Long Wave service is determined not so much by the digital
switchover
but a dwindling supply of valves used by the
Droitwich
transmitter
, owned and operated by Arqiva. At the last count there were only 10 left and their operating life is put at between one and 10 years" (from
Will the move to digital cut off my long-wave radio? - Telegraph
).
As part of the DQF process, four BBC local radio stations closed down on medium wave. At three of these there were no complaints, but at BBC Radio Mersyside, according to
BBC criticised for AM radio shut-down - Media - theguardian.com
600 listeners complained.
Using this as a baseline, 600 listeners from a potential 1,664,000 (from RAJAR) pairs of ears, makes 0.0361% of the population.
If we multiply this up by 53,205,000 (that RAJAR national 16+ figure) we get 19,200.
If there are
really
only 19,200 people listening to long and medium wave, then it's probably time to turn off the service.
If you look at it the other way, then a service proposal to cover 20,000 people in the UK from 73 transmitters wouldn't be regarded as economic.
It may also be worth noting that if you can't get your BBC radio stations from DAB, or satellite, or Freeview, or online: it is doubtful you are paying for a
TV Licence
.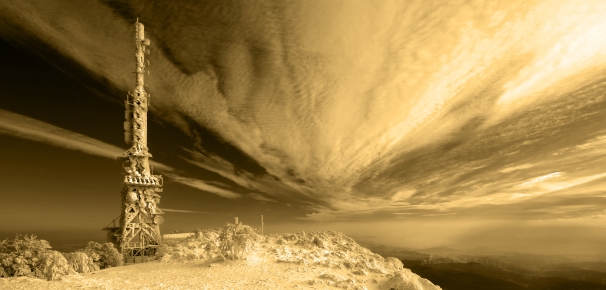 So why switch of FM/VHF?
In the last part,
The end is near for analogue radio... radio gets very high - Digital radio
the limited FM radio spectrum prevents the UK having more than 5 national FM stations.
DAB, with just two national multiplexes provides 25 stations. There is space reserved for a second national DAB service, which could add another 15.
In
London
, there are an additional three DAB multiplexes adding brining the total stations to over 55. Central Scotland has 45 stations.
Over the last few years, the BBC and commercial operators have been making the DAB local radio network match the FM local radio network -
Ofcom - Annex B. Local DAB build-out plans
. There are still a few areas of the UK to cover - notably Derbyshire and
West
Wales
- but both in car, and in home, DAB
reception
is as good as or better than FM.
But there are 758 FM transmitting masts in the UK, some carrying as many as 12 FM stations (
Black Hill (North Lanarkshire, Scotland) analogue radio transmitter
) This is a considerable cost for the radio broadcasters because DAB is as low as one-sixth of the cost of FM transmission.
"Transmission will be cheaper, too. DAB can be transmitted at lower
power
than today's FM and AM signals yet with no loss in geographic coverage, which means less cost to the broadcaster (and less power consumption means DAB is more environmentally friendly than conventional FM and AM)." -
WorldDMB - Frequently Asked Questions (FAQ)
The current plans are to announce a rolling switch off of VHF for the BBC and commercial broadcasters: the switch off will occur areas where digital radio use is highest. Community radio stations (which are not profit making) will continue on FM.
However, the recent success of the
Small Scale DAB The potential for lower-cost transmitting stations in support of DAB rollout
suggests that community radio could now be very cheaply provided by DAB too.
Now in 2013, you can grab a DAB radio from your local supermarket for £20
ASDA Portable DAB Radio - Radio - ASDA direct
- one sixtieths of the cost in 1998, there is little standing in the way of radio choice being available in every UK home.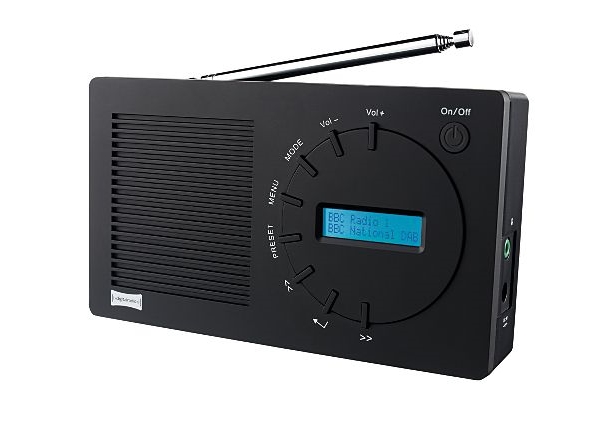 Comments
Monday, 23 December 2013

Thanks Steve. Mark : I and many will be delighted if 10C comes to Ilfracombe with topography-matching indoor-friendly power in 2015. If not on 10C, will it be on a multiplex broadcasting kilowattily from The Principality? DSO promised DTT, but it only lasted a month and has since been predictably plagued by CCI. To show how much they care..., they recently doubled power to 120W (compared to 10KW from the intruder), which has helped some, but not all. So our reticence to believe in the pronouncements of the sages before they become reality might be understandable.
We live in hope!

michael's 869 posts
Thursday, 2 January 2014

In an ideal world, we could have had DAB, FM and AM in remote areas, the problem is that the BBC won't agree to continue paying dual transmission costs ad infinitum. That's why this "switchover" is necessary from their point of view.

But wait a minute: noone seems to mention that FM is NOT being switched off at all, ANYWHERE. It will be used as a platform for smaller local/community stations. DO NOT DISREGARD THEM! My local comunity station, future radio 107.8 is excellent!!! I wouldn't even have been aware of it's existence had I not studied the Digital Economy Act. Ed Vaizey quite clearly state that "FM will always be available for local radio"...

Radio is not TV. Many people simply like to listen to radio as a background, so won't be too fussy whether it's BBC Radio 2 or their local small station. They might, however, not be too awfully keen on having to discard their old faithful FM reciever and having to spend north of £50 on buying a DAB radio. I for one won't be discarding my precious elderly 1970's Sony just because the buffoons at BBC are threatening to stop broadcasting on analogue. I will simply tune into any number of small local stations which will inevitably spring up in the newly vacated FM spectrum. And my gut feeling is that I won't be the only one.

Stan's 27 posts
Friday, 3 January 2014

Stan:

FM will become a ghetto technology without the five national networks. Very few are going to bother switching to FM if it's only purpose is small-scale and community stations.

Radios 1-4 and Classic FM are keeping FM fashionable. AM radio listening collapsed after Radio 1 & Radio 2 left the band in the early 1990s.

Mark's 181 posts
Wednesday, 8 January 2014

"FM will become a ghetto technology without the five national networks. Very few are going to bother switching to FM if it's only purpose is small-scale and community stations."

Opinion, not fact. I can see small-scale and community stations doing well out of this. No switchover will commence until half of all listening is digital. So the other half will still be listening via analogue, right? Hardly what I would call insignificant. Plus the will be more FM licences issued in the newly vacated spectrum. FM is vastly superior to AM in MOST of the country...

The future of FM? Well, it's not bright, ut it's not dim.

Stan's 27 posts
Thursday, 13 February 2014
A
Anthony
9:21 AM
Accrington

DAB is absolutely poor many stations are mono and in very low quality and poor robustness makes it bubble like mud! FM is crystal clear stereo and although hissy with periods of poor signal is more preferable with a warm clear sound. If the DRM+ system was trialled on the FM 87-108Mhz band in the whole of the United Kingdom, you can have four stations on one frequency at CD quality stereo, every frequency of the FM band occupied in this way utilizing the Digital Radio Mondiale Plus system (DRM+) can provide dozens of stations at CD quality stereo covering 87-108Mhz, and why not? It can give a better lease of life to this waveband and give more out of it.

Anthony's 70 posts
Anthony's:
map
A's Freeview map
terrain
A's terrain plot
waves
A's frequency data
A's Freeview Detailed Coverage
A
Anthony
12:54 PM
Accrington

The reason BBC Radio Lancashire needs 1557kHz and 855kHz MW and 95.5/103.9 and 104.5Mhz FM Stereo in addition to DAB is because Lancashire is a massive county to serve and there are areas where DAB isn't at it's best, particularly in hilly/built up zones.

Anthony's 70 posts
Anthony's:
map
A's Freeview map
terrain
A's terrain plot
waves
A's frequency data
A's Freeview Detailed Coverage
Saturday, 18 October 2014

There is still very much a place for FM radio, especially as it is delivering one of the main national BBC stations, BBC RADIO 4 24 hours a day in stereo (including the BBC World Service in stereo between 1am and 5:20am UK Time).

BBC RADIO 4 DAB now goes into MONO most evenings with a low bit rate of 80 kbps and BBC RADIO 4 EXTRA has never been in stereo on DAB, only online and through the TV. Long Wave / MW & FM reaches many parts of Scotland rural England, Wales and Ireland and hilly steep coastal regions where DAB coverage is non-existent and Long Wave / MW & FMcan penetrate through tunnels and cities with tall buildings. With cuts in the BBC Budget I don't see these gaps being filled in the near future. Good to hear the BBC i-player on my new TalkTalk YOUVIEW box, having disappeared from other TV platforms in July 2014.

Nedbod's 619 posts

Speaking to someone from the Department of Culture Media & Sport this week, bidding is currently taking place for the National multiplex that Channel 4 Radio failed to secure due to lack of funding a few years ago. Any idea if the BBC are part of this process ? There is apparently some DAB+ capacity on this multiplex ?

Any more info out there on this. Trying to squeeze info on DAB is worse than getting blood out of a bloodless stone. Until DAB sound quality improves its uptake will be low, especially if people feel their old DAB sets may be redundant if DAB+ takes off. Analogue sales are still very healthy and the batteries in my new white little Roberts AM/FM radio (which I take with me on countryside walks in the Peak District) last 600 times longer than its new Digital equivalent which uses more power even when switched off !! and goes off completely STILL about 30-40% of the walk locations, whereas the FM/AM picks up some signal everywhere, even if I have to retune frequencies..

Nedbod's 619 posts
Sunday, 19 October 2014

Nedbod: the BBC is building 162 transmitters for its national multiplex between now and December 2015 which will take coverage up to about 98%. This was agreed as part of the licence fee settlement.

Radio 4 isn't in stereo on FM for 24 hours a day, many of the news & documentary programmes are produced in mono (even though the stereo beacon on your tuner is lit).

Mark's 181 posts

Nedbod: The new national commercial multiplex was advertised on 1 July 2014, closing date is 29 January 2015, it's due on air by late 2015. There are at least two known bidders (including one from Bauer/UTV/Arqiva). It's unlikely that the BBC are involved.

Ofcom have allowed 30% of the mux to be used for DAB+, they say they will look at lifting this restriction by 2018.

Mark's 181 posts
Select more comments
Your comment please