The end is near for analogue radio... Part 4, the local radio to do list

Brian Butterworth published on UK Free TV
As we saw from part one, radio started out as a regional services. From this national networks were added. Then from 1969 onwards, local radio was added.

However, running a network of local radio stations, all with their own output, staff, presenter and news has always stretched the budget of individual stations a little bit thin.

This is as true for BBC stations, which share a small proportion, 4.6% of the TV Licence (£114.7m on content, £9.9m on distribution, £27.9 on infrastructure, making £152.5m), as it is for local commercial stations that fund themselves from adverts.



DAB local radio
Almost all of the country does now have a local radio
DAB
service - see
List of all DAB multiplexes
, but there are still some on the "to do very soon" list.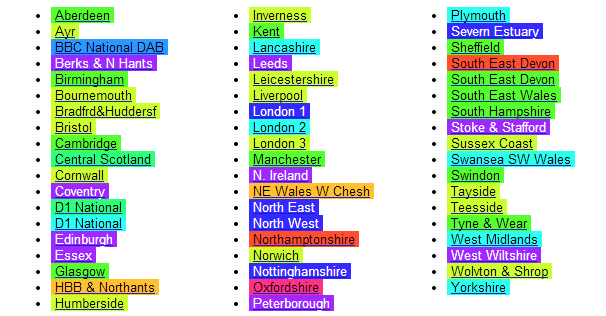 The "missing" services cover 5,583,000 people, which is about 9% of the UK population.
These are:
Cumbria
- 408,000 people
Derbyshire
- 652,000 people, Now
Digital
(East Midlands) Limited
Gloucestershire
- 498,000 people, MuxCo (Gioucestershire) Limited
Hereford and Worcester
- 501,000 people, MuxCo (South Midlands) Limited
Lincolnshire
- 550,000 people, MuxCo Lincolnshire Limited
Mid and West Wales
377,000 people, MuxCo
Wales
Limited
North Yorkshire
- 531,000 people, MuxCo North Yorkshire Limited
Somerset
- 444,000 people, MuxCo Somerset Limited
Suffolk
- 541,000 people
Surrey
about 1.085 million people, MuxCo Surrey and North Sussex Limited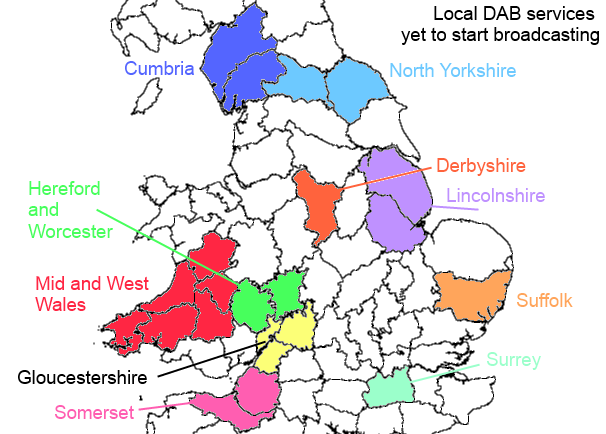 Why can't we have local radio on Freeview?
The
Freeview
service is provided on six
Multiplexes
. Like the DAB multiplexes, these services provide a large number of
channels
together on a single broadcast.
The three "commercial" multiplexes operate a UK wide service, and are therefore unsuitable for local radio. One of the "public service" multiplexes is for high definition TV services only.
This leaves the BBC and Digital 3+4 multiplexes. However, even though these services are "regional", they each cover many "local radio" areas. It would therefore be impracticable to add so many local stations to either
multiplex
.
However,
Local television on Freeview
is coming. These services are designed to provide a
local TV
service to specific local areas. It may be possible for each of these multiplexes to have local radio added to them.
Why can't we have BBC local radio on Freesat or Sky?
The additional cost for the BBC to add the 39 local radio stations not on digital
satellite
(BC
London
94.9 is already there) to the
four DVB-S mode transponders
would probably be marginal.
However, the BBC does have to currently pay
Sky
a large fee to add channels to the Sky EPG, so this would be perhaps unreasonably expensive (see
Government to stop Sky charging public service broadcasters for "retransmission"
).
And whist the BBC owns
Freesat
, it would probably not be worth the bother of up linking 39 radio streams if Sky viewers could not also benefit.
See also
BBC - Annual Report 2012/13 - Expenditure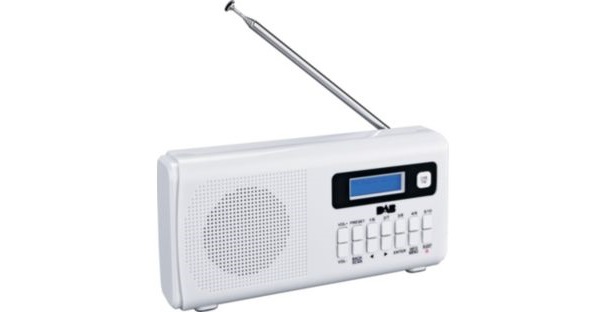 Comments
Thursday, 19 September 2013

The BBC has been trialing DRM+ in Scotland.


Results of the DRM+ High Power Field Trial in the United Kingdom - Publications - BBC R&D


DRM+ stations can be fitted between existing FM stations in the VHF Band 2. The big advantage is that car radios and (houses) can use existing aerials. The BBC could fit all thier stations in the FM band.

I think is is very unlikely that the BBC would spend the money on this trial if it did not consider DRM+ to be a possible future system.

Trevor Harris's 367 posts
Friday, 20 September 2013

Trevor Harris:

The BBC carried out one DRM+ trial in Edinburgh in 2011 but we are now two years on, nothing has happened with it and they have no plans to launch any of their stations on DRM+.

There are no DRM+ radios available in the shops and no car manufacturers are fitting them (DAB is standard-fit in 39% of new cars -it should be over 50% by the end of 2013).

Small-scale stations can use "budget DAB" multiplexes which were recently demonstrated in Brighton.

Mark's 181 posts

I was very carefull in saying that the BBC may be considering DRM and DRM+. Clearly the BBC will want to get national FM turned off before adopting DRM+. if only to justify thier waist of money. As I have said before I do not believe that the BBC will ever be able switch off FM with DAB.

Lindsay Cornell is a principal Systems Architect at the BBC. He is Chairman of the World DMB and DRM Technical Committees. So the BBC is very involved in DRM development. The BBC world service already uses DRM.

DRM+ is certainly far superior to DAB and FM and so is a candidate to replace FM. Infact it can be used in band 3 and so could replace DAB as well. It would make more sense to switch DAB to DRM+ rather than DAB+.

France is trialing DRM+ at the moment. As to wether it will become a major player in Europe is difficult to predict.


Trevor Harris's 367 posts

Trevor Harris:

France officially adopted DAB+ as a digital radio standard on 28th August 2013, following a request from the French regulator CSA.


Mark's 181 posts

@Mark

Still they are trialing DRM+

Digital Radio Europe 2013: French Riviera DRM+ To Be Presented

Trevor Harris's 367 posts

Following the above link was interesting and in part disconcertingly confusing, not least the 2010 Guardian reprint :

24 reasons why DAB might not make it | Technology | theguardian.com

Some of this content will be contestable, some dated, but some would appear to concur with informed opinion, including such posted in this austere blogsphere. My impression has been for some time that there will be a compromise, with broadcasters choosing between DAB and FM (and even AM in some areas), rather than duplicating investment or enforcing analog demise on an unconvinced electorate. It is beginning to become apparent that 3G and 4G radio reception will take an increasingly big bite of the cake - once affordable megabyte download charges or flatrate packages are on offer. At currently advertised 1p per Mb, radio on 4G doesn't compare well with 0p on FM, AM or DAB. Ultimately, DRM may have the last laugh, but not for many moons...



michael's 869 posts
Saturday, 21 September 2013

Actually Michael FM, AM and DAB are not 0p. The DAB system alone has cost hundreds of millions to set up. A single 64kb/s national station costs about £1 million a year to run. Some has estimated that the advertising campaigns have run into a value of a billion pounds. All paid for by licence payers. As Bevin said "If you want a free National Health Service you are going to have to pay for it".

The latest Rajar figures show DAB listening figures at 23.9% which makes DAB the most expensive white elephant ever.

There are few DRM radios at the moment but the chips are available to make them. There have been quite a few trials showing that coverage is comparable to FM so transmitters can be co-located with FM transmitters. FM and DRM can share band 2. It all means that DRM could be implemeted fairly quickly.

But I think we do need to consider that we may not need a seperate radio system if 3G and 4G prices fall.

Trevor Harris's 367 posts

@ Trevor Harris:

"A single 64kb/s national station costs about £1 million a year to run."

That isn't right - Digital One were charging £1 million per year for a 128k stereo slot a few years ago. I think it's lower than that now as Ofcom forced them to reduce their prices as a condition of the Arqiva merger with NGW.

"Some has estimated that the advertising campaigns have run into a value of a billion pounds."

That might be what the slots would have cost to book if the ads had been aired on ITV (at ITV's peak time market rates), although at £250,000 per slot it still seems unlikely to be a billion pounds. The BBC doesn't take advertising and used its own channels so it has only cost them the price of making the promos, which is probably a few million at most.

3G and 4G can never replace FM because they are not free. This quote is from a director of Deutschlandradio:

"Digital radio via DAB+ is the future, the future of radio is not on the Internet alone and broadcast radio must be available to all."


Germany seeks FM shut-down 2020-2025 | Advanced Television

"FM and DRM can share band 2. It all means that DRM could be implemeted fairly quickly."

Ofcom are proposing to use Band II for white space devices after the national FM stations are switched off. They published a paper on this in 2011.

Ofcom | Ofcom considers future of FM radio band

Mark's 181 posts

"They" can shut down everything else or charge a pound a second - BUT don't touch free-to-listen better-than-Radio-Four Deutschlandfunk and Deutschlandradio. Okay, I am a lone true-Brit voice in the ether, but the arguments voiced on this page apply to most digital outreach. Ich zittere weiter vor mich hin... We are more than convinced that decisions made on high have little to do with technology and listener-consumer stakeholder interests, but all to do with profits and share-holders. As a future fall-back, I am working on a new patent idea, which I will call books, Bcher, livres, libros - and on a super-dish to receive free-to-air radio from Planet Zog :-)


michael's 869 posts
Sunday, 22 September 2013

DAB and DAB+ has been and unless the BBC and other broadcasters 'get real' will be an unnecessary 'white elephant' not only in UK but other countries. The UK stumbled into DAB after the government (well certain Ministers of the old Labour mob and profit seekers of this present co-illusion) and hung onto it looking back in the distance that isolation (using a different standard/system to every other country) might help British industry but failing to realise all these DAB 'Bricks' and DAB+ chunks are made in China or far East. The days when Ecko, Pye, Decca, etc had 405 line 14" b/w TVs pouring out of factories mainly in the south-east of England are long passed.
So why insist on pushing an out-dated and unpopular DAB why not the 'improved' DAB+ which Pure is claiming DAB sets can be converted to DAB+ (they don't say it's almost a re-build, or the price). But then with DAB+ think of the cost in changing the already little used (by listeners) transmitters the problems with muxs the difficulties of (unlikely) slotting DAB+ between FM stations which might seem possible but remember that the empty channel in your area may be fully taken even 15 miles away - imagine the problems.
My solution; pack up all the DAB and DAB+ working, pay off the technos. Leave FM/VHF as it is (signs are in a few years both BBC and the commercials will be struggling to keep existing stations on air anyway) re-visit the Medium Wave situation and scrap the subsidised Asian language stations but retransmit such as AIR (if allowed) in the UK on Short Wave.
Allow more ERP for local AM stations on MW (as in France) retransmit RTE Radio1 and RTE Radio 2 on Medium Wave in UK (if allowed)
That way Britain's radio becomes livelier and what our broadcasters cant provide we make sure is available through good re-transmissions which benefit such as India and Eire by increased coverage.
DAB has very obviously failed - end it and save the money, there is absolutely no need for the waste. VHF/FM, S.W. M.W and Long Wave are still and will remain the peoples real choice lets not be told blacks white cause highly paid wiz kids with greased palms say so.
'Nation Shall Speak Peace Unto Nation' it says over the entrance to Broadcasting House - but it can't do that with DAB (or DAB+) we are told by our Dave we should be not insular but more International but DAB is insular - scrap it.

Watlingfen's 38 posts
Select more comments
Your comment please