The end is near for analogue radio... Part 4, the local radio to do list

Brian Butterworth published on UK Free TV
As we saw from part one, radio started out as a regional services. From this national networks were added. Then from 1969 onwards, local radio was added.

However, running a network of local radio stations, all with their own output, staff, presenter and news has always stretched the budget of individual stations a little bit thin.

This is as true for BBC stations, which share a small proportion, 4.6% of the TV Licence (£114.7m on content, £9.9m on distribution, £27.9 on infrastructure, making £152.5m), as it is for local commercial stations that fund themselves from adverts.



DAB local radio
Almost all of the country does now have a local radio
DAB
service - see
List of all DAB multiplexes
, but there are still some on the "to do very soon" list.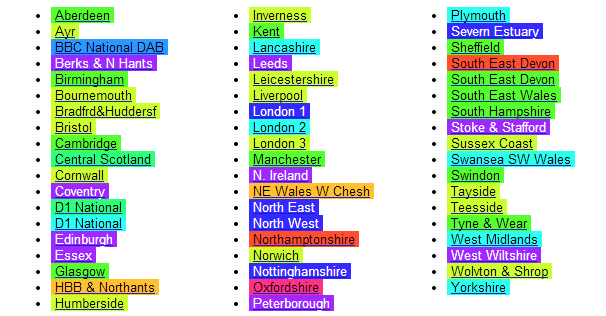 The "missing" services cover 5,583,000 people, which is about 9% of the UK population.
These are:
Cumbria
- 408,000 people
Derbyshire
- 652,000 people, Now
Digital
(East Midlands) Limited
Gloucestershire
- 498,000 people, MuxCo (Gioucestershire) Limited
Hereford and Worcester
- 501,000 people, MuxCo (South Midlands) Limited
Lincolnshire
- 550,000 people, MuxCo Lincolnshire Limited
Mid and West Wales
377,000 people, MuxCo
Wales
Limited
North Yorkshire
- 531,000 people, MuxCo North Yorkshire Limited
Somerset
- 444,000 people, MuxCo Somerset Limited
Suffolk
- 541,000 people
Surrey
about 1.085 million people, MuxCo Surrey and North Sussex Limited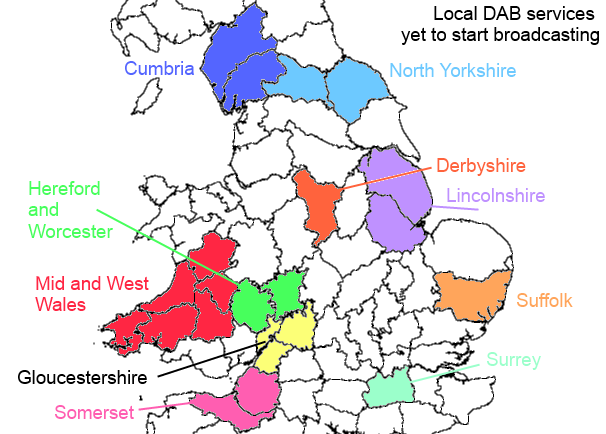 Why can't we have local radio on Freeview?
The
Freeview
service is provided on six
Multiplexes
. Like the DAB multiplexes, these services provide a large number of
channels
together on a single broadcast.
The three "commercial" multiplexes operate a UK wide service, and are therefore unsuitable for local radio. One of the "public service" multiplexes is for high definition TV services only.
This leaves the BBC and Digital 3+4 multiplexes. However, even though these services are "regional", they each cover many "local radio" areas. It would therefore be impracticable to add so many local stations to either
multiplex
.
However,
Local television on Freeview
is coming. These services are designed to provide a
local TV
service to specific local areas. It may be possible for each of these multiplexes to have local radio added to them.
Why can't we have BBC local radio on Freesat or Sky?
The additional cost for the BBC to add the 39 local radio stations not on digital
satellite
(BC
London
94.9 is already there) to the
four DVB-S mode transponders
would probably be marginal.
However, the BBC does have to currently pay
Sky
a large fee to add channels to the Sky EPG, so this would be perhaps unreasonably expensive (see
Government to stop Sky charging public service broadcasters for "retransmission"
).
And whist the BBC owns
Freesat
, it would probably not be worth the bother of up linking 39 radio streams if Sky viewers could not also benefit.
See also
BBC - Annual Report 2012/13 - Expenditure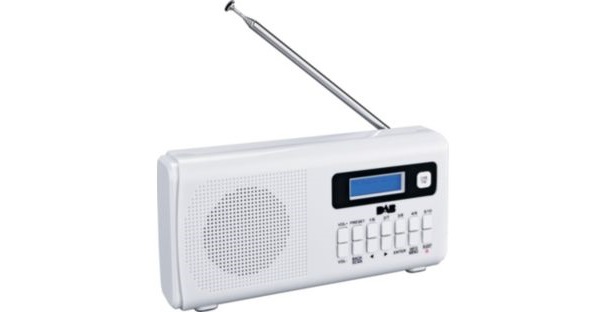 Comments
Monday, 30 September 2013

As reported above, my new car does not have, and cannot be upgraded to, DAB. Even if it had DAB potential, local DAB would be unreceivable according to published future plans. DAB future coverage maps do not equal current FM. 220MHz DAB propagation is physically inferior to 100MHz FM, so many more filler-relays than suggested in official plans would be needed. Budget? Solution : replace FM with DAB for main population centres and motorways, retain FM and AM where population and topology require it. ( I realised I may not qualify for equal human rights etc.) Longterm future planning : DAB+ and DRM and DRM+. This technology works on longwave, mediumwave, and VHF. As we are now stuck with DAB and residual FM and AM, technology will be crushed by politics and business interests.

michael's 869 posts

@Mark

The 23.9% is as you say for all listening. The 15-19% is the proportion of DAB radios used at least weekly. These are different numbers. Ofcoms report is available here

Ofcom | The Communications Market: Digital Radio Report 2013



Trevor Harris's 367 posts
Tuesday, 1 October 2013

Personally I still prefer FM - but with a 'proper' ratio detector and not a regenerative detector. Ratio detectors are rarely used in integrated circuit designs as the regenerative detector is included on chip. Discrete component designs often use a ratio detector and they do not suffer from the whistles, warbles and hissing common with regenerative types.
Regenerative detectors are easier and cheaper to incorporate in the chip design but are not so good where the signal is weaker or variable.
In my experience, DAB is not good in cars due to the varying signal reception, DAB+ would be better but BBC transmit DAB and have no plans for DAB+. DRM signals are not transmitted in the UK yet.

MikeP's 3,056 posts

From drm.org

Ruxandra Obreja is Head of Digital Radio Development in the BBC World Service concentrating her efforts on DRM.

In March 2008 Ruxandra was first elected Chairman of the DRM Consortium with the avowed aim of ensuring that the various stakeholders work towards the same goal: the global and mass scale take up of the DRM standard. Ruxandra was unanimously re-elected to this top position in March 2012.

So the BBC is leading the way in DRM development at least in the World Service. The BBC is already using DRM for the world service.

It is my view that the BBC has been holding off from DRM+ until DAB has been firmly established. The failure of DAB is a bitter blow to the BBC. It makes it difficult for the BBC to introduce a new technology after the spectacular failure of DAB. I don't see how the BBC can hold off from DRM and DRM+ for very much longer.

Trevor Harris's 367 posts

Even more evidence that the BBC sees DRM as the future of radio:

Lindsay Cornell, DRM Technical Committee Chairman

Lindsay Cornell has worked for the BBC for more than 20 years, and has concentrated on radio since 1993, working with FM-RDS, DAB and DRM. He is currently leading the work on The Future of Radio which aims to provide technical leadership to the development of radio technologies that will maintain and extend the reach of the BBCs radio services, both in the UK and across the globe. The work is highly collaborative with emphasis on leveraging the BBCs reputation for technical excellence and diversity of content distribution.

Lindsay represents the BBC in various national and international fora and is chairman of both the Digital Radio Mondiale (DRM) Technical Committee and the World DMB Technical Committee. Lindsay is special rapporteur for digital radio at the EBU/ETSI/CENELEC JTC Broadcast and is an authority on digital radio standardisation.

Trevor Harris's 367 posts

Trevor Harris:

There is nothing in that quote that suggests that DRM+ or DRM is about to be launched in the UK by the BBC. Why would they go with these technologies when virtually every other country in Europe is going with DAB+ (France has just adopted DAB+).

The BBC's link with DRM is for the provision of the World Service across the globe in countries like Russia, India and Brazil. They had a couple of tests in the UK but it didn't work out, DRM30 suffered from too much night time intereference in the Plymouth test..

The BBC Trust has given a written commitment to the UK Government that they will roll out their DAB network to FM equivalence (it was included in the 2010 licence fee agreement).

.

Mark's 181 posts

Practical expediency, not technical superiority will determine the near future. See history... DAB is already established, albeit not as successfully as planned. Incompatible DAB+ duplication is not an option for the forseeable future. DAB will be most effective at high signal levels in population centres and along motorways. To replace FM in more remote areas, a large number of filler-relays would be required. It would probably be more expedient to retain FM/AM in such areas, especially for local and regional broadcasting. If 4G became affordable with unlimited downloads, radio via the expanding mobile phone network would solve reception issues in most areas. DRM and DRM+ research is to be applauded; they may well be a future option, but not anytime soon.

michael's 869 posts

michael : Technical superiority is really only important to professional users and enthusiasts. Look how VHS was adpoted as the system of choice for domestic VCRs despite superior alternatives being available. Most people, it would appear are not bothered by grainy TV pictures or hiss in the background on FM radio. As long as DAB transmitters can deliver a signal that is robust enough to avoid drop-outs, (which most people would find intolerable) the majority of listeners will be happy. I suspect that the "large number of filler relays" will duly be built in order to prove that the decision to switch off FM was right and proper. The transmitters for the local muxes in Scotland and Wales will no doubt mirror those for the BBC national network - good news for fans of Capital Radio! despite the fact that coverage via DRM on medium wave, or DRM+ for four networks on a single FM frequency could have been a more efficient way of covering the area. I have doubts about 4G ever being much use as a provider of radio services in remote parts, considering how 3G is non-existant outside built up areas.

KMJ,Derby's 1,811 posts
Wednesday, 2 October 2013

KMJ, you mirror my concerns. I hope you are right that ultimately fillers will abound to "prove the original wisdom". CCI killed our valley-village DTT self-help. 2/3G is very patchy. With a roof aerial some can receive FM, few get DAB. We are not alone in our green and pleasant land. Hence my voice in the wilderness. As you say, drop-outs are a no-no, but may be the music of our future... A DAB filler-relay at the head of the valley would be l-o-v-e-l-y. There are similar situations in many other parts of the country and along coastal strips. I remain doubtful that there are enough pennies for all the necessary DAB fillers to materialise, but hope to be proved ignominiously wrong! Hopefully, pragmatism will cosy up with the bean counters and FM and/or AM will be retained for awkward customers across the realm. They would cry if they realised that DRM etc could have eased all their woes... Now, we wouldn't want tears, would we...

michael's 869 posts
Sunday, 20 October 2013

all this talk of ddab being switched off is pipe dream idont like dab it s one big con in uk uk with out of date dab the rest of europe uses dab+ why will dab not be switched off because the biggest market in europe is using dab + germany it woukd have been better to use drm+ in band two david

david's 66 posts
Select more comments
Your comment please