The end is near for analogue radio... Part 4, the local radio to do list

Brian Butterworth published on UK Free TV
As we saw from part one, radio started out as a regional services. From this national networks were added. Then from 1969 onwards, local radio was added.

However, running a network of local radio stations, all with their own output, staff, presenter and news has always stretched the budget of individual stations a little bit thin.

This is as true for BBC stations, which share a small proportion, 4.6% of the TV Licence (£114.7m on content, £9.9m on distribution, £27.9 on infrastructure, making £152.5m), as it is for local commercial stations that fund themselves from adverts.



DAB local radio
Almost all of the country does now have a local radio
DAB
service - see
List of all DAB multiplexes
, but there are still some on the "to do very soon" list.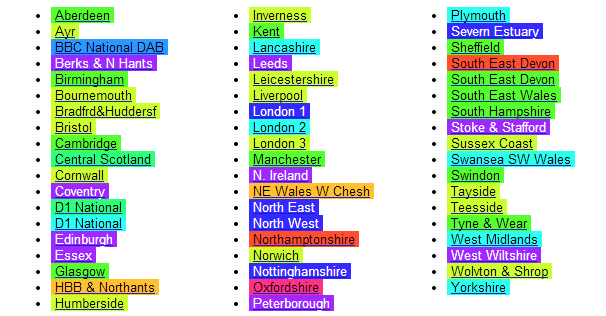 The "missing" services cover 5,583,000 people, which is about 9% of the UK population.
These are:
Cumbria
- 408,000 people
Derbyshire
- 652,000 people, Now
Digital
(East Midlands) Limited
Gloucestershire
- 498,000 people, MuxCo (Gioucestershire) Limited
Hereford and Worcester
- 501,000 people, MuxCo (South Midlands) Limited
Lincolnshire
- 550,000 people, MuxCo Lincolnshire Limited
Mid and West Wales
377,000 people, MuxCo
Wales
Limited
North Yorkshire
- 531,000 people, MuxCo North Yorkshire Limited
Somerset
- 444,000 people, MuxCo Somerset Limited
Suffolk
- 541,000 people
Surrey
about 1.085 million people, MuxCo Surrey and North Sussex Limited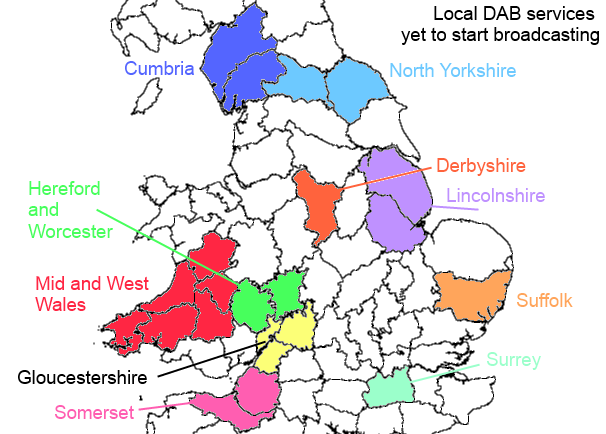 Why can't we have local radio on Freeview?
The
Freeview
service is provided on six
Multiplexes
. Like the DAB multiplexes, these services provide a large number of
channels
together on a single broadcast.
The three "commercial" multiplexes operate a UK wide service, and are therefore unsuitable for local radio. One of the "public service" multiplexes is for high definition TV services only.
This leaves the BBC and Digital 3+4 multiplexes. However, even though these services are "regional", they each cover many "local radio" areas. It would therefore be impracticable to add so many local stations to either
multiplex
.
However,
Local television on Freeview
is coming. These services are designed to provide a
local TV
service to specific local areas. It may be possible for each of these multiplexes to have local radio added to them.
Why can't we have BBC local radio on Freesat or Sky?
The additional cost for the BBC to add the 39 local radio stations not on digital
satellite
(BC
London
94.9 is already there) to the
four DVB-S mode transponders
would probably be marginal.
However, the BBC does have to currently pay
Sky
a large fee to add channels to the Sky EPG, so this would be perhaps unreasonably expensive (see
Government to stop Sky charging public service broadcasters for "retransmission"
).
And whist the BBC owns
Freesat
, it would probably not be worth the bother of up linking 39 radio streams if Sky viewers could not also benefit.
See also
BBC - Annual Report 2012/13 - Expenditure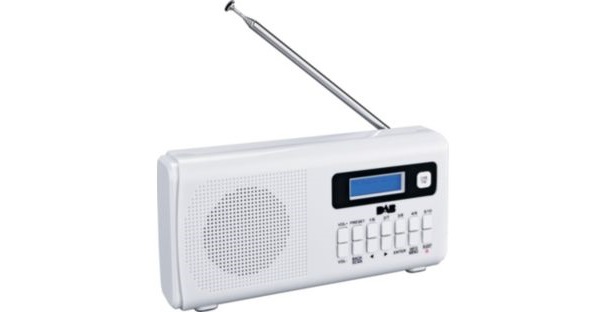 Comments
Monday, 4 November 2013

DRM+ and DRM should have been considered as platforms for AM and FM;each bbc local radio station should have two drm tx masts for each MW frequency with good power levels to provide good coverage of the MW service areas previously served by the existing analogue AM signals, and each bbc local radio FM tx should be equipped for DRM+ transmission with good power levels to serve the same service areas that analogue FM currently does.

Anthony's 52 posts

DAB is a poor platform;to carry services at high quality stereo you can only fit 6 into a multiplex at 192kbps, to get more in you have to drop to mono and reduce bit rates which makes them sound lousy.

Anthony's 52 posts

The all-wise planners, hmmm, are too far down the road to do a U-turn now. DAB is here to stay. Although superior, DAB+, DRM and DRM+ will not be feasible for years to come as there are too many DAB-only receivers in use, which would become redundant. The audio-quality and spectrum limitations on DAB rob it of convincing superiority over FM. DAB take-up is still unconvincing. I hope FM will remain alongside DAB - complemented by residual AM in areas where FM and DAB coverage is not viable. An optimal mix would minimise duplication costs and offer an acceptable compromise to the vast majority.

michael's 864 posts
Wednesday, 29 January 2014

ONE HUGE PART OF THE TO DO LIST IS TO ENSURE THAT ALL RADIO CHANNELS WHICH ARE CURRENTLY IN STEREO ON FM 24 / 7 eg BBC RADIO 4, CONTINUE TO BE IN STEREO 24 / 7 AFTER ANALOGUE SWICH OFF.

IT WOULD ALSO BE GOOD TO HAVE OTHER RADIO CHANNELS WHICH ARE CURRENTLY BROADCAST IN STEREO ON TV, ALSO BROADCAST IN STEREO ON DAB RADIO (AFTER ALL THEY ARE "RADIO" CHANNELS NOT TV CHANNELS !!). EG BBC RADIO 4 EXTRA.

Nedbod's 619 posts

There is general consensus here. We can't turn the clock back, so must make the best of the DAB-only scenario. DAB+ and DRM offer more, but are not a realistic option for the foreseeable future, although they may well find favour in decades to come. India, for example, is actively investing in DRM and the many ongoing test transmissions would not continue if broadcasters had decided DRM was for ever dead. Here and now, a compromise maximising DAB and FM options with minimal duplication would appear to be the best option - with AM retained for geographical wide coverage where FM and/or DAB are not cost-effective. Now that Dr Pryde with a headful of knowledge has fled the BBC and sought refuge with Vodafone, I sit by the phone awaiting the call for help :-)

michael's 864 posts
Thursday, 4 September 2014

While the BBC can broadcast Radio 3 by FM .We have a source of very high audio quality. Why should we accept less than we have had for 40 years or more with excellent FM receivers. Live BBC Radio 3 FM Broadcasts are superb.

Satellite and Internet are on balance second best since to convert to something that remotely approaches the FM undigitized stuff, is tied in with poor receiver quality and bit rate constraints rather than continuous waveform analogue.

The digital genre will work with receivers made to the same standard as the BBC digital broacast equipment running at a high bit rate. It will be the same as with CD at first, sounding dreadful, because the CD players were poorly designed with low grade electronics. It took til Bluray CD compatible players to show how CD's could now be replayed at far better quality . The same will happen with DAB+ takiong decades for decent receivers to produce the potential quality of good analogue

Greg's 1 post

Greg: A man after my own heart, R3 analogue cannot be beaten. DAB loads of stations poor to dreadful sound quality!
Long live analogue!

Russ's 48 posts
Russ's:
map
R's Freeview map
terrain
R's terrain plot
waves
R's frequency data
R's Freeview Detailed Coverage

Greg: I cant be bothered to get into the FM v DAB argument, but the idea that 'FM undigitized stuff' sounds great on Radio 3 makes no sense, because all the music (unless its live) is pre recorded and archived digitally. Your listening to the same digital music, whether you listen to it on FM, the net or DAB. And were CD players really that rubbish 30 years ago? I do remember someone in my shared student house playing Chesney Hawke's 'I am the one and only' endlessly because it was the only CD he possesed (he'd had to shell out for the player), but the sound quality was fine. We've actually had formats like SACD for years, but most people seem to have survived without it, and High Res Audio looks interesting, but your not going to hear it via FM. Russ: Analogue might live on, but digital is taking more of the market every year - including digital own stations: BBC News - BBC 6 Music overtakes Radio 3 for the first time - shame about Radio 3...

MikeB's 2,579 posts
Friday, 5 September 2014

If digitally recorded or remastered music were re-broadcast at the same bitrates, quality would be less of an issue. It would then be kinda nice to be able to receive such quality under the DAB transmitter - and equally far away. Little chance of FM-equal coverage yet.

michael's 864 posts

The sample rate used during the recording and storage processes is much higher than that used for broadcasting via the DAB services. So there is a loss of fidelity in the down-conversion that happens prior to the digital broadcasting. The recordings broadcast on FM are converted back to analogue using the higher sample rate originally used to make the recording. The FM service is limited deliberately to a frequency range from 50 Hz up to 16 kHz as a 'pilot tone' (used to manage the stereo reproduction) is inserted at 38 kHz so the highest frequency that can be reproduced (without the use of oversampling) is just less than half that.

MikeP's 3,056 posts
Select more comments
Your comment please